Housing advocates and providers fear handicapped seniors in Fort St. John have been priced out of a government program designed to help fund accessibility improvements to their homes.
According to the North Peace Seniors Housing Society, two of its tenants with mobility challenges are waiting for much-needed renovations to be done to their apartments so they can bathe.
Before Covid-19, the society says it relied on the Home Adaptations for Independence grant program to help finance the cost of bathroom upgrades for tenants in need. But the program was relaunched and rebranded last year to the BC Rebate for Accessible Home Adaptations program (RAHA), with stringent new criteria the society says it is having trouble qualifying under.
Among the criteria are required occupational therapist and in-home assessments, which executive director Jenna Dyksterhuis says are not a barrier.
It's the rent affordability threshold of $700 set for Fort St. John that is.
A studio or one-bedroom unit rents for $705 and $760 at the society's apartments, which has effectively made them ineligible for funding, she says.
"Losing this grant opportunity is a big deal for us," said Dyksterhuis. "These people legitimately need this."
The grants are run through BC Housing, with rent affordability limits set by the Canada Mortgage and Housing Corporation based on median rent levels from its annual market survey.
Dyksterhuis questions the $700 threshold in Fort St. John, and says it's "ridiculous" how the city has the lowest rent limit in all of B.C.
"Do they not know how expensive it is to live here?" she said, noting that with the Shelter Aid for Elderly Renters subsidy considered, her tenants should be pushed under the threshold and be able to qualify.
"We're a nonprofit, so we have pretty low rents … considering your utilities are all included," she said.
Dyksterhuis says a third tenant in need of upgrades to their apartment died waiting — "right up until the end, she couldn't shower in apartment because she was wheelchair-bound," she said.
---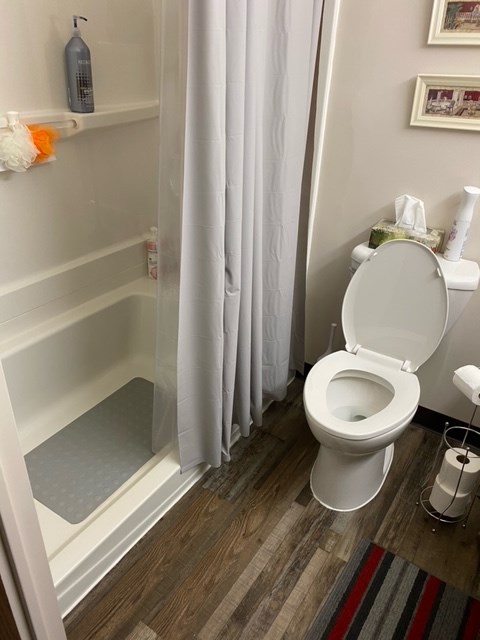 ---
Not being able to access the grant means the society will have to take from a long list of general suite improvements that are needed across its buildings, and which typically only include new flooring, new electrical, new cabinets, and new paint.
The cost of an accessible bathroom upgrade is about $5000 to $6000, and one-third the cost of a general suite renovation, Dyksterhuis says. But inflation is driving costs higher.
Dyksterhuis says she has appealed to David Eby, the provincial minister responsible for housing, without any luck. She's now turned to the provincial ombudsperson for help and in hopes of getting an exemption, but those efforts have not yet yielded results either.
"The initiative is to help seniors stay where they are, and we have seniors in our buildings that have mobility issues; they can't lift their leg over the edge of a tub," Dyksterhuis said. "These people are waiting, and in the meantime at the end of their lives when they should be comfortable and have access to a proper bathroom and shower to stay clean and feel comfortable. They're uncomfortable and not getting the proper care because we don't have the proper setup and support from the government to do that."
In a statement, BC Housing says rent limits have been in place since the program's inception, and were carried over with the program from the CMHC to BC Housing in 2012. Landlords such as the Seniors Housing Society can apply for grants to offset part of the cost of adaptations for up to five units per year, and are expected not to increase rents, the agency said.
It said the $700 rent limit set for this year was the same as 2021, but acknowledged that is being reviewed. The agency said that, the outcomes of its review notwithstanding, the society could choose to lower rents for the tenants in question so they would be eligible under the program's criteria.
"BC Housing is conducting a review of CMHC's Fort St. John data and other market information to determine if any adjustments to the 2022 RALs should be made," a spokesperson said in a statement. "BC Housing remains committed to supporting seniors and people with accessibility needs to live safely and independently in their communities."
Other program eligibility includes a requirement that a tenant's household income be less than $120,090 before taxes.
But Peace River North MLA Dan Davies, the opposition critic for social development and poverty reduction, said the program should be based solely on need.
"Often when governments put these arbitrary numbers in place they don't work and it creates challenges. These are people that are in need. Cookie cutter approaches, these thresholds, usually lead to communities being left out," Davies said, adding he is meeting with the society later this month and that he will help them on advocacy with the province.
"It needs to be based on needs and having those assessed. We want to make sure that our seniors in the north are looked after and they do have access to these grants, and the North Peace Seniors Housing should continue to have access to these grants."
---
Have a story or opinion to share? Email your letters to editor@ahnfsj.ca