If the latter part of 2021 is any indication, the Fort St. John and North Peace real estate market moving into this year should remain stable.
Figures released by the B.C. Northern Real Estate Board in January showed that 802 properties were sold in Fort St. John last year at a value of $310.3 million, up from 529 properties worth $187.8 million in 2020.
Fort St. John realtor Arlen Brekkas says the value of properties jumped year-over-year with more high-end properties being bought and sold in 2021.
"Confidence in the market, removal of Covid restrictions has a lot to do (with it)," says Brekkas. "General oilfield work in the area helped. Oil prices are starting to climb again, bringing confidence to those companies (and their employees)."
"Most people buying high-end properties own a pretty nice home already," Brekkas points out. "So, it's not like they're suffering terribly to sit and wait for a year to feel good about making an expenditure like that."
In a slower economy, Brekkas admits, for obvious reasons, higher-priced homes will usually sit on the market longer than a middle or lower-end property might – a far better situation in 2021.
While the year-over-year numbers do include both urban and rural property sales, purchasing a home outside a larger centre such as Fort St. John might be a little harder than it sounds.
"There's not a lot of newer construction or newer (rural) property available… there are some but not, generally, like there is in town," said Brekkas.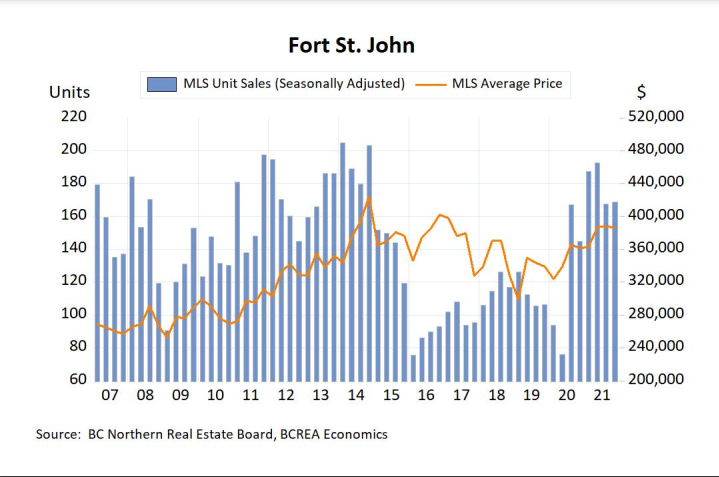 "A lot of spec-built construction (built to builder's specifications) in the city in the last six to eight years," Brekkas said, "whereas, out of town it's more acreage sales with (previously-owned) higher-end homes."
One area of the market where there was more supply than demand in 2021 was half-duplexes, where the price, on average, dropped 9%.
"I believe there was 48 listings that hit the market (in January 2021) where normally that would be about 15," said Brekkas, reflecting on market conditions at this time last year.
That excess inventory, he said, carried over through the year – sales of half duplexes ending the year at near 220.
"So, when you have an extra 40 (listings) hit the market, that's 20% of your total sales for the year. I think that's what drove prices down."
Single-family homes, on the other hand, continue to be in high demand.
"It's becoming more difficult to find good ones," said Brekkas. "Those ones are starting to turn over at a faster rate and far less days on the market."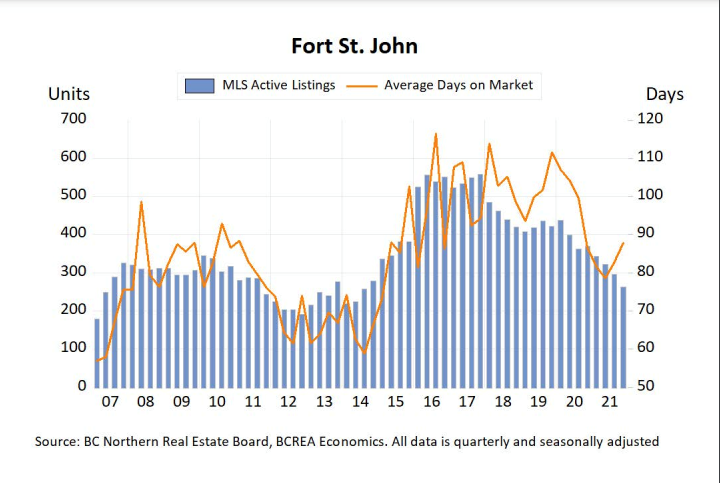 While there is a need for single-family dwellings, developers are hesitant in starting new projects, or so it seems.
"Land isn't a problem right now," according to Brekkas, but inventory is. "Price for materials, labour is really high right now. Supply chain issues, maybe… permitting issues."
Brekkas points out large construction like Site C and the new RCMP detachment in Fort St. John are also playing a role in the apparent delay, with the existing pool of skilled labour diverted to those projects.
Looking ahead to the rest of 2022, Brekkas is predicting stability in the area's real estate market.
"The last six months of last year compared to 2020, we had, on average, one more sale of a property each week, so it is a small increase," said Brekkas. "But any increase is a good increase for us, lately."
The next few months, Brekkas concedes, are traditionally busier for realtors – during break-up, many will look for a home; others, he says, will wait until late May or early June when they return back to work.