New mortgage data is offering a snapshot of where B.C. homeowners are getting their first foot into home ownership and how recent interest rate hikes are weighing down younger people more than others.
"It just tells you that these very, very substantial interest rate increases disproportionately affect the people who are struggling the most to begin with," said Andrey Pavlov, a professor of finance at Simon Fraser University.
Cities on the periphery of large census metropolitan areas, who have a higher percentage of younger and new homeowners, have higher numbers of mortgage holders, according to Statistics Canada census data provided to Glacier Media by Andy Yan, director of Simon Fraser University's City Program.
"This is reflective of particular demographic trends, but then also of particular financial trends, especially when it comes to interest rates," Yan said.
Throughout the province, 58% of homeowners have a mortgage versus the 42% of homeowners who are mortgage-free.
The three communities in B.C. with the highest percentages of mortgage holders are Fort St. John, the City of Langley, and Surrey.
Fort St. John has by far the highest proportion of mortgages, with 76% of homeowners being mortgage holders. Twenty-four per cent do not.
In comparison, only 44% of West Vancouver homeowners have a mortgage, the lowest percentage in the province. The regional district of Powell River is second with 46% and Sechelt is third with 47%.
In Dawson Creek, 67% of homeowners have a mortgage compared to the 33% who are mortgage-free.
The distribution across the data is "striking," said Pavlov.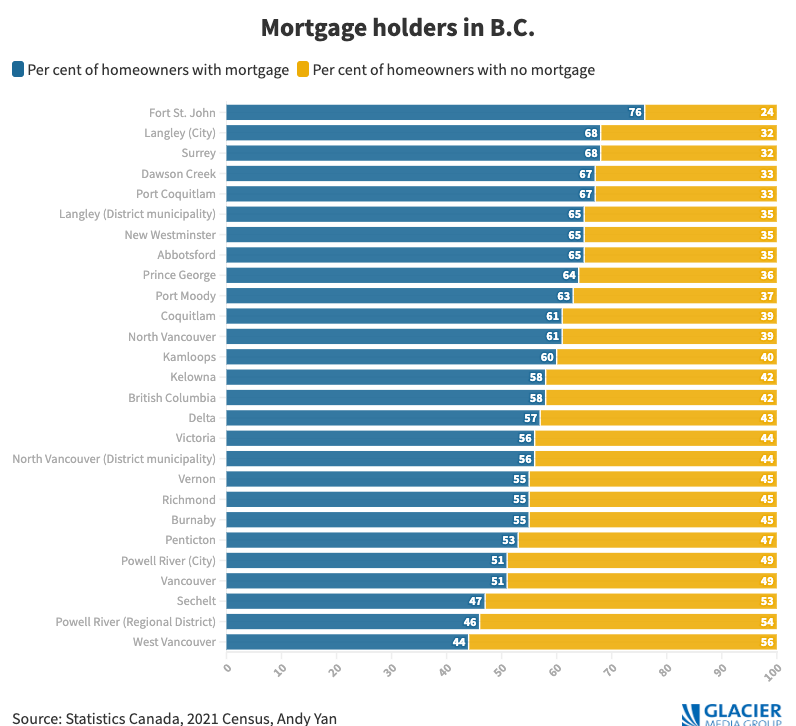 Those areas with higher home prices, like West Vancouver, have lower percentages of mortgage holders.
Many of the homeowners who purchased homes in that area, did so a "long time ago" and don't have a mortgage anymore, said Pavlov.
"But if you look at the places that have a high percentage of mortgage holders, areas like Surrey, Port Coquitlam, New Westminster, Abbotsford, those are the relatively more affordable areas of the Lower Mainland," he said.
"It really shows the impact on younger people, and in a way lower-income people, because those are the people, through no fault of their own, they are now impacted more from interest rates than the average person," he said.
To compare, in the City of Surrey, where 68% of homeowners have a mortgage, there are 81835 people between the ages of 30 and 39, according to Statistics Canada. In West Vancouver, there are only 3,335 people within that age group. In Fort St. John, 4,065 people fall within that age group, or about 19% of the population.
"It ties into historic patterns of getting on the housing ladder. That if you're young, if you're a young household trying to step into housing ownership, that you buy in the municipalities outside of central cities," Yan said.
For communities that are located more eastward in the Lower Mainland, it is clear that there are more homeowners with mortgages, he added.
"There are indeed cities with, what one might call, high levels of mortgage-free homes. And then, of course, other areas that have high levels of mortgaged homes. And they're two stories on the same coin. All through which what we don't know, is what will happen in a prolonged, not even high interest, normal interest situation," Yan said.
The data provided by Yan does not include information on the depth of outstanding mortgages, but still provides a clear look into "a very distinct pattern with the central cities and with those that are on the periphery," he said.