Planners have identified two potential trail routes to connect Fort St. John and Charlie Lake.
Jana Zelenski, a landscape architect with Lanarc Consulting, gave city councillors an update Tuesday on a study underway that's looking to connect the two communities.
"These are all just conceptual at this stage ... this is a starting point for discussion," Zelenski said.
"This is a very challenging project, but also a very exciting one that's been in people's minds for a long time."
While Fort St. John has plenty of advantages as a starting point, there are few trails in between the city and Charlie Lake, Zelenski said. That makes for a "challenging connection" that needs to take into account private lands and the potential for opposition, rural roads and utility right-of-ways, and major road crossings, Zelenski said.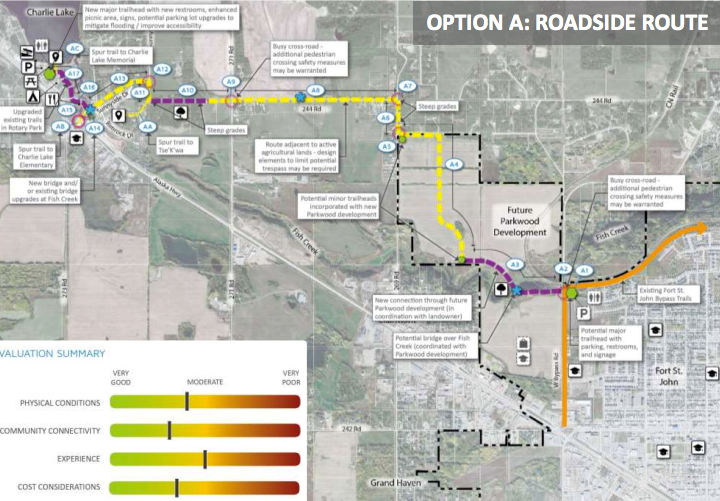 The first proposed route would start at the West Bypass Road and run northwest alongside Fish Creek and through the planned Parkwood subdivision before connecting with the 244 Road and continuing on to Rotary Park at Charlie Lake. It includes potential connections to the Charlie Lake Cave and elementary school, as well as the provincial park.
The route, around 7.5 kilometres, would be mostly along public land, which means less need to try to buy up private property and get landowners on board, Zelenski said.
The route is estimated to cost between $4.8 million and $7.7 million, which is proposed to be split between the Peace River Regional District and senior levels of government, or other funding partners.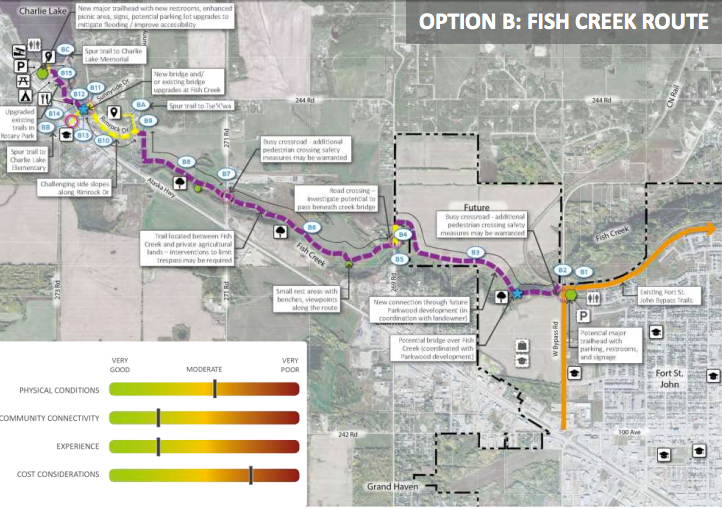 A second option proposes to run straight along the Fish Creek corridor through the Parkwood lands and connect more directly with Charlie Lake. The route, same length, is estimated to cost between $5 million and $7.5 million.
Though the route is the community favourite with strong public support, acquiring all the land is its most significant hurdle, Zelenski said. 
A future third option proposes to connect the Charlie Lake community with the Beatton Provincial Park with a four-kilometre trail thta would tie into a trail to Fort St. John. That's estimated to cost between $2.7 million to $5.1 million. 
Nine route options were identified overall and continue to be reviewed before a route is chosen and designed, Zelenski said.
Council has previously endorsed the idea of connecting the city with Charlie Lake.
On Tuesday, however, council raised issues the development could face with landowners and First Nations. Consultations on expanding city borders to include Parkwood found First Nations want Fish Creek to be maintained as a wildlife corridor, Mayor Lori Ackerman said.
The creek also prone to sloughing, Ackerman added, pointing the trails in the community forest that have been washed out and permanantly closed. Sorting out who will operate, maintain, and police the trail also needs to be determined, Ackerman said.
Coun. Trevor Bolin noted one trail possibility identified along the Alaska Highway was the most logical to build, though planners ruled it out for frontage road challenges and industrial traffic concerns. Still, a trail along the highway would be the easiest to build and maintain without acquiring land from up to two dozen landowners, Bolin said.
"That's a lot of what ifs," Bolin said.
Council directed staff to prepare a report assessing all the trail options for a future meeting. 
Lanarc's work is being carried out for the Peace River Regional District, with funding support from Northern Health. Public consultations and workshops were held last summer.
A trail connection between Dawson Creek and Pouce Coupe is also being studied. 
Email Managing Editor Matt Preprost at editor@ahnfsj.ca.