Fort St. John councillors got an update Monday on a sprawling new development that could see up to 3,400 new homes.
City planner Ashley Murphey gave an overview of a comprehensive development zone in the works for Parkwood Southlands, an 89-hectare piece of land between the West Bypass Road and Clairmont, and Fish Creek and the Alaska Highway that's targeted for a mix of residential, commercial, and institutional development.
"This has been a long time coming," Murphey said, noting the plan's been in the works for nearly two years.
"The comprehensive development zone is a very unique tool and is going to create a unique neighbourhood within the Parkwood Southlands area."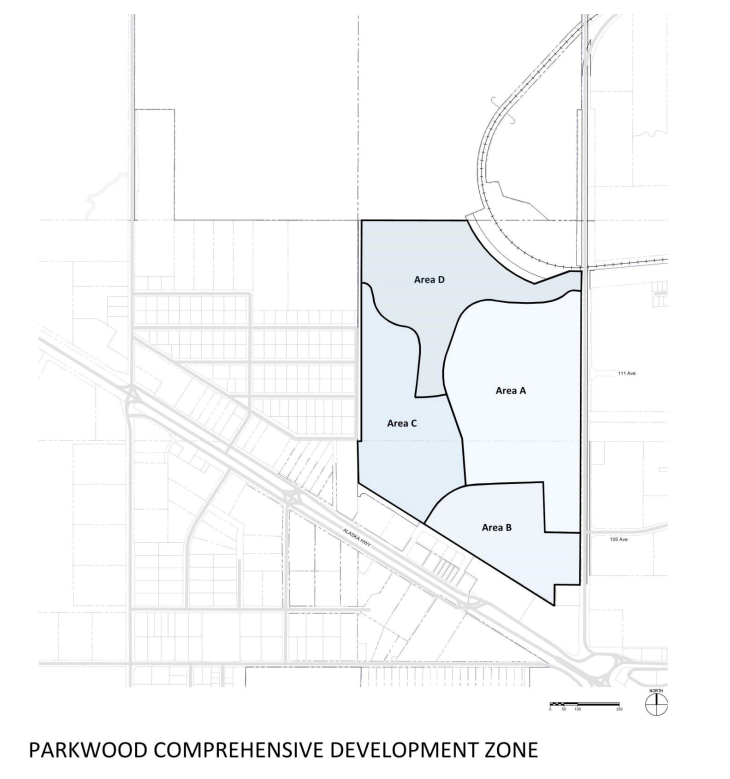 The XJ Evergreen Estates Corporation is looking to build a master-planned neighbourhood along the city's new western boundary.  
Parkwood Southlands covers roughly half of that, and is divided into four areas. Each will come with its own set of regulations and permitted uses, Murphey said.
Area A will see a mix of residential and commercial development, and is intended to function as a "village centre," Murphey said. That area allows for up to 2,350 new residential units, she said.
Area B is designated for predominantly commercial uses, or mixed-use buildings to allow for up to 375 new homes. Area C allows for up to 675 new homes to be built, and institutional land to be reserved for a future school.
Area D is designated for parks and trail development, and allows for unique "programmable" spaces and other uses including concession stands and refreshment booths, Murphey said. New homes won't be allowed to be built in the area.
A neighbourhood plan is already in place for Parkwood Southlands, and an amendment to the city's official community plan will define the guidelines for building forms and character, landscaping, and water and energy conservation measures. It will also allow developers to reallocate housing density as the development builds out, Murphey said.
"Should Area A not see the full build out of 2,350 units, 20 per cent of what's intended to go into Area B could be reallocated from Area A," Murphey said.
"But the maximum total can never exceed the 3,400 residential units throughout the entire area."
Each area will have its own set of regulations when it comes to lot sizes, building setbacks, and types of uses and zoning that will guide development. 
A master development agreement will outline the timing of infrastructure, parkland dedication, and the provision of services to the area.
On Monday, council gave first reading to Zoning Amendment Bylaw No. 2441, 2018, which allows for the comprehensive development zone to be established. Council also gave first two readings two OCP Amendment Bylaw No. 2440, 2018, which allows the official community plan to be amended to give developers greater flexibility in land uses and housing density in Parkwood Southlands.
Email Managing Editor Matt Preprost at editor@ahnfsj.ca.