Did you give your furry best pal an eccentric title or did you stick to a classic?
Whether your dog has six middle names and a prefix or you went the Fido route, the name you chose for your four-legged companion will hold a place in your heart forever.
And while you might think your doggo has a unique name, a recent study finds that many people around the world chose similar ones. For example, the most popular female name in Canada, Bella, was chosen in 13 other areas as the top title. Bella is a Spanish word that means pretty or beautiful.
The study, compiled by Budget Direct, lists the best-loved dog names around the world. The most popular female dog name was Luna, which is Latin for "moon."
There are 20 different names for female dogs on the map. And while some are number one across multiple countries, some of the most interesting ones are 'unique' to just one country.
The most popular name in Brazil is Mel, but report authors note that "it's not short for Melanie – it's Portuguese for Honey." Likewise, the top name in Iceland is Perla – meaning Pearl.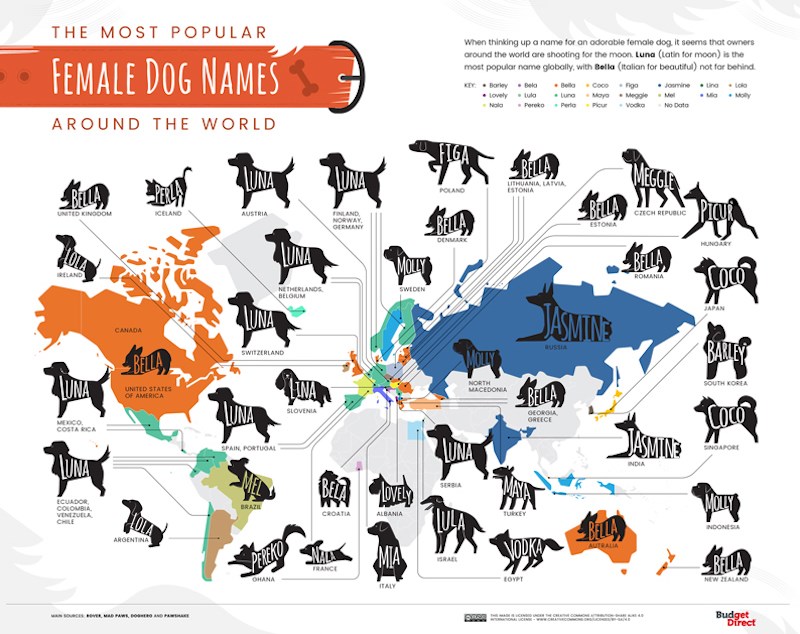 Top Male Dog Names
The top male dog name in the Great White North is Charlie, while our neighbours south of the border choose Max most often; Max is also the most popular one worldwide. Both of these names are also considered "human names" and report authors note that male dogs are "more likely to have human names with no other common meaning."
The most popular boy dog name in Turkey is Duman, which means Smoke. Estonia choose Leedi most frequently (yes, as in Leedi and the Tramp!).
The Japanese like to call their male dogs Sora, meaning Sun. In Lithuania, Draugas is another word for friend… or Buddy.