The individual who shot and killed 17 wild horses has local knowledge of the area, according to a wild horse researcher and biologist.
Tk'emlups Rural RCMP was notified about a group of dead horses by people offroading in the area, and police were called to investigate on Sunday. According to Cpl, all 17 wild horses were found scattered over a vast area and were likely killed weeks before they were discovered. Cory Lepine.
Lepine is the sole livestock investigator in the province and called the killings inhumane and senseless.
Biologist and wild horse researcher Wayne McCrory wishes he could go to the site of the deceased horses to conduct his research. He's spent years conducting forensic investigations in North American, such as Wyoming and British Columbia.
He was angry when he first heard of the 17 wild horses shot and killed on crown land north of Walhachin.
"To put it bluntly, I was really pissed off that this is still going on. I mean, come on. Here we are in the modern age, the old days of shooting wild horses on the range of long past," he says during an interview with Glacier Media.
He believes an individual hunted down the horses.
"It seems to me that whoever did it, it was very carefully planned to be done when nobody's around. They'd probably be somebody with a lot of local knowledge," he says.
"My guess is that once they killed the first few, the rest of panic, and they just kept shooting and kept hunting them down."
He does not want to point fingers at the rancher community as he believes this could be an individual with a grudge against horses.
"I think it's very sad and very tragic," says McCrory.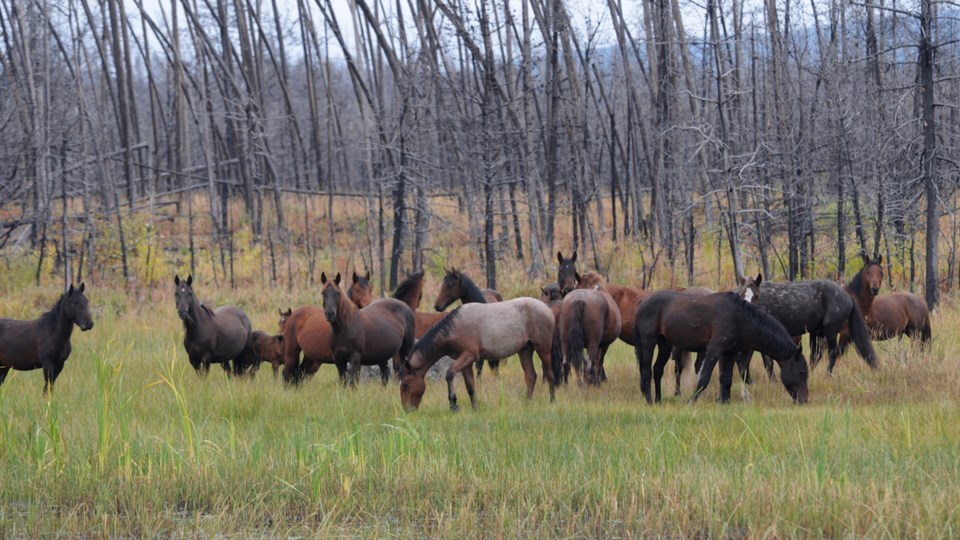 B.C. ranchers disturbed by killing
BC Cattlemen's Association general manager Kevin Boon finds it hard to understand why someone would shoot and kill so many horses.
"To take out that many horses at one time or any wildlife wouldn't be typical," he says.
Cattlemen in B.C. are under stringent rules and regulations when it comes to disposing of any carcass so that it does not attract any prey to the range.
"If there was some cause where they were really damaging or [the horse was] hurting, they would go to authorities and ask for help in removing these problem animals, so I don't see this being someone local," he says.
Boon says he doesn't want to speculate who would have done such a thing but does not believe it would have been a rancher or farmer from the area.
"For the simple reason that local people look after their livestock, they look after the animals they are in their industry in this industry, because they love animals, not because they're out there wanting to destroy them. And, you know, it's hard to comprehend that," he says.
Many of the area's ranches are over a century old and are generational farms or ranches. Boon explains how this results in a tight-knit community that works together.
"They work and talk together with the First Nations in the area; they're their neighbours as well," he says.
McCrory agrees that the rural ranching community is very close-knit and believes someone knows what happened.
"These people need to be prosecuted and to be [used] as an example that shooting wild horses is not a good thing,"
McCrory wants to see federal and provincial protection of wild horses, such as placing them under the protection species act and enhanced enforcement.
"It is setting a bad example of the kind of husbandry and range management we should really be moving towards in B.C," he says.
Boon believes the provincial government is responsible for the wild horses on crown land.
"I think that this is part of what this may illuminate is the fact that these horses do need to be managed and how that is, I don't know, I haven't got the solution either," he says. "The same as with any of the other livestock out there, be it wild or be it domestic, has to have management criteria behind it."
Currently, ranchers and farmers plan to have their cattle purposely avoid wild horses.
"We can control our cattle, and we try to do that. We also need to be able to make sure that we're utilizing all that range, and the horses are very nomadic," says Boon.
Province condemns killings
In an emailed statement, B.C.'s Ministry of Forests strongly condemns the killings.
"The Province strongly condemns this act of violence. Cruelty to animals is totally unacceptable," wrote Paul Corns, communication director.
Glacier Media asked the province to explain how feral horses on crown land are managed.
"The Province does not directly manage or track free-roaming horse populations," replied Corns, adding that where necessary, Ministry staff will continue working with partners on the most appropriate means for managing feral horse herds.
"The province has engaged with First Nations to manage feral horse populations across the province," he continued.
According to Corn, in the past, these arrangements included horse adoptions where appropriate accommodations were found and partnerships with SPCA and industry to find solutions.