From mammoth tooth preliminary findings to our Family Day & Heritage Week Activities, it's been an exciting month at the museum. The BC Megafauna Project (who took a sample from our mammoth tooth) found collagen in the sample, which means radiocarbon dating is possible.
More than 40 people took part in our Family Day weekend scavenger hunts and another 46 took advantage of our free admission for Heritage Week Feb. 16-20. These events brought new people into the museum and the scavenger hunts shared our history in interactive ways. We are very busy behind the scenes developing new exhibits, changing out artefacts on display, answering inquiries, and cataloguing incoming artefacts.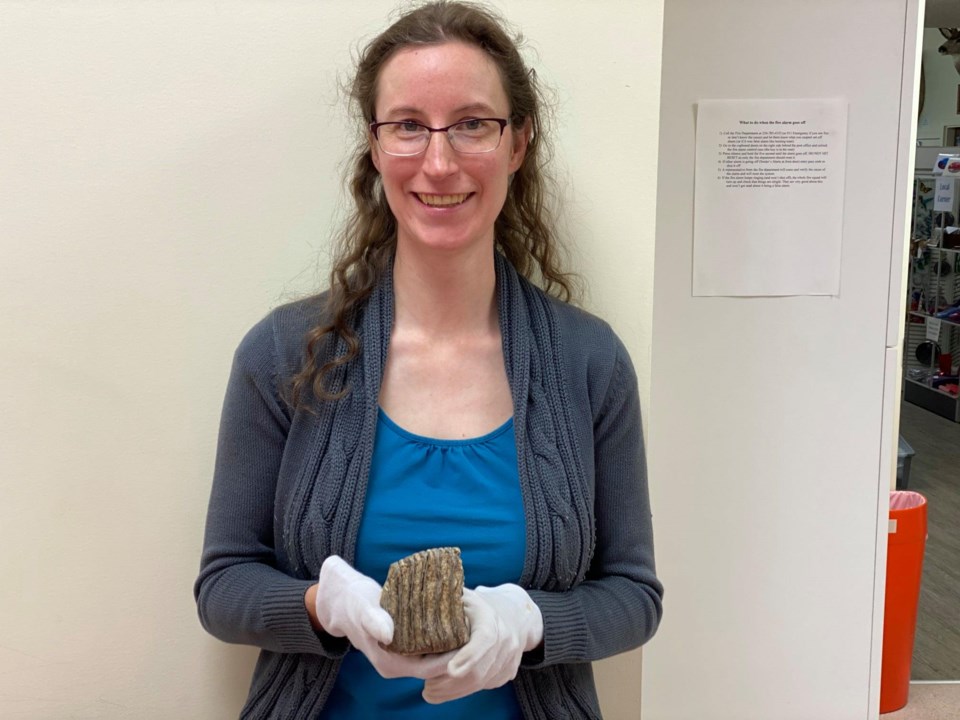 New Exhibits
Snapshots in Time: The Murrays & The Alaska Highway News
March 5, 2021 – Late August 2021 at the North Peace Regional Airport
In 1944, Fort St. John's first (and only continuing newspaper), the Alaska Highway News, began. This exhibit captures snapshots of the newspaper's history under the Murray family from 1944-1974. It features stories, photographs, quotes, and artefacts that chronicle how the Murray family produced and marketed the paper. Equipped with pens, paper, typewriters, and a sense of humour, the Murrays captured a community in transition with the opening of the Alaska Highway and the oil and gas boom. Our newspaper-scanning project which makes the Murray's work searchable is also featured in this exhibit.

A Rough Journey: Railways and the North Peace Exhibit
New Permanent Exhibit at the Fort St. John North Peace Museum
"The Whistle's Blowing and Here She Is!" read the headlines in the Alaska Highway News on October 9, 1958. The paper was celebrating the arrival of the first railway – the Pacific Great Eastern – to Fort St. John. Even though trains didn't run to Fort St. John until 1958, they still played an active role in how people got part way to this region and how farmers got crops to market. This new permanent exhibit looks how the Edmonton, Dunvegan, and British Columbia Railway (pictured right), the Northern Alberta Railway, the Pacific Great Eastern Railway, the British Columbia Railway (later BC Rail), and CN Rail played a role in the history of the North Peace. This exhibit displays several railway artefacts in our collection from a souvenir spike to our railway lantern and lamp. 
North Peace Historical Society AGM
Due to Covid-19, we are not able to host our AGM in the usual in-person format with dinner and large gathering. We are looking into hosting our AGM in a digital format this year until we can have a large gathering again (hopefully in 2022). Please take a minute and fill out our three-question survey on Survey Monkey by March 12: https://www.surveymonkey.com/r/MJXCW5X
Archives & Collections
We've responded to 36 inquiries so far this year, which is a three-fold increase over last year. Our archives volunteers are working hard to catalogue photographs, scan obituaries, and add items to our vertical files.

Our newspaper volunteers have scanned seven years of the Alaska Highway News and work is beginning on the eighth. We've applied for a summer student to help with the scanning this summer as well. If you'd like to help with this project, please contact the museum at fsjnpmuseum@fsjmail.com or 250-787-0430. It only takes about 30 minutes of training to get you set up and then you set your own hours.
Share Your Covid-19 Experience
How has Covid-19 had an impact on your life? The Fort St. John North Peace Museum is looking for your stories and photographs of living in a much different world than what we were used to. We're looking for things like photographs of how daily life has changed or a short write up on how things are different such as a trip to the dentist. Items, stories, journals, photographs, etc. that connect to the Covid-19 pandemic can be dropped off at the museum or submitted by email to fsjnpmuseum@fsjmail.com. 
Heather Sjoblom is manager and curator of the Fort St. John North Peace Museum.