The North Peace Cultural Centre opened its doors Saturday night to reveal a newly renovated theatre complete with new seats, new carpet, and a refreshing new coat of paint.
Some new lighting and sound equipment was included and new drapes and a cyclorama will soon be installed. The makeover was much-needed after 27 years of constant use.
"The theatre renovations are the first step in bringing the cultural centre up-to-date," said Connie Surerus, chair of the North Peace Cultural Society.
"The doors first opened in 1992 and thousands of performances and events have taken a toll on the facility."
The renovations were made possible by the support of the City of Fort St. John ($170,000) with matching funds from Northern Development Initiative Trust ($170,000), as well as a BC Gaming Capital Grant of $250,000, along with 200 seat sponsors.
On opening night, donors sat in the seats that will soon permanently display their names. Surerus gave recognition to the funders and those who completed the work.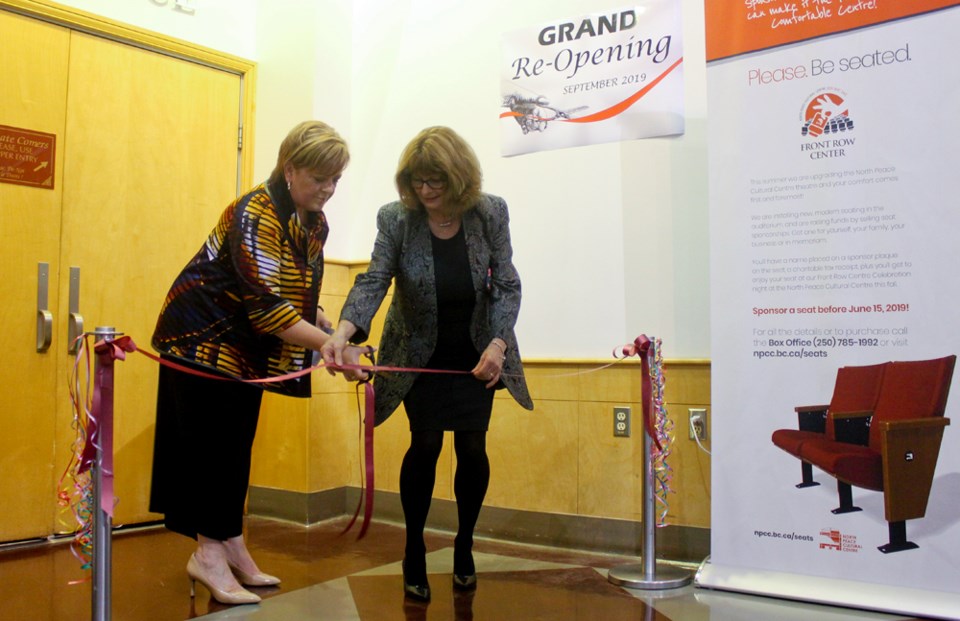 Special honour was also given to Yvonne Dixon, one of the founding members of the Community Cultural Committee that initiated the building of an arts centre in the early 1970s.
Dixon and her daughter Pat were in the audience to further contribute to the North Peace Cultural Centre with a donation from the Dixon Family to start an Endowment Fund for future development of arts programs at the cultural centre.
Mayor Lori Ackerman said the city was proud of the renovations, and said they fit with its vision to revitalize downtown.
"The city has been working really hard over the last couple years to get a lot of our infrastructure rebuilt … so we can start finally moving up Maslow's hierarchy to create some wonderful things in the community," Ackerman said.
"I'm excited to come watch my grandchildren on the stage again because a new generation is here to enjoy it."
The next targets for renovations are the lobby and café.
Email Managing Editor Matt Preprost at editor@ahnfsj.ca.