This week I'm looking at Candace Sanderson's exhibition A Common Reality, which is on display now at the Dawson Creek Art Gallery for a couple more days, until Feb. 25. By the time you read this, you might miss out on the show, but you don't want to miss out on Sanderson.
A well-known entity in Peace Region art circles and an outspoken feminist, Sanderson is one of the few women artists working in the medium of wood in the North. She was first introduced to this medium by an instructor while completing her Visual Arts and Design Diploma at the Grande Prairie Regional College. Now Candace fittingly uses woodwork—commonly, and erroneously, believed to be a masculine skillset—as well as other media to challenge the patriarchy and uproot assumptions about gender norms.
---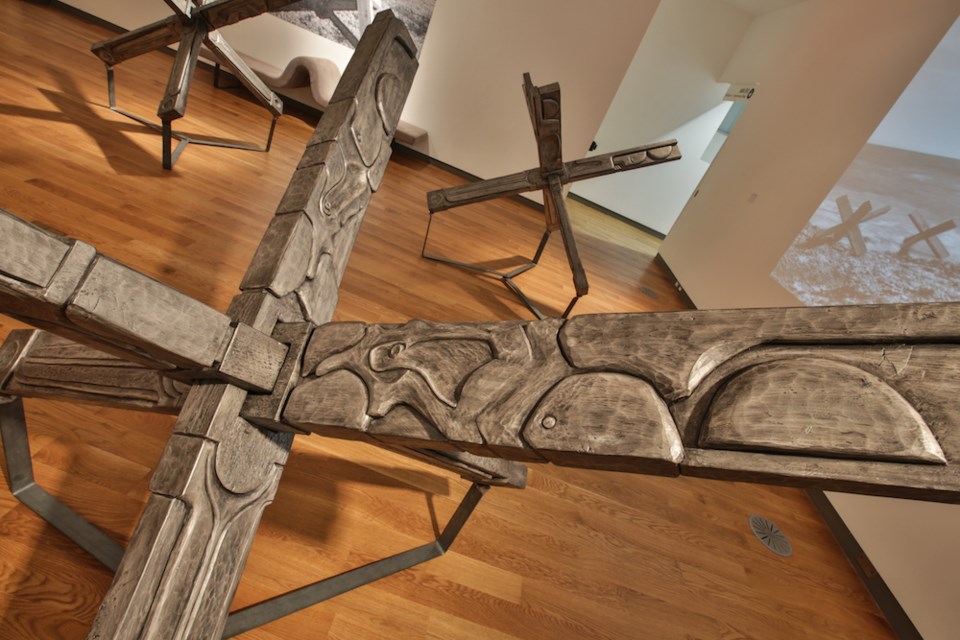 ---
A natural extension of her body of work, A Common Reality explores the unseen barriers still affecting women today, over a hundred years after first-wave feminism began in earnest. A signature of this exhibit is Sanderson's use of the Czech hedgehog. A universally recognized symbol hearkening back to the Second World War, Czech hedgehogs are obstacles used to direct movement on a battlefield. By invoking these cumbersome structures, the artist renders the, typically unseen, socially enforced gender norms that pressure women to pursue certain roles and exhibit feminized behaviours. For more insights on the performance of gender, check out my article on Samantha Wiggleworth's show Spectrum.
A striking addition to this phase of the show is Polarization Bias, a chain-link net of female figures rendered in knotted rope. The resulting pattern echoes the "X" formations of the Czech hedgehogs, suggesting multiple readings. Xs bar entry, but can also represent XX chromosomes; similarly paradoxical, nets can capture or subdue, or be used to scale heights. These seeming contradictions lead the viewer to question: are these female figures bound by solidarity or participating in their own subjugation?
---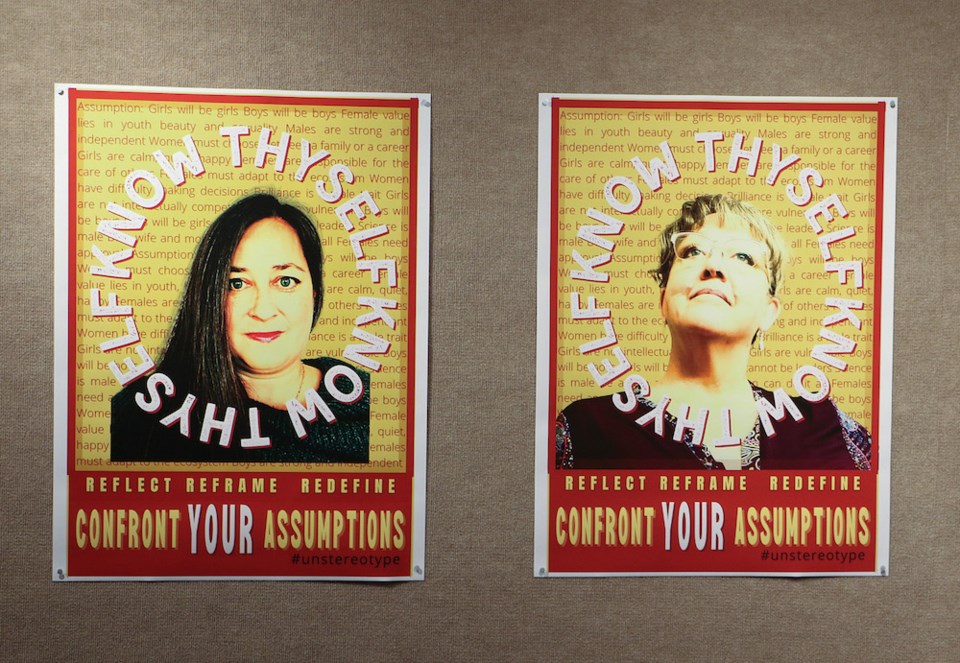 ---
Drawing inspiration from essayist, poet and feminist Adrienne Rich and her famous quote, "Until we know the assumptions in which we are drenched, we cannot know ourselves," Candace's #Unstereotype Series dismantles commonly held assumptions about women. Here Sanderson implements the red-and-gold palettes of Soviet propaganda posters, as well as photo editing, to mimic the idealized portraiture style found in socialist realism. By using this bold propagandic aesthetic, she calls attention to her message while also speaking to the ubiquitous nature of stereotypical beliefs.
I hope you can rush to the Dawson Creek Art Gallery to catch this powerful show before it closes on the 25th. The artist is also included in a group show at the Beaverlodge Area Cultural Society with Emily Lozeron and Elizabeth Hutchinson, running from Aug. 28 to Sept. 22. Keep in mind that Phase Three of A Common Reality is in the works, although the artist is mum on specifics. I, for one, am excited to see how this series unfolds, and if you are too, don't forget to keep an eye on Candace's website.
---
Do you have an artistic endeavour you would like to promote? Is there a topic you would like me to discuss? I would love to hear from you! Please email me at programs@dcartgallery.ca.