Art Napoleon returns home and to the TV screen next week as the popular globetrotting food and culture show 'Moosemeat & Marmalade' premieres its fifth season in the Peace River Valley.
Tagging along with the bush cook and entertainer is classically trained British chef Dan Hayes, and the two use some of the best northern ingredients nature provides for a feast fit for friends: whitetail deer ribs with a chokecherry barbecue sauce, campfire bannock, and a saskatoon berry dessert.
"Theres a lot you can do to make a dish. A lot of people think when you're cooking outdoors or going camping, and you're going to live off the land, that you're limited; that all you can do is roast a deer leg over a fire," Napoleon says. "But no, there's all kinds of things you can do, there's all kind of ways you can cook. The land is abundant. You just have to know how to harness it, and do it up in a good way."
Napoleon and Hayes have spent the last five years travelling Canada and Europe to share culture and culinary traditions, and, of course, cook and taste really good local food.
The show's focus is always the food, but a feature about the valley can't ignore a multi-billion Site C dam, the affected farmers, and what stands to be lost in the flood zone. For Napoleon, that is the abundance he and Hayes were able to capture and forage for the episode.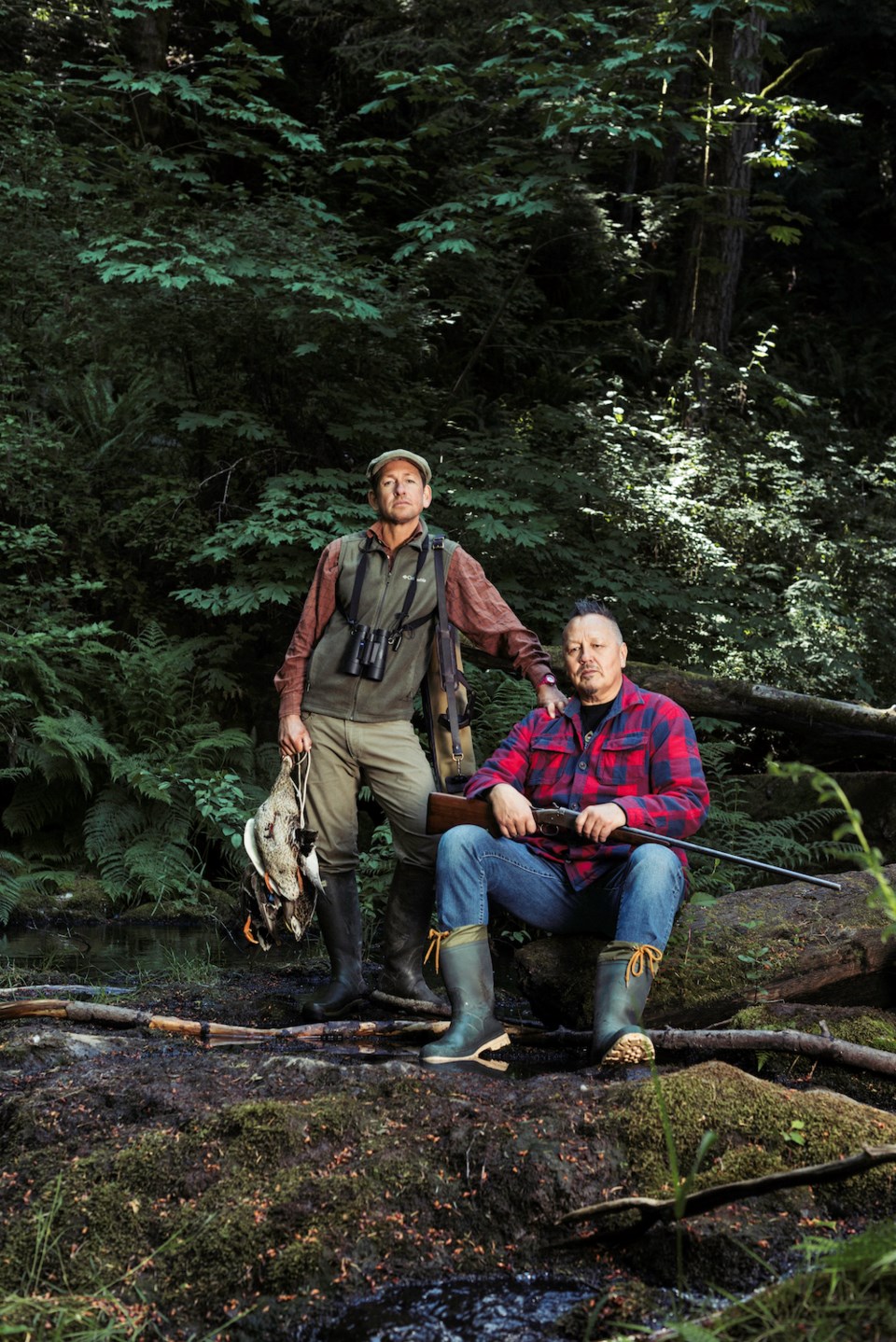 "I've always been allied and friends with the Protect the Peace River movement … I've done a lot of research around that dam and do not believe that it's needed," Napoleon says.
"As a food show, our job is not to be too political, but at the same time we let people tell their stories. We don't want to ignore it. We let them say what they want to say as long as we bring things back to the food."
"The Peace is a beautiful growing region," he continues.
"The game is still abundant and I wanted to show how beautiful it is to the world. It's a built-in story already. There are people there that are third or fourth-generation ranchers, and let them talk about how they're going to be affected by the flooding and having to relocate. We didn't want to make it too sad, and bring the focus back on celebrating the abundance of what is there at that time, and cooking it and eating together around the table overlooking the river, hoping to tell the story of the Peace." 
Moosemeat Promo 60 from May Street Productions on Vimeo.
Napoleon is from the Saulteau First Nation, and the fifth season of his show brings viewers to scenic and mouth-watering stops in communities across B.C., Quebec, Ireland, and Wales.
Food security and food sovereignty have been recurring themes throughout the years, and the new season includes a second local episode filmed in the Moberly Lake area, and during cultural celebrations at Carbon Lake Lodge.
Napoleon used the opportunity to highlight the conservation work of the Saulteau and West Moberly First Nations, including the caribou conservation camp where the two are working to save the Klinse-Za herd from extirpation.
"We've all voluntarily quit hunting caribou long ago in that area because we knew it was a problem," Napoleon says.
"Elders witnessed the downfall. They said some of the mountains used to be covered with caribou, you couldn't count them. After the [W.A.C. Bennett] dam was built ... it cut off their migration route and the numbers started dwindling. And if you combine that with the cumulative impacts in the area, larger clear cuts, more clear cuts, mining, everything combined, right of ways, pipelines ... They are a pretty sensitive species. They don't like hanging out where people are. It's not really a surprise that numbers have dwindled."
"I wanted the herders and the project heads to be able to tell their story. To me, it's a success story," Napoleon says. "The Twin Sisters Nursery is another success story. We don't have a lot of those, so I wanted to focus on that and let people tell their story."
Napoleon and Hayes went on a hunt in the alpine for other game for the episode's meal, but returned with only blueberries. Other hunters donated meat, and the episode features a mixed grill of elk and beaver, and drum and hand game festivities.
"Once again nobody got overly political because it's a food show, but it's a good to tell the truth of what's going on, and let people know that it's not a major threat that's being painted by certain people," Napoleon says, noting the political tensions and racism the caribou project caused between communities and First Nations in the region.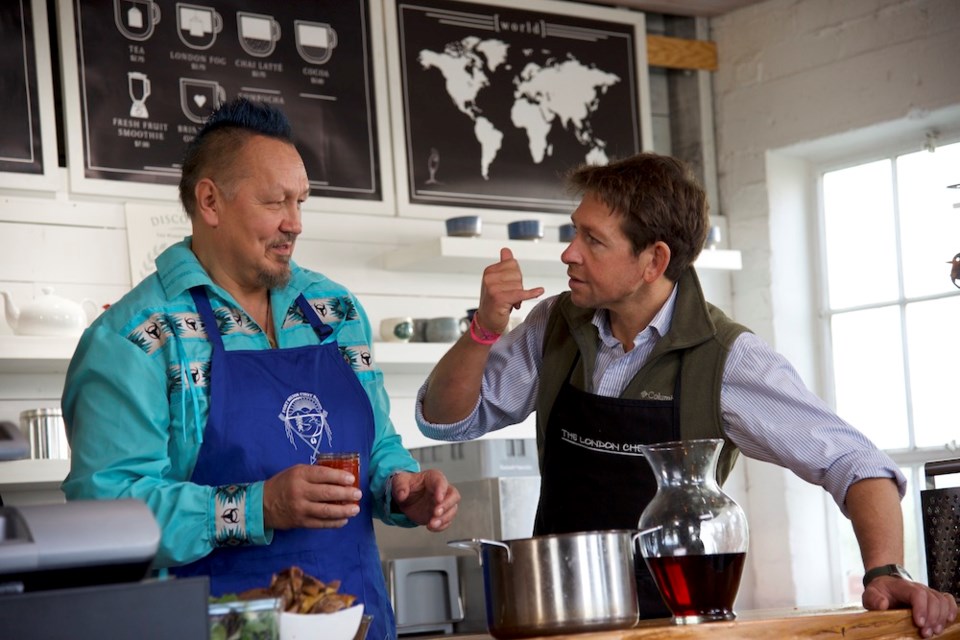 Napoleon lives in Victoria these days and is a co-producer of the 'Moosemeat & Marmalade', which airs on APTN.
He first met Hayes on the set of 'Tiga Talk', a show similar to 'Sesame Street' that also airs on the network. Napoleon played the show's Dad, while Hayes was the set caterer, and the two were introduced after Napoleon pitched a concept for a sketch comedy show about an offbeat bush cook.
"It was my way of poking fun at all the chef shows coming out: Everyone's a cook, everyone's cooking perfectly manicured things, and this guy was just a rough cook raised in the bush, he doesn't measure stuff, he's messy," Napoleon says.
Producers quickly recognized its potential, and put the two men to a screen chemistry test to open its potential audience. 
Hayes teaches culinary lessons all over the world, while Napoleon has long been a music performer, children's entertainer, and keynote speaker. The pair instantly clicked over shared interests for hunting, history, and learning about other people's culture.
"We were both sort of in our lines of work. We had to be engaging, had to know how to use a little bit of charm, a little bit of humour, and how to engage with people above all," Napoleon says.
A teaser was sent out to networks, including the Food Channel, which were interested, but not enough to cough up funds. So, APTN picked it up, and despite a small second-season blip, the last five have been an adventure and growing friendship caught on tape.
"[Dan] was a guy I could poke fun at and he wouldn't get too mad, and he could also poke fun at me, and same deal. We could make fun of each other and were able to overlook what might be differences for other people," Napoleon says. "We have become close in real life."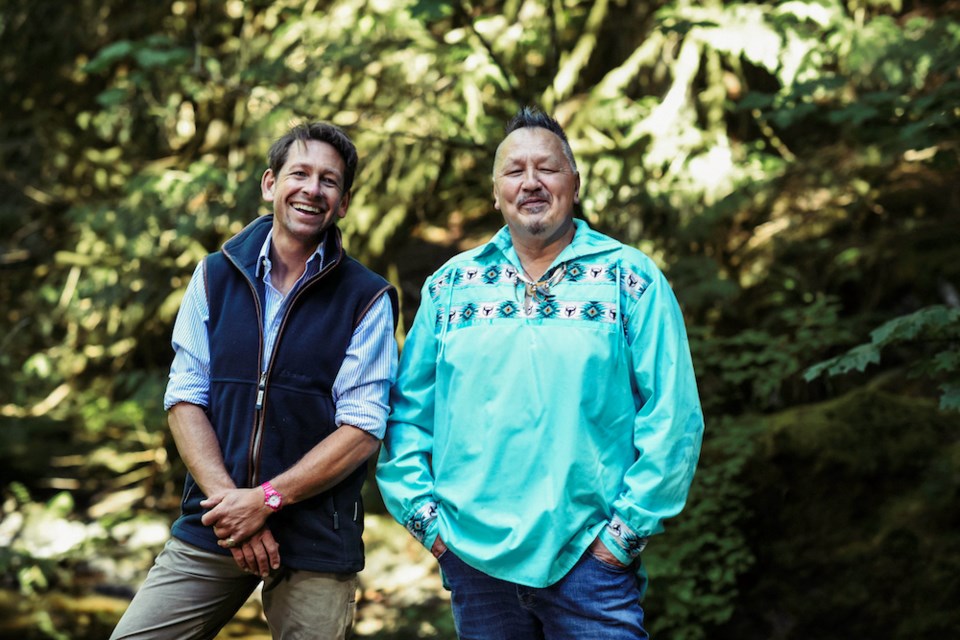 Napoleon says the show has given him opportunity to travel and learn about the world, while learning the business of running a production company.
"I was always an inquisitive guy, always an adventurer, so I genuinely get a lot out of every time we're travelling to somewhere overseas, whether it's England or Spain or Ireland or Scotland," Napoleon says. "I immerse myself. I do research, I throw myself in, and learn as much as I can."
He credits that to the way he was raised in northeast B.C.
"I'm always proud to tell people where I'm from: I'm from the boreal Rocky Mountain foothills of northeastern B.C.," he says. "Some people call it the Peace region, some of us call it the Treaty 8 region. That's where the seeds were planted for me, so I always respect that and hopefully I represent the area in a decent way."
The fifth season of 'Moosemeat & Marmalade' premieres on APTN on Thursday, Feb. 11.
Email Managing Editor Matt Preprost at editor@ahnfsj.ca.