Blueberry River First Nations (BRFN) officials say the B.C. government is not doing enough to slow industrial impacts on its land, the effects of which it says are wreaking havoc on treaty rights. 
In a study released June 28, the nation says the province has continued to greenlight development on its territory at "an accelerated scale and rate, despite its knowledge of the worsening cumulative effects."
BRFN's reserve is located north of Fort St. John, but its traditional territory stretches from south of Dawson Creek, west beyond the Pink Mountain area and north past Sikanni Chief, ending just south of the Klua Lakes protected area.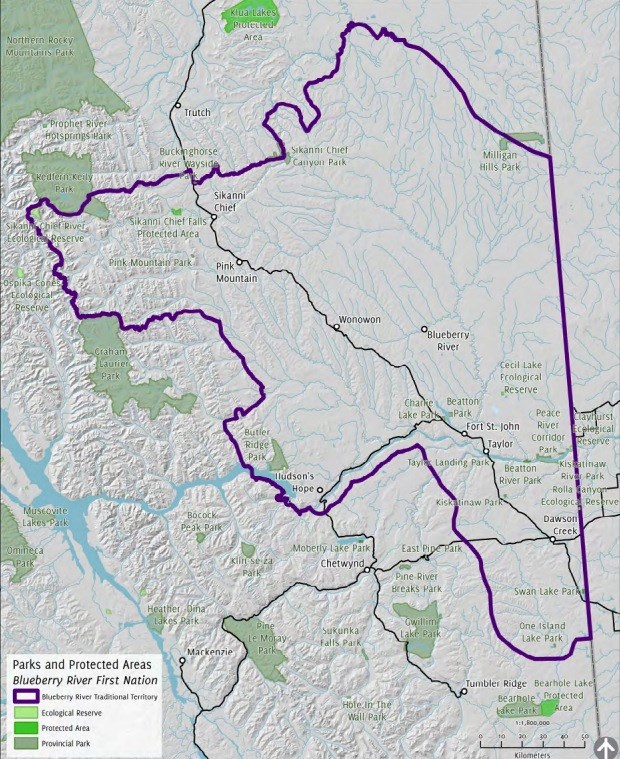 The 2016 Disturbance Atlas follows on the heels of a similar 2012 study. Work on the Atlas was carried out in cooperation with the David Suzuki Foundation and Ecotrust Canada.
The Atlas shows 84 per cent of the First Nations' traditional land has been impacted in some way by logging, oil and gas or hydroelectric projects, including the Site C dam. 
Since 2012, the government has given the go-ahead to more than 2,600 oil and gas wells, 2,624 km of access and development roads, 1,500 km of new pipelines and 9,400 km of seismic lines in BRFN's traditional territory.
"The findings of the 2016 report clearly show that even though the provincial government has clear notice of the scale of harm… it has worked to make the problem worse, not better," Chief Marvin Yahey said in a news conference.
"Fracking, forestry, roads and other development is pushing us further and further to the edges of our territory and we are no longer able to practice our treaty rights in the places we've always known."
Concerns regarding cumulative impacts were the basis of a 2015 lawsuit over the breach of the guarantees to traditional land use contained in Treaty 8.
Industrial development, particularly in the oil and gas industry, has increased sharply over the past few decades.
"Despite raising these concerns directly with the premier and with provincial ministers, there has been no meaningful response to this critical threat," Yahey said. "Instead, the province continues to approve major industrial undertakings in our territory, including major fracking operations and the Site C dam, willfully ignoring that each new approval brings our unique culture closer to extinction."
The study outlines critical areas of the land in need of attention, including protections for some of the most important zones for hunting, trapping, and gathering food and medicinal plants.
BRFN also said requests have been made directly to Premier Christy Clark for a cumulative impacts study of its territory, but "B.C. has not responded." As a result, the nation began its own study of the cumulative impacts called the Land Stewardship Framework. BRFN said it will offer a "science-based solution" to the issues it outlines, and a pathway to sustainable development in the area. 
"(We) want to ensure that generations to come are able to meaningfully exercise their treaty rights to live off the land," a BRFN release said. "The ability of (our) children to hunt, eat moose, harvest berries and medicinal plants and learn their language while on the land hangs in the balance."
In a statement emailed to the Mirror, Raustad said the goverment is aware of BRFN's concerns regarding resource development within its territory. 
"We have developed a cumulative effects framework that is being applied in Northeast B.C.," Raustad wrote. "We are committed to reaching a respectful, government-to-government relationship that ensures BRFN has both economic opportunities and a strong role in environmental stewardship."
dcreporter@dcdn.ca