Moving large volumes of liquefied natural gas requires some pretty expensive infrastructure, such as large specialized carriers to transport the gas across the ocean, and receiving terminals and regasification plants at the import end.
But that's not the only way to transport the commodity. Liquefied natural gas (LNG) can also be transported in intermodal containers. These containers, typically 20 or 40 feet long, can be used to move a variety of liquefied gases by truck, rail and container ship.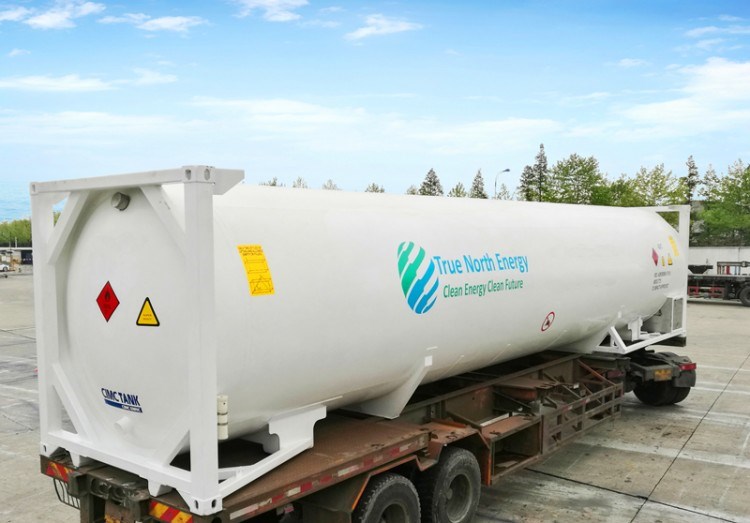 At the end of 2017, True North Energy Corp., a new Vancouver company, arranged the first export of LNG produced in B.C. to China on a trial basis.
The LNG was supplied by FortisBC and the intermodal container was supplied by China's CIMC Group.
"We are planning to do more this year," said True North Energy co-founder and CEO Calvin Xu. "We are already planning a couple of units in June. Eventually we want to ramp up to 20, even 50 per shipment."
China's imports of LNG have been dominated by three big players – Sinopec, PetroChina and China National Offshore Oil Corp. But the country is now seeing new, smaller companies getting into the LNG import space to serve smaller industrial customers such as trucking firms.
By 2020, based on the projects already permitted and under construction, the total capacity of new receiving terminals by these second-tier players will be an estimated 5.8 million tonnes, Xu said.
"So as new players come into the markets, this creates a lot of new opportunity for a Canadian company to engage and sign new contracts," Xu said.
Moving LNG by intermodal container allows more flexibility than shipping by tanker, since the containers can be sent to virtually any port. There are already about 3,000 LNG refuelling stations in China that could be served by smaller suppliers.

"By using [intermodal] containers, we can actually ship LNG directly from the LNG plant here all the way to the end-users," Xu said. "What it does is create a lot of flexibility in meeting urgent demand, especially during wintertime when the market price can afford $30 [per million British thermal units]. You bet you can make some money selling LNG this way to China."
But if True North is to develop a new market in China, B.C. will need projects like Woodfibre LNG in Squamish to be built.
Other LNG projects proposed for B.C. include Steelhead LNG, which has partnered with the Huu-ay-aht First Nations on Vancouver Island to build a floating LNG terminal.
That $10 billion project is still some years away, however. The company just recently submitted the project design to the B.C. Environmental Assessment Office and would need a new pipeline to bring gas from northeastern B.C. to Vancouver Island.