Real estate sales plunged 26% in Fort St. John in 2022, but average selling price of a single-family home saw a modest increase from 2021, according to year-end numbers from the BC Northern Real Estate Board.
A total of 632 properties changed hands in Fort St. John last year, down 26% from the 796 properties sold in 2021, according to the real estate board.
The sales for the year were valued at $258 million, down 20% from $309.4 million worth of real estate sold the year prior.
Of the 292 single-family homes sold in the city, the average selling price was $411,380, up 3.8% from 2021's average of $396,353, when 403 homes were sold.
However, of the single-family homes sold in 2022, half sold for less than $381,000, according to the board.
Another 77 half-duplexes, 54 homes on acreages, and 91 manufactured homes, including 31 in parks and 60 on land were sold, as were 28 parcels of vacant land.
There were 420 properties were listed through MLS in the Fort St. John area at the end of 2022, up from the 193 properties at the end of 2021.
"Active listings in the region started the year at record low and slowly grew through 2022 as home sales slowed and listings remained on the market longer. As a result, markets around the north returned to balance as months-of-inventory normalized from the deep sellers' market conditions that had prevailed for much of the last two years," the board said in a news release.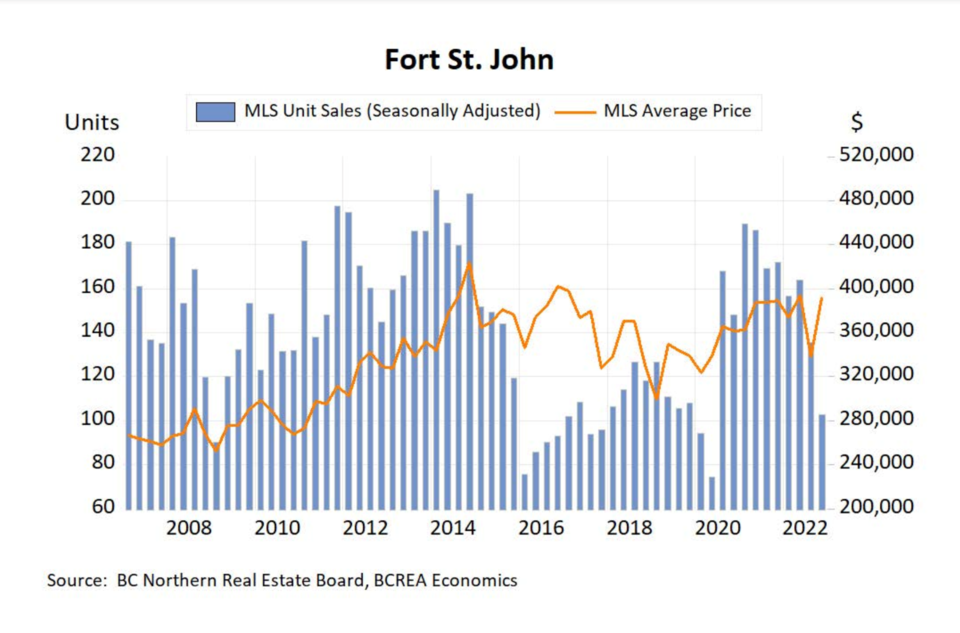 "The abrupt shift in market conditions spurred by rapidly rising interest rates has translated into a softening of prices from peak levels achieved earlier in the year," the board stated. "By the end of 2022, the average price in the BC Northern Board area was essentially flat when comparing the fourth quarter of 2022 to the fourth quarter of 2021."
Across Northern B.C., there were 5,001 property sales worth $2 billion in 2022 through MLS, down from last year's 6,669 sales worth $2.4 billion.
Total home sales across the region declined 23% to 4,250 units, according to the real estate board, "but on par with the average level of sales activity over the past 10 years."
The board predicts a slow start to the market in 2023, with home sales forecast by the B.C. Real Estate Association to decline a further nine percent to 3,900 units in 2023, it said.
"With mortgage rates expected to remain elevated, and a likely slowdown in the economy on the horizon, housing market activity across the north will remain slow in 2023," the board said.
"Slower sales and rising inventory will precipitate a slight decline in home prices, with the average price in the region slipping about 1 per cent over the next year."