The gymkhana event originally scheduled to take place during the North Peace Fall Fair were postponed due to rain, and took place September 11 at the fair grounds. There were 17 riders across four age groups competing in six events.
Awards were given out to the best rider in each age group. Cutter Giesbrecht was first for Junior riders, Emma Stafford was the top Intermediate rider (9-16), and Janet Abbott was first in the adult group.
The four Leadline riders each received first place overall. Those riders were:
Sage McRae, 3 years old
Emery Graham, 2 years old
Hartley McGinnis, 5 years old
Trace Giesbrecht, 5 years old
In addition to the competitive events, the group held three fun events — ribbon race, bucket carry, and ride-a-buck — without keeping score.
Results
Pole Bending

Junior
1. Cutter Giesbrecht
Intermediate
1. Emma Stafford
2. Olivia Myram
3. Hadley McGinnis
4. Kadence Peters
5. Brice Bellamy
Adult
1. Janet Abbot
2. Kristi Giesbrecht
3. Sarah Terpstra
4. Linsey Edwards
5. Kally McRae
6. Kora Sully
7. Amanda Stafford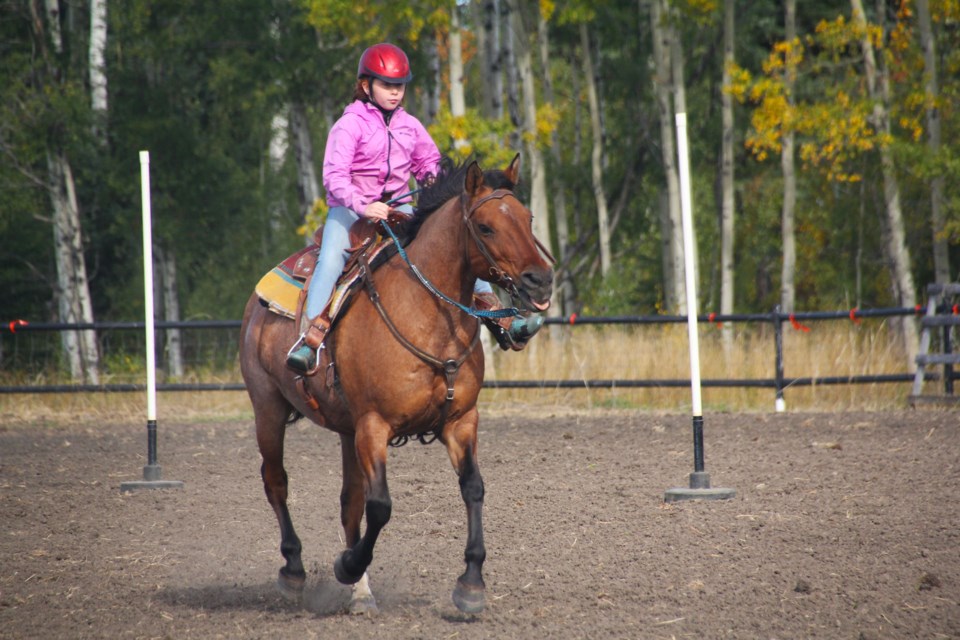 Run, Drop, Ride
Junior
1. Cutter Giesbrecht
Intermediate
1. Olivia Myram
2. Emma Stafford
3. Hadley McGinnis
4. Brice Bellamy
Adult
1. Kristi Giesbrecht
2. Kora Sully
3. Linsey Edwards
4. Janet Abbot
Flags
Junior
1. Cutter Giesbrecht
Intermediate
1. Emma Stafford
2. Olivia Myram
3. Hadley McGinnis
4. Brice Bellamy
Adult
1. Kristi Giesbrecht
2. Janet Abbott
3. Kally McRae
4. Linsey Edwards
5. Kora Sully
6. Sarah Terpstra
Barrels
Junior
1. Cutter Giesbrecht
Intermediate
1. Emma Stafford
2. Hadley McGinnis
3. Brice Bellamy
4. Olivia Myram
Adult
1. Sarah Terpstra
2. Kristi Giesbrecht
3. Janet Abbott
4. Linsey Edwards
5. Kora Sully
6. Kally McRae
7. Amanda Stafford
Big T
Junior
1. Cutter Giesbrecht
Intermediate
1. Emma Stafford
2. Hadley McGinnis
3. Olivia Myram
4. Brice Bellamy
Adult
1. Sarah Terpstra
2. Janet Abbott
3. Linsey Edwards
4. Kristi Giesbrecht
5. Kora Sully
6. Kally McRae
7. Amanda Stafford
Keyhole
Junior
1. Cutter Giesbrecht
Intermediate
1. Hadley McGinnis
2. Brice Bellamy
3. Olivia Myram
4. Emma Stafford
5. Kadence Peters
Adult
1. Janet Abbott
2. Kally McRae
3. Kristi Giesbrecht
4. Linsey Edwards
5. Kora Sully
6. Amanda Stafford
7. Sarah Terpstra
---
Email sports reporter Dillon Giancola at sports@ahnfsj.ca