When Anders Morley decided to trade his life in Italy for a cross-country ski trip across Northern Canada in 2011 — with a stop in Fort St. John and the Peace region — he did so out of a sense that he belonged in the wilderness and wasn't meant to live a domestic life. Feeling claustrophobic and disappointed at where his life had led up to that point, Morley thought the trip would answer all his questions about life and why he felt the way he did.
Now, seven years after the trip concluded, Morley has completed a book about the journey, titled This Land of Snow: A Journey Across The North In Winter, and released Sept. 1 by Mountaineers Books. The trip, which took place from 2012 to 2013, certainly gave Morley answers to his questions, but not the ones he was expecting.
"I tried to convince myself that I was this wild person who needed to live in the wilderness, but I failed to acknowledge other facets of my personality," Morley said. "The journey helped me recognize my personality was much more complex than I thought it was, which is what becoming an adult is all about."
To fully find out what Morley learned about himself and how he learned it, you'll have to read the book, but a spoiler-free conclusion is that he learned to appreciate the outdoors and living in the wild while finding that balance to still enjoy living a normal family life.
"Interspersed with wonderful characters and stunning descriptions, This Land of Snow explores the dichotomy between going on a journey and finding your way home," Mountaineers Books, its publisher, noted.
Morley began his trip in Prince Rupert in November 2012, eventually making his way to Fort Saint James, and then Prince George. He entered the Peace region in the New Year, stopping in Chetwynd before travelling to Fort St. John, where he spent six days. That portion of his journey is described in full in Chapter 13, titled "The Great Divide".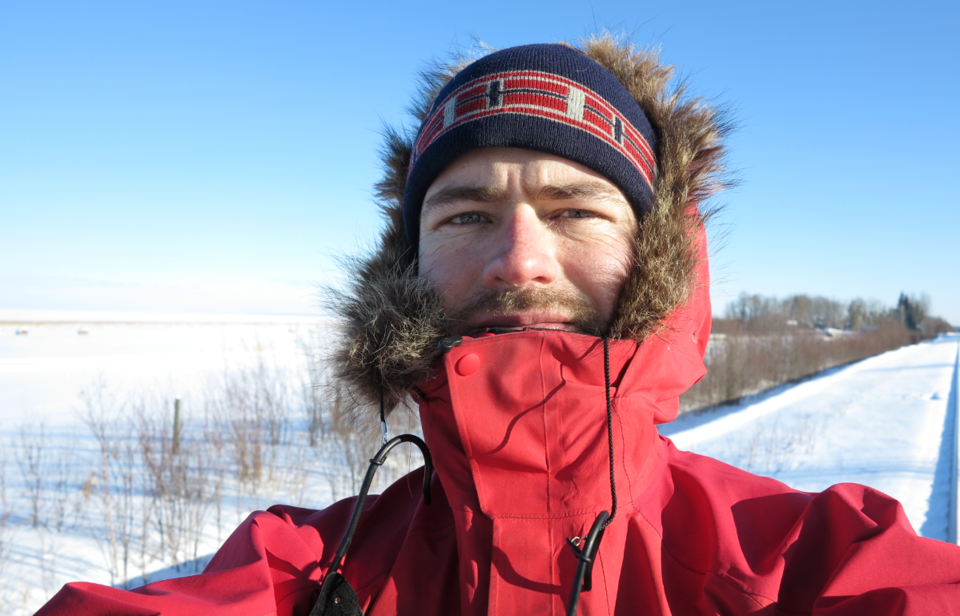 "What I remember most about my time in Fort Saint John is good conversation and comfortable silences," Morley writes in the book.
After reaching out to various clubs in the area, he came in contact with Eliza Stanford, president of the Whiskey Jack Nordic Ski Club, and her husband Edward, and spent the week at their place. While he was here, former Alaska Highway News sports writer Katie Maximick  caught up with Morley to talk about his journey when it was still just starting.
"It was freezing when I was in Fort St. John, 30 below the whole time, but I had a very relaxing time. We went skiing in Charlie Lake, cooked, and went for a walk," Morley said. "It was a really pleasant time and a nice break."
It wasn't so nice when he left Fort St. John and travelled east. He would plow his way through field after field, stopping to manoeuvre his way around a fence or barbed wire, and continue on again in the bitter cold.
"It really stood out geographically. Coming from the Rockies and all the dense spruce, it really opens up so there are aspens everywhere and everything is really white. When I came in through Taylor and up to Fort St. John, I got this impression of a gas-driven frontier town," said Morley.
Morley isn't the first person to find themselves in the Peace region wilderness on a journey of self discovery.
However, it's not often the journey results in something so succinct as a published book. Currently a freelance writer, Morley said the journey to get the book completed and then published was long as well. But he's glad the book is finally released and this chapter of his life closed.
Morley currently splits his time between Bergamo, Italy, and Littleton, New Hampshire, where he's from.
Email sports reporter Dillon Giancola at sports@ahnfsj.ca.