Austin Duncan has won the International Motor Contest Association (IMCA) Canadian Rookie of the Year award in just his first year of racing. The Charlie Lake driver had the most points of any IMCA rookie driver in Canada, and had the third most points of all modified drivers at the Taylor Speedway this year.
Austin had spent the past couple years helping his younger brother Russell Duncan, himself driving in the IMCA Modified class for the first time, as a mechanic. Heading into this season, Austin decided to step behind the wheel, not knowing just how successful he would prove to be.
"I've never raced any kind of car in my life, it's pretty exciting to win Rookie of the Year," Austin said. "I was nervous going into the season, but it was the most fun I've ever had."
Austin edged out his brother by just four points, not just for Rookie of the Year, but for third place in Canada overall. Taylor Speedway's Johnny Beaumont was the IMCA Canadian champ. Austin beat Russell by 14 points in the Taylor standings, also for third place.
---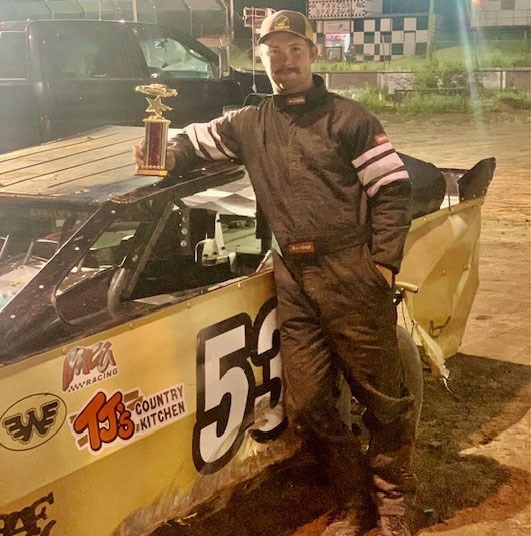 ---
The brothers raced each other hard all year, not afraid to bump one another and never shying away from a fight.
"We were bumping each other all the time. We went at each other every race. It was lots of fun, the first year in modified for both of us, and we had each other to lean on," Austin said.
Austin not only drove at Taylor Speedway, but went to Drumheller for a weekend to pick up some more IMCA Canada points.
It was tough racing at a different track. We had some car issues but learned a lot as well," Austin said.
For anyone interested in racing, Austin can't recommend it enough.
"It's definitely nerve-wracking at first, but everyone is really supportive, and once you're behind the wheel everyone is really kind. There's nothing like it," said Austin.
Austin plans to continue with the sport, and learn more about car setup.
Taylor Speedway driver Dean Bell also won a IMCA Canada award, finishing third in the A Modified Class.
---
Email sports reporter Dillon Giancola at sports@ahnfsj.ca