For the second year in a row, the feeling was jubilation.
Rightfully so; anytime you win a provincial championship, especially back-to-back, it's special. This time though, the Fort St. John Flyers gripped the Coy Cup tightly in Terrace, like it was a brother lost at sea.
It was another tumultuous journey to the trophy for the Flyers, one that started with a tie, nearly finished with loss to Whitehorse and ended with a 3-2 win over the Terrace River Kings last Saturday.
It was that familiar back against the wall feeling the boys in blue thrived on, just like when they trailed 3-0 to the Grimshaw Huskies or faced elimination twice in the Coy Cup.
"It was a different year, everything came into play there at the end of the year and that kind of broke our hearts, we sat at home feeling sorry for ourselves. It was hard to swallow, but we definitely turned it around and used it as fuel this last week," Veteran goalie Troy Hunt recalled about the team's feeling toward being ousted from the North Peace Hockey League playoffs, when they unknowingly played 26 roster players in the second round. 
"It especially got brought up quite a bit in that last game in the final, especially between the second and third where we realized we were going to have to dig really deep to get it done. We brought that up, that we'd already had one taken away from us so don't let it happen again."
They nearly did get it taken away again, as the Flyers were in control 3-1 late in the final, when the River Kings scored a flukey goal to get within one and only 1:21 remaining.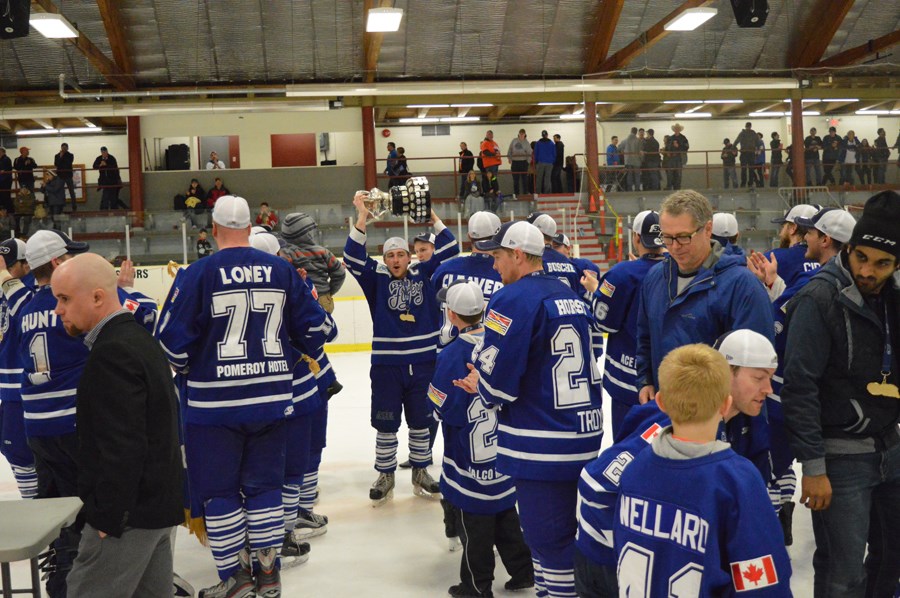 Despite the expectation of panic in such a high-pressure moment, Hunt said there was an odd calmness about the play in front of him.
"There was definitely something calming about the whole thing as compared to a normal game. I just felt like we were good to go. I didn't think at any point they were going to come back. I didn't ever think they were going to get the third one," Hunt said.
Joey Massingham, Josh Bostock and Rick Cleaver scored for the Flyers in the final.
That steadying presence Hunt referenced was likely an ode to the Flyers' most reliable player over the five-day tournament, veteran defenseman Tyler Loney, who was also named tournament MVP.
"Loney does that day in and day out; I think Loney's biggest thing this week was his consistency," Hunt said of the standout defender.
"All five games he was a leader for us on the blueline. He made a lot of smart hockey plays and he had the effort that week. He had a little more of a step than he usually does. But he came to play hockey this week."
In 2015 the Flyers also beat the River Kings in the final of the Coy Cup that time in Fort Nelson and it was the first time the franchise had ever won the BC Senior AA Provincial title.
sports@ahnfsj.ca