The Fort St. John Elks Speed Skating Club has stayed busy this winter. After the Fall Classic in Calgary, Brooke Braun, Sidney Bennie, Hannah North, Cheyanne Key, Matthew Mitchell and Jack Hanson were back in Calgary, November 19 to 21, for the CanAm International Championship long track competition.
Fort St. John's Joshua Telizyn competed as well, lighting up the track with a second place finish in the 500m and a fourth-place skate in the 1000m.
The week before, November 12, Elks skaters were in Edmonton for the Edmonton Fall Classic short track competition. Maida Ahmed, Sarah Hanson, Maria Hansen, Tara Ashrafi, Connor Mason-Bennett, Subhaan Ahmed, and Taha Ahmed competed in Edmonton.
CanAm International Championships Results - November 19 to 21, Calgary

Women's 500m #1
32. Brooke Braun — 44.32
35. Sidney Bennie — 44.87
39. Hannah North — 46.50
43. Cheyanne Key — 47.80
Women's 500m #2
34. Brooke Braun — 44.76
35. Sidney Bennie — 45:00
45. Hannah North — 47:03
49. Cheyanne Key — 48:53

Men's 500m #1
2. Joshua Telizyn — 35.40
50. Jack Hanson — 41.63
59. Matthew Mitchell — 43.35
Men's 500m #2
49. Jack Hanson — 41.29
59. Matthew Mitchell — 42.72

Women's 1000m #1
10. Brooke Braun — 1:28:60
Women's 1000m #2
33. Brooke Braun — 1:28:&3
42. Hannah North — 1:34:29
47. Cheyanne Key — 1:39:14
Men's 1000m #1
4. Joshua Telizyn — 1:11:49
42. Jack Hanson — 1:20:53
Men's 1000m #2
4. Joshua Telizyn — 1:11:27
43. Matthew Mitchell — 1:26:88
Men's 1500m
8. Joshua Telizyn — 1:50:18
40. Jack Hanson — 2:02:61
52. Matthew Mitchell — 2:11:72
Women's 1500m
29. Sidney Bennie — 2:17:07
30. Brooke Braun — 2:18:73
38. Hannah North — 2:23:24
41. Cheyanne Key — 2:30:26
Women's 3000m
21. Sidney Bennie — 4:50:64
28. Hannah North — 5:04:68
Men's 5000m
21. Jack Hanson — 7:27:06
Women's Mass Start
16. Cheyanne Key — 6:33:62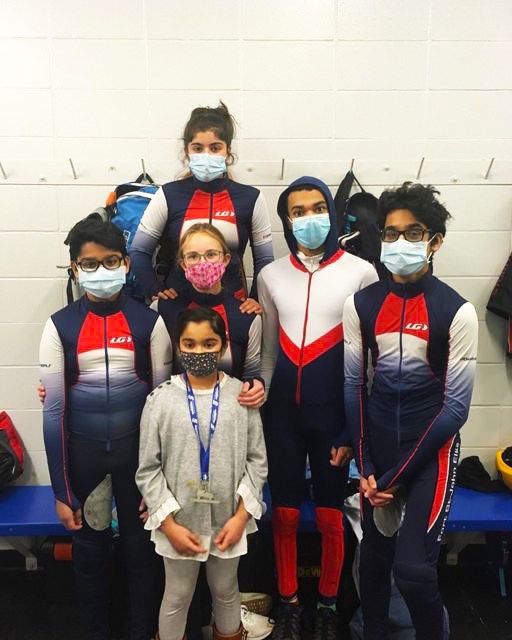 Edmonton Fall Classic Short Track Results — November 12
Maida Ahmed - Division 3
1st - 200m
5th - 300m
4th - 400m
4th - 500m
Sarah Hanson - Female 2 Division
1st - 1500m B Final
1st - 400m A Final
Maria Hansen - Female 3 Division
1st - 1500m A Final
2nd - 400m B Final
2nd - 200m Pursuit
Tara Ashrafi - Female 3 Division
6th - 1500m
2nd - 400m B Final
3rd - 200m Pursuit
Connor Mason-Bennett - Male 2 Division
4th - 1500m B Final
3rd - 400m C Final
2nd - 200m Pursuit
Subhaan Ahmed - Male 2 Division
6th - 1500m B Final
3rd - 500m D Final
3rd - 200m Pursuit

Taha Ahmed - Male 3 Division
5th - 1500m B Final
3rd - 400m C Final
4th - 200m Pursuit
---
Email sports reporter Dillon Giancola at sports@ahnfsj.ca