The Fort St. John area could be getting a second disc golf course in the near future, and the only 18-hole course around.
BC Parks approached members of the FSJ Disc Sports Club earlier in the year about designing a disc golf course at Charlie Lake Provincial Park, as a way to draw people to the park for more reasons than just camping.
"Right now we only have the nine-hole course, which is great. It's very accessible and beginner friendly, but those of us playing a long time would like some variety too. Just like for regular golf, you might have your favourite course but there are always options to go experience another one," said Tim Atchison, one of the club's board members helping to design the course.
"We look at clubs in other cities, like Grande Prairie, they just developed their third 18-hole course and hosted the Alberta provincials with people coming from all over. We would like to have something like that here as well," Atchison said.
Atchison and others went hiking in the woods to see what holes could be created with minimal impact to existing trees, foliage, and wildlife.
"It's pretty thick in there so you look for those natural lanes and gaps in the forest. We have mapped out the layout of the course so far, and are waiting from final approval from BC Parks. Then it would be go time, a sprint to get work done before we get some snow here," Atchison said.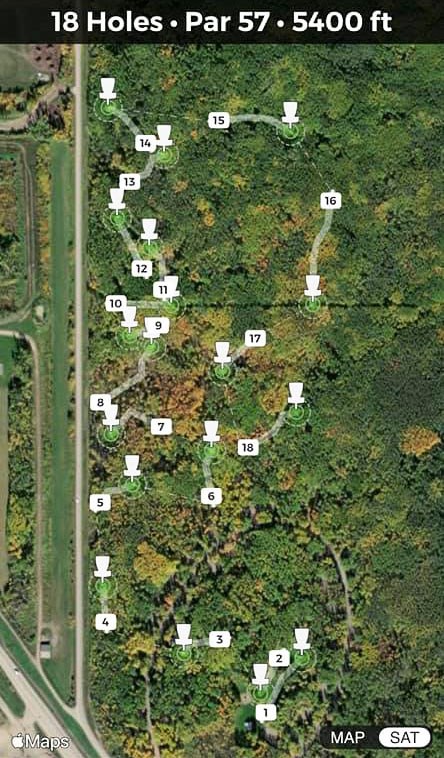 The layout for the proposed Charlie Lake Disc Golf Course, as seen on the UDisc mobile app.
The course won't have baskets to start but will instead have tone targets — wooden posts with hollowed out fire extinguishers attached — that ring out when the target is struck.
"It's a cheap way to set up a course and test it out," said Atchison.
Atchison said BC Parks is using the course as a pilot project, and that it's the first time a disc golf course will have been built on a provincial park in B.C.
The club is currently building a list of volunteers to help out with the course once work on it begins.
"Hopefully it becomes a destination spot next to the campground," Atchison said.
---
Email sports reporter Dillon Giancola at sports@ahnfsj.ca