The Fort St. John Huskies opened a three-game weekend with a big win Friday night against the Grande Prairie Kings.
Cole Cowan, Chase London, Brandon Modde, and Conrad Wiebe scored as the Huskies rolled over the Kings 4-1.
"We really set the tone tonight," said head coach Todd Alexander on his team's quick start in the game. "The first four shifts…every line that got out, had a good opportunity in the offensive zone…got in on the body…got in on the forecheck."
While the Kings were given chances late in the first to possibly mount a comeback, with three straight minor penalties awarded to Fort St. John in the last nine minutes of the first, the Huskies held firm – killing off all five opportunities the Kings were given throughout the game.
Prior to puck drop, the club presented veteran Jared Winkel with a plaque for playing his 100th game as a Husky back on Dec. 18 — Winkel earning a point on the night with an assist on the opener by Cowan.
The Huskies will play their second of three games in less than 48 hours Saturday night in Fairview against the Flyers. (12-18-3).
Fort St. John has won five of the six games played this season between the two teams, with Fairview edging out the Huskies 5-4 in a shootout Nov. 5.
---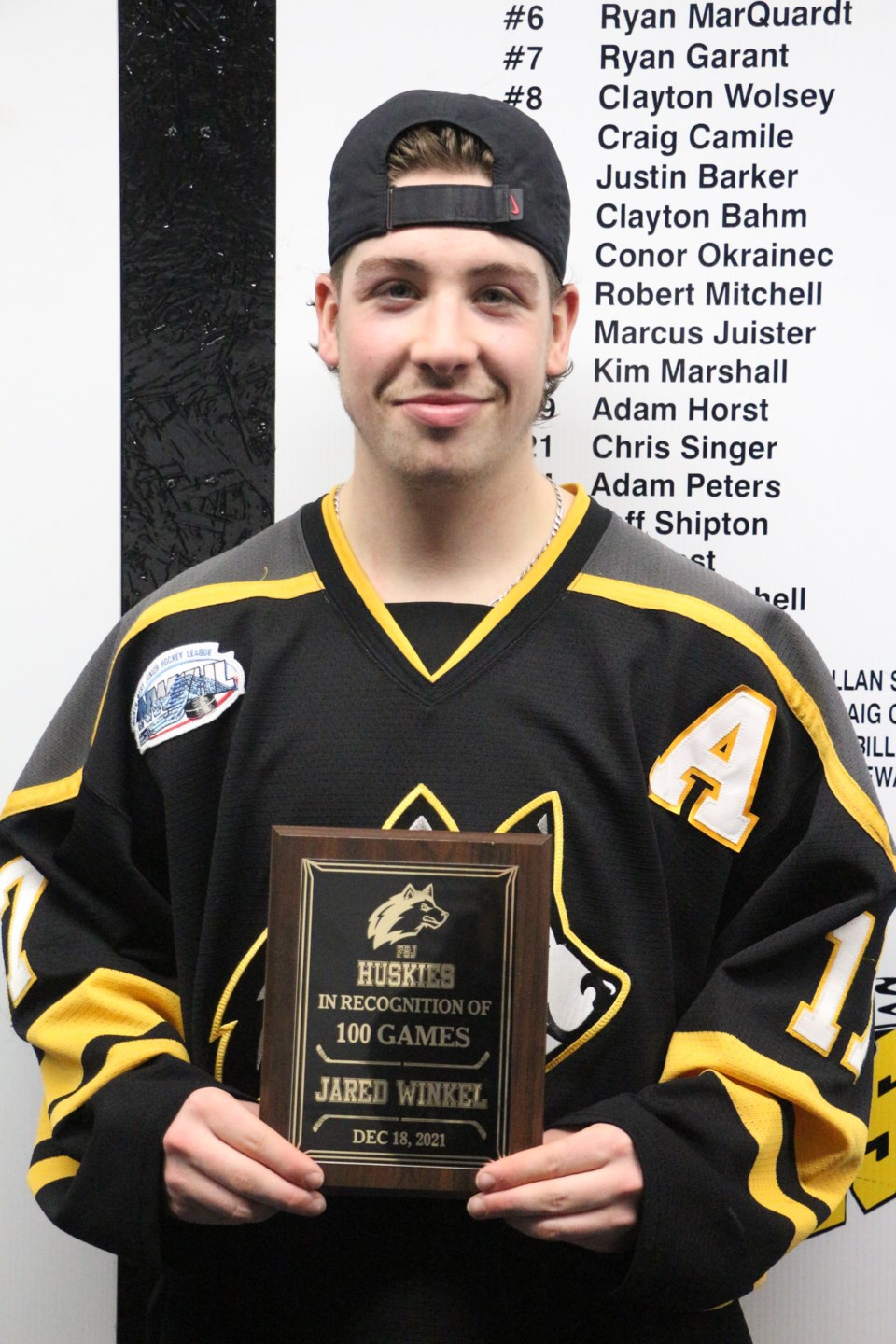 ---
SCOREBOARD
Fort St. John Huskies vs. County Of Grande Prairie JDA Kings
Friday, Jan. 21, 2022, 8 p.m., North Peace Arena, Fort St. John
Attendance: 357
1st Period
Fort St. John, Cole Cowan (Jared Winkel) – 3:01
Fort St. John, Chase London (Unassisted) – 3:57
2nd Period
Fort St. John, Brandon Modde (Justin Brownlee, Nick Loewen) – 5:08
Grande Prairie, Carter Berg (Brody Thomson) – 17:12
3rd Period
Fort St. John, Conrad Wiebe (Thomas Loewen, Oscar Burgess) – 3:05
Powerplay
Huskies: 0/3
Kings: 0/5
Shots
Huskies: 35
Kings: 17
Goalies
Fort St. John, Jackson Powers (16/17)
Grande Prairie, Owen Taylor (31/35)