Just because the spring and summer high school seasons were cancelled doesn't mean there aren't plenty of NPSS Grizzlies accomplishments to celebrate.
The annual athletics awards will be announced throughout the week, beginning tomorrow, June 2. In the weeks leading up to the awards, current Grizzlies have shared what it means to them to be a Grizzly. 
This week, we hear from Grade 12 athletes.
Megan Salinas - volleyball
Being a Grizzly means early mornings, and late nights. It means putting in work when you don't always want to. Being a Grizzly means pushing yourself to your limits and loving every minute of it, even when it hurts. Sometimes you train in the mornings while your other friends are still sleeping, and then you go to class all day. It can be stressful and draining at times, but the sacrifices you make all pay off to be able to be known as an athlete. Sure, it can be a lot to balance. But the risk is worth the reward, and you gain experiences others will never even come close to understanding. You trust the process, and it pays off.
Being a Grizzly gives you a second family that you spend every minute you can with. You see your teammates at their most vulnerable, and you are there for them through every high and low. My teammates push me to be a better athlete, but pick me up if I fall trying. Being a Grizzly is putting your differences aside to work together to reach one goal. You put them before yourself, and they do the same for you. Playing on a team gives me people I look forward to being with every day, and it doesn't get much better than working with a group of people who all share the same drive. They make me work hard, and they make me stronger. We hurt, we smile, we sing, and sometimes we cry;
there's not a thing I would change about the last three years. I would go back and do it all again if I had the chance.
Being a Grizzly has given me a family that I will always have, no matter where I go after high school. I wouldn't want to represent anyone else but the Grizzlies. Remember, it's still Grizzly Season
Brynn Shaw - volleyball
Being a Grizzly is something that for me is hard to put into words. It is the sweat after a tough workout, tears after winning a hard-earned match, and the long days where you want to give up but push through. It is the family that you build over a season with every teammate giving you something to keep fighting for.
Being a Grizzly means that when the going is tough, there are always people who have your back and will push you to do your best. It also means that we get the privilege of representing the North: showing up to win and demonstrating that just because we are small doesn't mean we aren't mighty. Being a student-athlete is no easy task, but the growth, friendships, laughs, and successes are all why it is an experience like none other. I am proud to call myself a Grizzly because I am part of a program that uplifts me, pushes me and makes me a better person than I was yesterday.
Emma Carlstad - rugby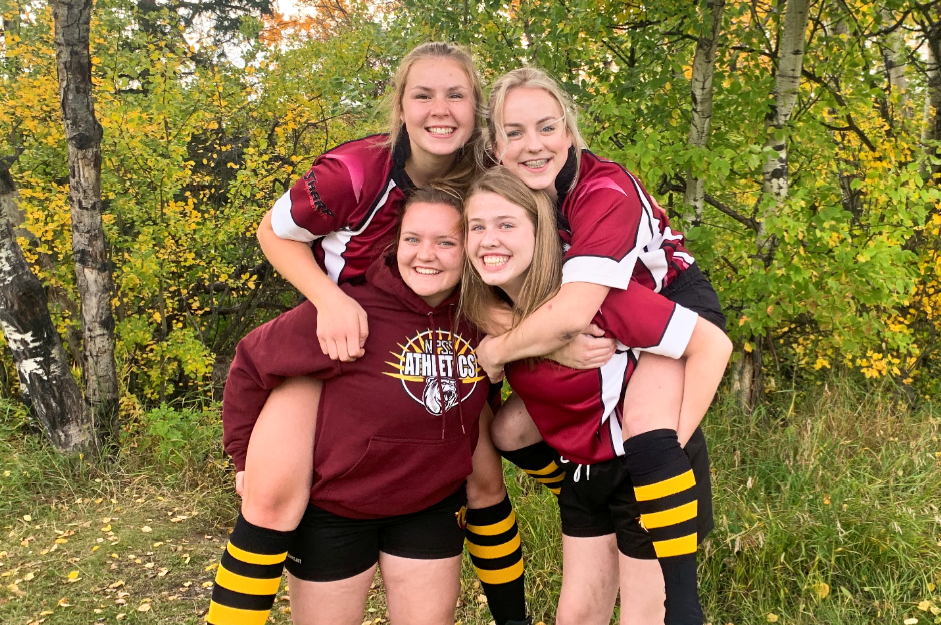 To me, being a Grizzly showed me that height doesn't matter. In Grade 10, walking into basketball tryouts as a kid who was 4'11 after being told multiple times "you're just not tall enough" and still making the team, was a huge confidence booster. Being a Grizzly shows a sense of family, whether it's teammates, coaches, staff, or students. It's the thing that makes all of our groups fit under one name. I'm so sad that my last chance to be a Grizzly got cut short, but through school sports I have grown so much and learned leadership abilities that will help me through life. It's always Grizzly Season.
Tim Stobbe - volleyball
I don't think being a Grizzly can be properly put into words. Being a Grizzly is best described through the actions of our athletes. Being a Grizzly means getting up early to put the work in before everyone else is up, it means pushing yourself to be better every day. If that means you're in the gym five days a week, you do it. If that means you run lines in the gym before school, you do it. If it means you put endless hours on the court working on your weaknesses, even when others leave, you do it. You strive for excellence and don't accept anything less. But being a Grizzly does not only mean putting in the work before the event, it also means leaving it all out there when the time comes. No matter the sport you drive hard and strive to play your best no matter what. Even if the game is not going your way you play fair and you play hard, fight till the end.
Being a Grizzly also means being respectful, respectful to the ref, respectful to your team, respectful to the other team, respectful to the spectators who came to watch. Being a Grizzly is not easy, but then again nothing worth doing ever is.
Tristan Hynes - wrestling, rugby, volleyball, cross country, track and field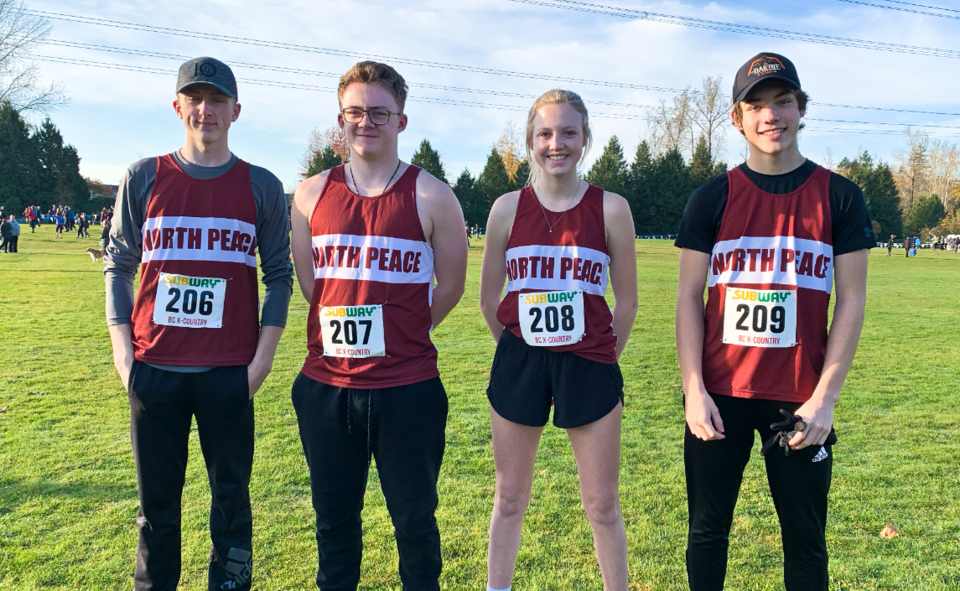 I'm not sure if you can put a finger on what makes someone a Grizzly. I don't think it's so much of what you do that makes you a Grizzly, but what you learn and experience during your time wearing the logo. As Grizzlies we put in the work and the hours to improve in our crafts. We spend the early morning hours before school getting stronger and faster in the weight room, and as the sun sets, we spend the evenings perfecting our skills in the gym. We put everything we have into every practice and game, leaving it all on the court or field.
In my opinion any athlete can do that, but what truly makes all of us Grizzlies, is the small moments in between. The anticipation before a hard practice and the laughs afterward. The pregame huddles to the post-game celebrations. And of course, who can forget any of the bus ride sing-alongs.
Since elementary school I've been a part of school sports. I feel like athletics has been a massive part of shaping my character, and I owe a lot of that to North Peace. So many student-athletes depend on sports, and none of this is possible without our coaches. They are the people that make this school great. Volunteering their time to take us under their wings and help us to improve at what we love. Many of the coaches here at NPSS are more than just coaches and truly become our friends. Supporting us outside of practice and as we progress into our futures. None of our athletes would be where they are now without our incredible coaches, teacher sponsors, and athletic directors. On behalf of all us Grizzlies, we thank you, for helping us reach our goals and believing in us.
I am incredibly grateful for the opportunities I had in the last few years. I've been lucky enough to hold multiple leadership roles on many of my teams. Being able to see younger teammates join us as I did years ago and see them grow was one of my favorite parts from this year. I wish everyone could experience what I have from this athletic program and be part of this awesome family I have become part of. As Grizzlies we are all part of one big team, every sport and league. If you wear a Grizzlies jersey you are signing onto one of the greatest high school teams out there. I have found a second family through the Grizzlies program. Many of my fondest high school memories were spent surrounded by my teammates. It's really hard to say goodbye this year, especially ending the way we have. But as we deal with the current situation, I know I can look back and find memories I know will last me the rest of my life.
I want to thank everyone that has been a part of my personal journey through NPSS. Every one of my teammates and coaches made these last few years of my life incredibly special. I hope I can take and use what I learned from you all wherever I end up in the future.
Jordynn McPherson - cross country, basketball, soccer, track and field
If you were to ask any athlete at North Peace what it means to be a Grizzly, they would all say that being a Grizzly means you have a second family that you can lean on. To be a Grizzly means to have determination, pride, and commitment. Commitment to crushing your goals. Every. Single. Day. Commitment to making it to the gym to train. Commitment to getting that assignment done on time because even though you are an athlete training every day of the week, being a student comes first.
Being a Grizzly means that even when you get knocked down, you pick yourself up, and you work twice as hard as before. Being a Grizzly taught me that failing does not make you a failure, it just gives you the opportunity to get better. The outcome of the game will not always be in your favor, but when you're wearing the Grizzlies emblem, you wear it with pride. During my time as a Grizzly, I was a multisport athlete, a teammate, a leader, and a friend to many of my fellow athletes. Being a leader taught me that your attitude and actions are extremely contagious. The way you act at practice, in the change room, and during your games, affects how the rest of your team is going to perform. This illustrated the importance of leadership and teamwork to me. I was the captain of my basketball team for my senior year, which taught me how to become a role model for my team, and someone that they could look up to.
Being a Grizzly has shaped me into the person I am today and has taught me many powerful life lessons that I can apply to my everyday life. It has taught me the importance of being a team player and to always play for the love of the game, no matter the circumstance. All of these life lessons that being a Grizzly has taught me, has shaped me into the well-rounded, successful student-athlete that I am today. Even though my high school season was cut short I will continue to carry on the Grizzly mentality, leadership, commitment, and most importantly, the Grizzly pride when I continue my journey as a student-athlete and become a SAIT Trojan. IT'S STILL GRIZZLY SEASON.
Ethyn Lang - basketball
What it means to be a Grizzly for our senior boys basketball team: We practiced five days a week, a couple of the boys including me worked a day or two during the week so the days that we worked we would go to the open gym in the morning to get shots up and still get that grind in. This group of boys was the hardest working team I've been apart of, lead by coaches Gabe Gonzales and Ryan Galay. Without these two amazing coaches I do not know if we would've been nearly as good as we were. This team was my personal favourite, most of us have been playing with/against each other for years, we were all close with each other and I consider all of my teammates and our coaches my brothers as cliche as that sounds it doesn't mean it is any less true.
What does it mean to be a Grizzly for us? I think it means to push each other to be the best possible version of yourself and don't let anyone hang their heads, all those hours of practice, running shooting and team bonding is the memories I will carry with me for the rest of my life, not the wins or losses but just being around such an amazing group of guys and having fun. This season was the last season of high school basketball for most of us and knowing that we appreciated every moment of it and didn't take it for granted.
When Liam Peterson and I were named team captains we made it our personal goal to not only push our fellow teammates but to make it the best season of our school years. I believe if you asked every one of our teammates they would all say that this season was the most memorable. Yes the ending of the season was heartbreaking and the worst moment of basketball for many of us but we would not rather have gone through that with any other team than this one we had this year. That is what it means to be a Grizzly.
— submitted by Sam Stackhouse
Send club news to sports@ahnfsj.ca