Just because the spring and summer high school seasons were cancelled doesn't mean there aren't plenty of NPSS Grizzlies accomplishments to celebrate.
The annual athletics awards will be announced throughout the week, starting June 2. In the weeks leading up to the awards, current Grizzlies will share what it means to them to be a Grizzly. 
This week, we hear from Grade 11 athletes.
Breanna Hicks - volleyball
To be a Grizzly means to always give it your all. It means to encourage those around you and help pick them up when they're down. Being a Grizzly feels like having a second family to come to, a home away from home. It means to master the art of showing up, even if it's 6:30 a.m. and the last thing you want to do is run for an hour. You show up and push even harder than yesterday.
Being a Grizzly means to always set a good example and wear the emblem with pride. The Grizzlies family not only celebrates your victories but carries you through defeat. They push you to your limits and help you reach your goals even when they seem impossible.
The overwhelming feeling of accomplishment after finishing that last rep or running that last lap is incredible, and knowing you and your teammates did it together is even better.
Being a Grizzly is more than just being a great athlete, it's about having a sense of family and belonging.
Carter Collins - cross country, wrestling, track and field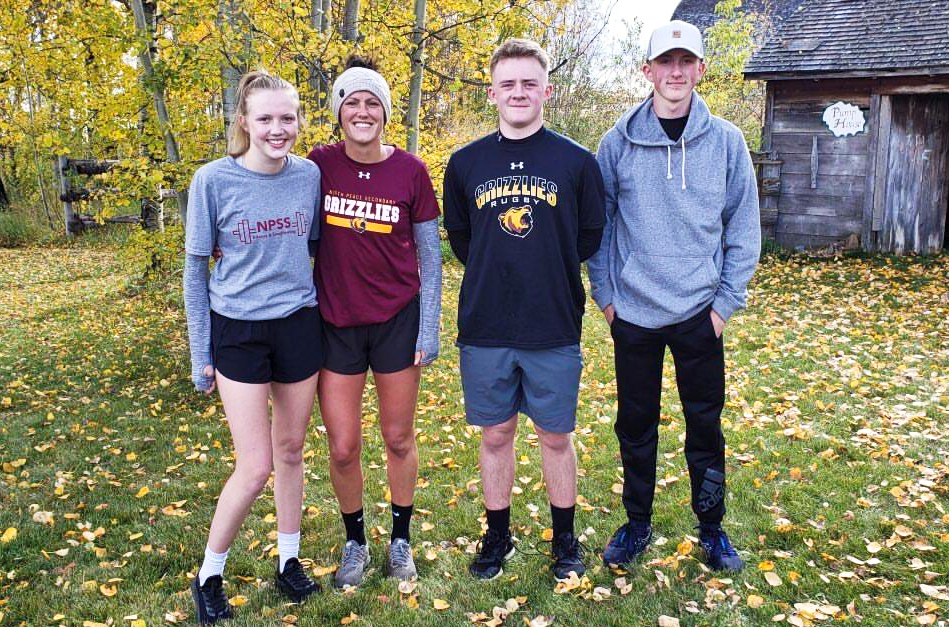 Call it what you want — Grizzly, Ookpick, Oscar — but there is a reason us NPSS students are referred to as the Grizzlies. Us students at North Peace have a gift. We have a gift to push through whatever problems may be thrown at us. It is an honour to be a part of the NPSS athletics family, there are some great people and great teachers in it. It is a family that pushes each other to be the best people we can be — a family that simply shows positivity and dedication to everything we do. It's a family each one of us is proud of.
Personally I have been able to work out, run, and wrestle with this great group of people and I am so happy to be a part of the family. I may not be the best motivational speaker or the sharpest knife in the drawer, but I do know that we have an amazing athletics team, school, and community with amazing people in it. I feel many people misjudge our community we live in, and some might not put the effort in that others do. Not everyone is perfect and not everyone has the time. For those who have put blood, sweat and tears into their jobs, I would like to thank you all. From our healthcare workers, our courageous teachers at NPSS, RCMP, whoever may be reading this right now, we want you all to know that we are thankful for the effort you all put into our community.
Soon enough, we NPSS students will follow in your footsteps. Whoever this reaches out to, make sure to give yourself a pat on the back from all of the students from NPSS. I am proud to be a part of North Peace, I am proud to be a part of Grizzlies athletics, and I am proud to be a part of this community.
Hailey Gillard - wrestling, rugby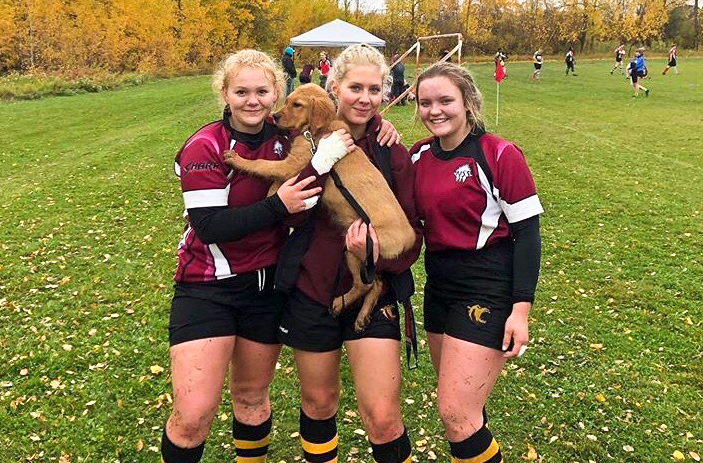 Being a Grizzly is having more to give when you think you don't have anything left. It's endless support. It's knowing someone always has your back. Being a Grizzly isn't about what you've done in your past, it's about what you choose now and for your future. It's knowing you can get through anything.
As Grizzlies, we are strong individuals and unbeatable together. It is not wanting to win for ourselves, it's needing to win for our team. Being a Grizzly means to take stock in yourself, to have pride, and to be humble. As Grizzlies we go onto the field, court, mat, arena, track, whatever it is that we do, prepared to give everything we've got, and leaving knowing we gave everything we had. We train harder, practice longer, and think better, because we know if we don't, we not only let ourselves down, we let each other down as well. This is not the family one is given but the family one earns.
To be a Grizzly is not just wearing a jersey with a logo, it's having the mindset of a Grizzly. It's what one does when they think they can't. It's not bragging when we win or sobbing when we lose. It's about learning what we did well and how we could improve. Being a Grizzly means accepting failure, so long as you never stop trying. As a Grizzly we are pushed to our limits not only physically but mentally. It means no excuses. It's about setting goals and working to achieve them.
Grizzlies never give up. It isn't just about who we are on the field, it's about what we do when nobody's watching, it's about the attitude we have. It's about being determined. We are the people to rely on, trust, and respect. Whether we stand up on our own or are carried shoulder to shoulder, we always get up. We show up. We grow. That is what it means to be a Grizzly.
Gryphon Talbot - basketball
High School sports are an absolute privilege to be a part of, more so being a Grizzly. Being a Grizzly is to wake up every morning with that fire and drive within, that every athlete knows and uses to improve their craft. It also means you compete to the best of your abilities, push your teammates whenever you can and of course enjoy the moment. I've created unforgettable memories and strong bonds with plenty of people in our community through sports with North Peace and I'm excited to build upon them. The life lessons one can learn participating in sports are so valuable and it's an honour learning them as a Grizzly.  2021 Provincials here we come. It's Grizzly Season.
Haeli Ziegler - basketball
Being a Grizzly is so much more than just putting on a jersey and representing our school. It means that you are consistently trying to be better than you were yesterday. Being a Grizzly has given me the drive to want to improve and continually push myself to achieve my goals. Each and every coach I have had as a Grizzly has given me their guidance and support to be a better player and person on and off the court. You never will forget the relationships you make with your teammates and coaches.
It means being a part of a family and creating everlasting bonds that you will cherish forever. A few months ago, our senior girls basketball team was playing our last game out of 3 to be able to move on to Provincials. We lost. We were all so disappointed because every single one of us was looking forward to playing some of the best teams in BC, but as Grizzlies we don't focus on the fact that we lost. We focus on what we can do next time to be better.
Grizzlies win as a team, lose as a team, cry as a team and laugh as a team. We are a family with drive and determination to be the best version of ourselves possible. I am proud to be a part of the Grizzlies family and play on a team representing our school, my two years being a part of this has truly made a tremendous impact on me. It has changed me for the better. It has made me work hard at improving my skills and has made me want to try to get better and better every day. It makes me want to always be the best version of myself I can be whether that is on the court, in the gym or just in everyday life. I am so grateful that I have had the opportunity to be a part of this family and I can't wait till I can get in the gym and begin my last season as a Grizzly.
— submitted by Sam Stackhouse
Send club news to sports@ahnfsj.ca