The ground beneath the Old Fort landslide had been moving for months before it finally let go in a massive collapse in September and forced more than 150 residents to evacuate their homes.
Geologists that have been studying the slide since it let go Sept. 30 were pushed for answers about their findings and the future facing evacuees during a tense, two-hour sit-in at the Peace River Regional District office in Fort St. John on Wednesday.
It's been 17 days since residents were ordered to evacuate on Oct. 7, one week after the nearby hillside collapsed and destroyed the only road in and out of Old Fort.
The landslide started because of failure in the bedrock, said Tim Smith, a senior engineering geologist with Westrek Geotechnical Services. That triggered another slide to the west of it and sent a large tension crack splitting out to the east toward Old Fort homes.
The company is analyzing its data and assessing the future risks to the community. Those will be filed in a report to the regional district, which will make the ultimate decision on whether residents can return home, Smith said.
"We're trying to work out, if this thing fails, where does it go to? And are there houses on the east side of the main slide that could be at risk?" said Smith, who was questioned by residents and regional district board chair Brad Sperling during a phone call at the sit-in.
"We're trying to get an understanding on how fast this slide is likely to move, and does that give them (residents) time to get out if something goes on."
"If the slide goes again, how fast does it move, how big do we think it's going to be, and where does it end up getting to? From there, we can say, 'Well, this is what we recommend,'" he said.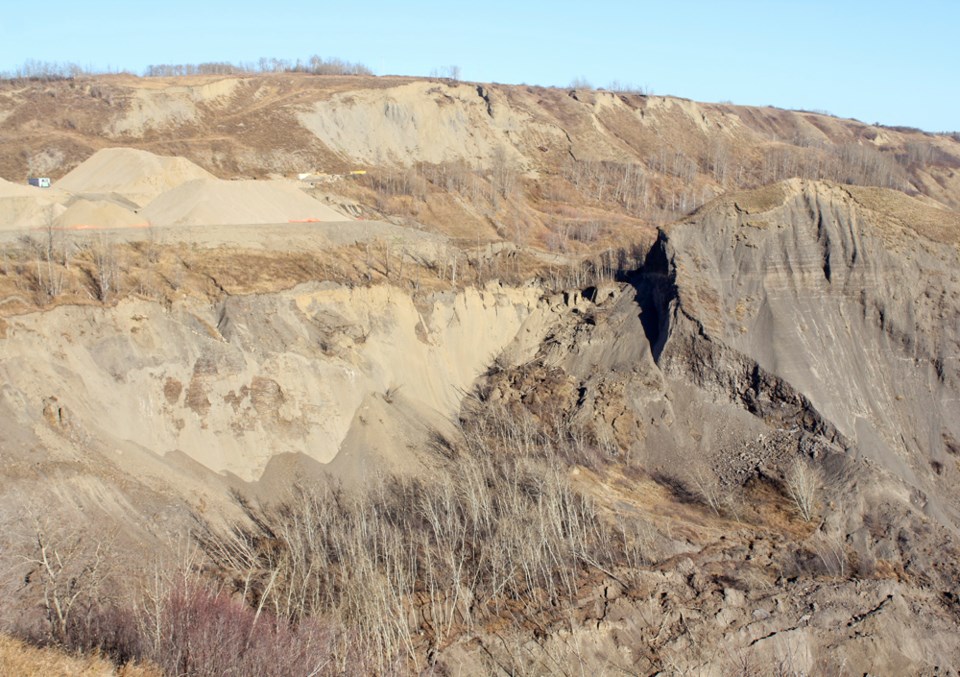 The bedrock failed in the area of a gravel pit that had been operating on the hillside above Old Fort, according to Smith. The slide was last estimated at more than eight million cubic metres, and has pushed its way down through a gully beneath the gravel pit and into a back channel of the Peace River. 
Evidence so far suggests the ground had been moving for months before its collapse, Smith said.
"This piece of ground has been moving for quite a while before it let go," he said.
"It's a pretty big slide. It's not just what has happened so far."
Data from a laser light survey technique called LiDAR continues to be collected daily, and recent data hasn't shown any significant movement of the landslide, Smith said. However, that could change, and winter weather will be a factor.
"The time of year when movement is going to be of the greatest concern is during the periods when we have excessive snowmelt or rain on snow, and the groundwater levels are high," Smith said.
The company is aiming to have its report ready for the regional district on Friday, though that could change and the report won't immediately be public, Smith said. 
"The position we're in is we're tasked with making sure that our information is correct and it doesn't put the public at risk," he said.
BC Hydro crews have replaced dozens of power poles and restrung more than three kilometres of power lines to restore electricity to more than 50 homes. The Ministry of Transportation continues to build a temporary road around and through landslide debris. An update on that work wasn't immediately available on Wednesday.
On Wednesday, residents learned PNG had shut off natural gas to the community due to safety concerns.
The regional district said the company has been issued a permit to enter the community, and that four technicians will be inspecting gas lines up to the meter at each home. The technicians will be shutting off the valves at the meter.
"Once all valves are shut off, inspections are completed, and risk is mitigated then PNG will pressurize the distribution system," the regional district posted in an update on its website.
Residents will have to request that their valves be turned back on in order for a technician to return to do so and relight any appliances, the regional district says.
Email Managing Editor Matt Preprost at editor@ahnfsj.ca.