The Peace River Regional District has expanded its Old Fort evacuation order to include four islands in the Peace River.
The expansion was recommended by Westrek Geotechnical Services, the regional district said in an update Thursday afternoon, Oct. 11.
"The main slide has already impacted one of the islands and recent changes and new information regarding the west slide indicates potential for increased mobilization and depth of failure," reports Rhonda Mellafont, an engineering geologist with Westek.
"This area is considered to be at risk with respect to public safety and it is recommended that no access be allowed."
Westrek is working with provincial officials with the Ministry of Forests, Lands, and Natural Resources to analyze LiDAR survey data to understand the true size of the landslide and areas at risk. An update on that analysis will be provided as soon as possible.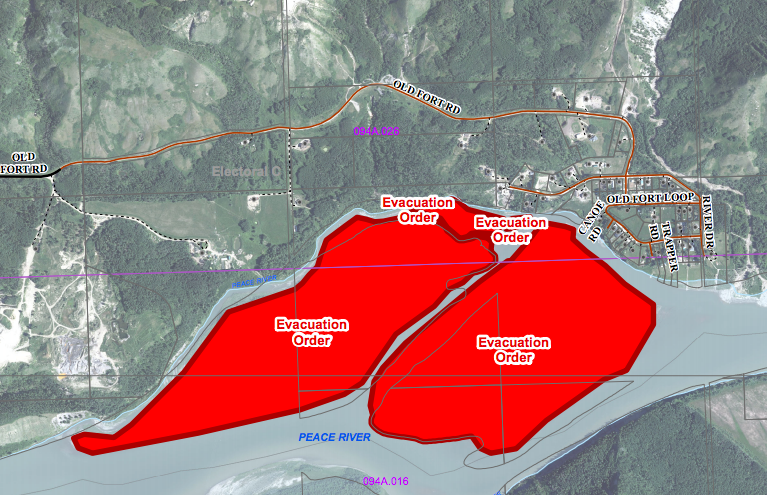 The landslide started Sept. 30 on a hillside above Old Fort and below a gravel quarry south of Fort St. John, pushing dirt and snapping trees down through a gully in the Peace River valley. It's destroyed a wide swath of Old Fort Road, the only road in and out of the community, and cut off utilities including power and internet.
Old Fort residents were ordered to evacuate on Oct. 7, an order that covers 54 homes and up to 200 residents. 
Mellafont has called the slide a "deep-seated failure" that is "radiating" in a number of directions and has triggered a number of "relic" slides in the area, making it difficult to predict when it will stop and where it will spread.
LiDAR surveys work by shooting laser lights into the earth that ping back to help create a map of an area. The surveys of the landslide are being cross-referenced with surveys from 2005 and 2015 to understand how the hillside above Old Fort has changed over the last 13 years.
The landslide was last estimated at six million cubic metres and growing. 
On Wednesday, it moved 20 metres in a few short hours toward and into the Peace River. It had been moving an average of just four metres per day since it be
Because of the landslide's unpredictable movement, B.C. Public Safety Minister Mike Farnworth says it has proven to be a complex and evolving situation that's challenged the response by emergency managers.
He called the landslide "unbelievable" in size and scope after he took in an aerial tour of the area on Wednesday afternoon.
"You see these trees that are bent and shattered like toothpicks, and you see these cracks on the hillside on either side of the slide, and you see how the road has buckled, it's like what you see in one of those earthquake movies," Farnworth said.
"It's a total mess. You get a real sense of the force. You see the shattered rock at the top … it's unbelievable."
Email Managing Editor Matt Preprost at editor@ahnfsj.ca.