The road to Old Fort can be rebuilt, but there's no guarantee it will be safe from future landslides, provincial officials said Monday.
That's uncertain news for the 150 residents who live in the riverside community just south of Fort St. John, three dozen of whom met with ministry staff and elected officials Monday night to co-ordinate a plan to restore road access and stabilize the hillside, or determine whether it's time to relocate.
"We need this stabilized, the entire hillside, or relocate the Old Fort community. There really is nothing else to do," said resident Gord Pardy. "The only other thing that can be done is nothing, which is what we've been doing for the past two years. That's not acceptable. There has been no plan and no action."
It's the second time in 20 months residents have been cut off by the same landslide, first in September 2018, and again on June 18 after more than 50 mm of heavy rain drenched the city.
The slide has seen negligible movement over the last several days, about four inches per hour, but geotechnical experts are bracing for more heavy rain this week that raises the potential for it to gain speed once again.
"Right now, we're waiting to see how the slide will respond to the upcoming rain," Rena Gibson of the Ministry of Transportation told residents. "If the slide is stable, then we can consider starting to rebuild."
The slide must slow to less than one metre of movement per day and the site must be dry before any road building begins. It could be up to a week before the ministry will know whether the slide has been affected by this week's rain.
"The rain event that occurred a few weeks ago was enough to get it moving again. We have another rain event coming … and that'll give us a really good idea if it's going to respond to it," said geotechnical engineer Brent Case. "It may not respond immediately. The previous one was a few days afterwards when it responded. The water has basically got to infiltrate down to the failure plane and cause movement."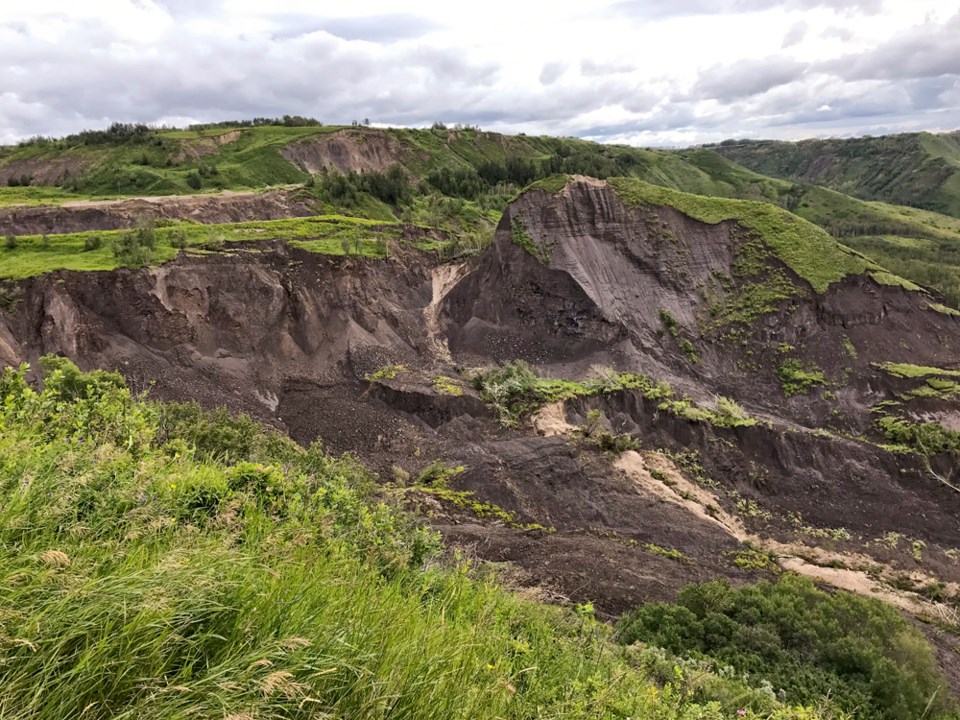 The ministry says it is revisiting other emergency road locations first explored in 2018, but said rebuilding the road in its current location is best.
"The road that goes down there, other than that 150 metres that's been affected, is in the best location you can have for getting access into that valley," Case said. "Any other access out of that valley is way worse, from a geotechnical point of view, and will probably end up causing another slide trying to put anything in."
The likelihood of being able to stabilize the hillside is not very good either, Case said, and it will likely be some time yet before it stabilizes naturally. The area wants to sit at six degrees, and is between eight to 18 degrees right now, he said.
"We can throw an awful lot of steel into the ground to try keeping it there, we can try to re-slope it. The problem is if you try to blast it, you'll probably start another landslide somewhere close. If you try to re-slope the slope, now you're probably going to have that landslide wanting to go further up the hill," said Case.
"If it moves too far, it keeps going up the hill. And if you play with it, then we're going up past the 240 Road with this thing failing," he said.
"There is the ability to get a road across, there is no guarantee that the road won't move when this landslide wants to move in the future. But it is a road you can put in that's safe," Case added.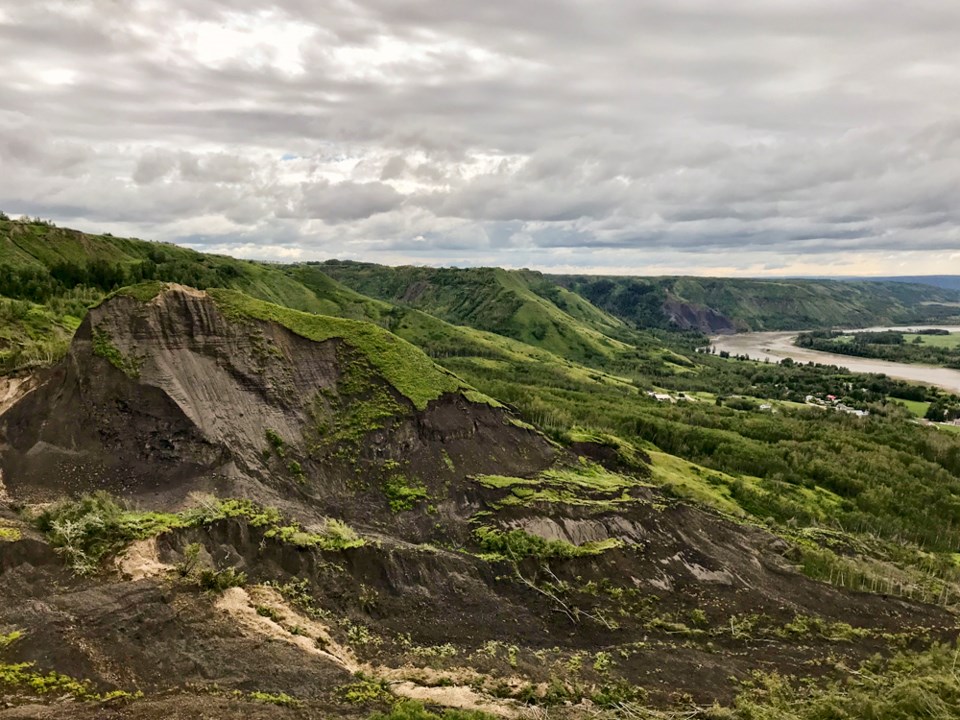 There have been 57 residents who have chosen to evacuate and register for emergency support services. Those who remain in the community are under evacuation alert. 
Residents remain concerned about the long-term liveability of Old Fort and their property values, lack of emergency planning from the regional district, and lack of transparency from the province. It took 10 days before a water taxi service was implemented, which forced many residents to walk over the slide or use an ATV trail to go to work. Alternative garbage and sewage service has yet to be established.
"It's been 20 months since the last slide, we knew this was likely going to take place. There was supposed to be a plan in place and I think that the Peace River Regional District has not done a very good job at this all," said Scott Campbell.
"We've got a lot of very well paid people at the regional district, and it is their job to do this. I feel they've failed at their job and we need to do a better job. I don't want to go through this a third time." 
The way many see it there are only two options: fix the hill, or buyout and relocate the community.
Case said there has been precedent with relocating communities, however, said Old Fort is not yet at that point. And the province would first have to complete a cost-benefit analysis before making that determination, he said.
For its part, the PRRD defended its response, noting it has only been given short windows of time to react to ministry decisions and source equipment. For example, when a tote road was punched through the slide last week for crews to install a landslide warning sign, residents were angered that no water or garbage service came with it.
And Emergency Management BC will not allow residents in on its meetings with the PRRD, said chief administrative officer Shawn Dahlen.
Water and garbage service is expected to be brought into the community in the next two to three days, Dahlen said. Sewer service may take longer, though only a few may need it, Dahlen said. Those service plans need to be submitted to Emergency Management BC for approval.
Meanwhile, MLA Dan Davies was to meet with Transportation Minister Claire Trevena Tuesday to discuss residents' concerns, and is meeting later this week with Public Safety Minister Mike Farnworth.
This is a developing story.
Email Managing Editor Matt Preprost at editor@ahnfsj.ca.