Update 8:30 PM
The Ministry of Transportation says temporary access road for residents is now open at Old Fort Road.
Update 6:20 PM
The Peace River Regional District says construction crews are on target for an 8 p.m. opening of a temporary road across the Old Fort landslide.
Traffic control is being established tonight on both ends of the slide, the regional district said. The road is single-lane, and only suitable for 4x4 vehicles at this time.
The road is not all-weather, and may need to close tonight if it rains, the regional district said.
Construction is expected to continue Friday, which will interrupt access.
Emergency utility services will also continue to be delivered in the community Friday, the regional district said.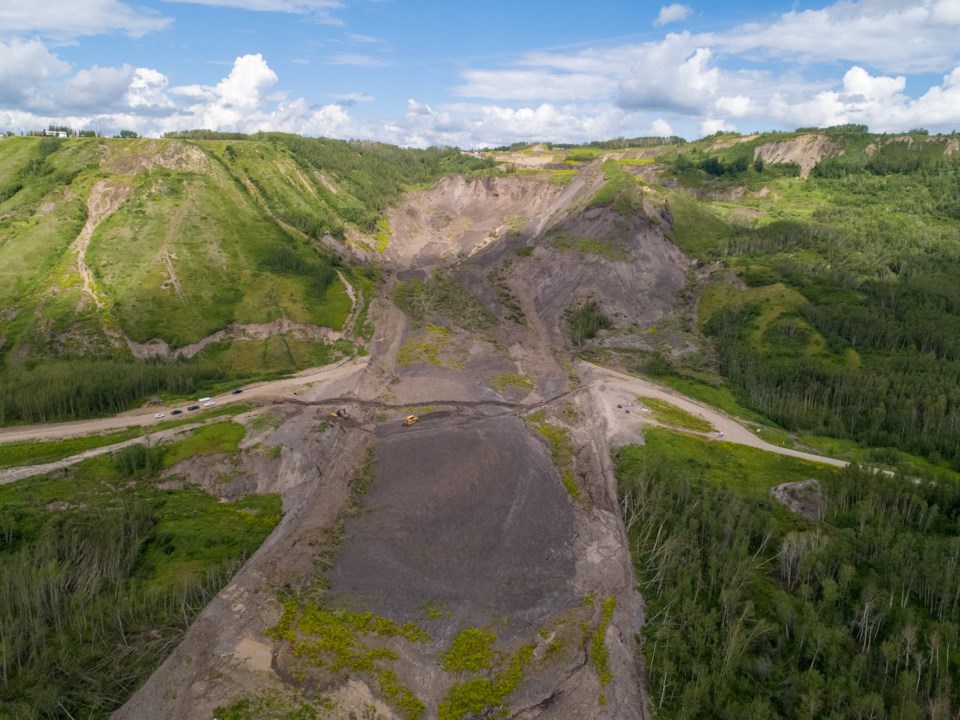 Original story:
The Ministry of Transportation says it hopes to open access on a temporary road into Old Fort by this weekend.
Work continues on the swamp mat road, which began Wednesday, and the timeline for its opening depends on the weather, the ministry said.
There is a 70% chance of showers and risk of a thunderstorm Thursday afternoon, and a 30% chance of showers Friday afternoon.
It was initially hoped the road would be opened as early as Thursday afternoon.
In its update, the Peace River Regional District said "community scuttlebutt may not be accurate" and that rumours the road would be opened Thursday morning were unfounded.
"It's our collective hope that access will be in place before the weekend, but what that access looks like will be determined by weather and the construction situation on the ground day to day," it said.
Residents remain on evacuation alert, and will remain on emergency footing until all vehicle types will be able cross the slide, the PRRD said. The timeline for that has yet to be determined. 
"We should expect to see improving capability as construction continues, with universal vehicle access becoming feasible once a surface is placed on the temporary access route," the regional district said.
"The timeline for a universal access road across the slide is even today still not known with certainty, although the start of construction brings justifiable optimism that an ETA for universal access will be known soon."
The PRRD says its primary focus it to maintain as much of the community in place as possible. Emergency garbage service continues daily, while emergency water supply is also being delivered, it said.
There will be 24-7 traffic control in place once the road is opened.
A water taxi service to Taylor continues.
Email Managing Editor Matt Preprost at editor@ahnfsj.ca.