I'm writing to you as an Operating Room Nurse from the Fort St. John Hospital. I wanted the opportunity to let the community know the gratitude from ALL of the staff at the hospital to Koyne Kursteiner and Alpine Glass for making our very own 'Aerosol box'. See pictures attached.
It's a device made from Lexan glass, and designed to enable physicians to intubate a patient while better shielding themselves from any aerosol particles that could be released from the patient's airway during the procedure.
I had seen the article and images floating around some of the nursing pages on Facebook I follow, and then Dr. Mackey had sent me the same link to the article. This is when I decided to reach out to Koyne and see if he thought he could possibly construct something similar for us to use here at the hospital. He was more than happy to help.
The device was originally constructed by an Anesthesiologist in Mennonite Christian Hospital in Eastern Taiwan's Hualien (Dr. Lai Hsien-yung) where he posted to his Facebook with his invention on March 21. The idea has gone viral, and now Fort St. John has their own to use thanks to Koyne.
He also reached out to me on Thursday asking if I knew anyone in Dawson Creek who might also want one, and sure enough, one of my past colleagues is an Operating Room Nurse in town, and was ecstatic with the offer. An identical version will make its way to Dawson Creek today (Friday, April 3).
Our hospital has been overwhelmed with support from our community. This is, no doubt, a stressful time for everyone, not just the front line health care workers, but everyone. It is times like this where I am reminded how much I appreciate living in a small town. Someone always knows someone, and you reach out for support, everyone steps up.
A big thank you to Koyne Kursteiner and Alpine Glass, as well as everyone who has in one way or another, given their support to our hospital. 
We are all in this together. Thank you.
— Jill Milonas, Fort St. John Operating Room Nurse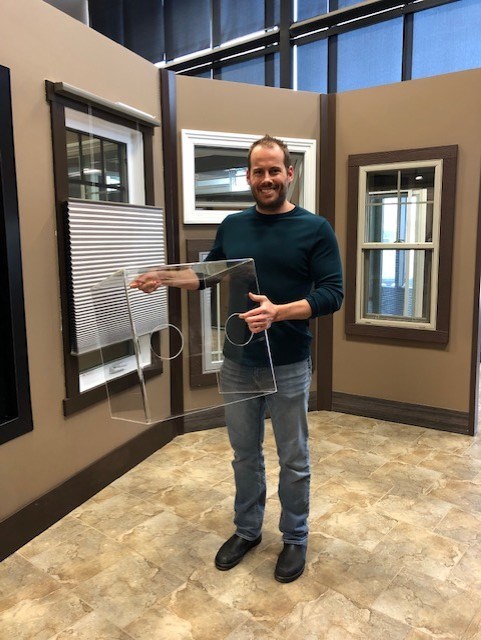 - - - - 
Email your letters to editor@ahnfsj.ca.