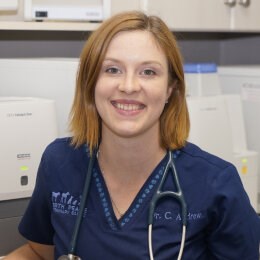 If your kitten or cat has an unknown vaccine history or was previously a stray, your veterinarian will likely recommend testing for Feline Immunodeficiency Virus (FIV) and Feline Leukemia Virus (FeLV).
FIV and FeLV are viruses that cause lifelong infections in cats and, broadly, make it more difficult for them to fight off other infections or illnesses. FIV is a lentivirus, which is the same genus of virus as human immunodeficiency virus (HIV). FeLV is a retrovirus. Both of these viruses can invade and change the host genome/DNA, leading to lifelong infection. Both FIV and FeLV are feline-specific viruses, and do not pose a harm to humans or other species of pets in your household.
FIV and FeLV both require close contact (eg. bites/fighting, or repeated grooming, mating, or possibly shared litter or food bowls) for transmission to occur between cats.
Both FIV and FeLV infect a cat's blood cells that are involved in their immune system. If a cat's immune system does not fight it off initially, an FeLV infection can take two forms: regressive or progressive. However, regressive infections can lay dormant for years, then can eventually become active again. This is due to the fact that, once it reaches the bone marrow, the FeLV virus will stay there for the rest of your cat's life. Sometimes, the active infection can cause a cat's cells to mutate into cancerous cells. Leukemia and lymphoma can be caused by FeLV infections.
FIV-positive cats can live next to normal lifespans. However, they should be kept indoors only to reduce the risk of infecting other cats and to reduce the risk of them contracting additional illnesses. They should be examined regularly by your veterinarian (ideally every 6 months) with annual to bi-annual bloodwork and urinalyses to assess for additional systemic disease including anemia, inflammation, kidney, and liver disease. FeLV-positive cats tend to succumb to illness within 3-4 years of their initial diagnosis, but they can still live long lives with the proper care, monitoring, and management as well.
If positive for FIV or FeLV, signs that your cat has progressed into a more active form of the disease, or has become ill because of an inability to fight off other infections effectively, can be:
Gingivitis/stomatitis - inflammation of the gums and mouth

Weight loss

Poor appetite

Fever - especially fever of unknown origin

Inflammation of the membrane around the eyes - chronic conjunctivitis

Swollen lymph nodes

Vomiting and diarrhea
Testing for both FIV and FeLV involves putting a blood sample on what is called a 'snap test'. There is not a very effective vaccine for FIV. However, if your cat goes outdoors, it is definitely recommended to test for both FIV and FeLV, and to vaccinate for FeLV to help prevent or address these potentially fatal illnesses in your cat.
Dr. Cassy Andrew graduated from the Western College of Veterinary Medicine in 2019, following her completion of a Bachelor of Science in Wildlife Biology and Conservation from the University of Guelph. She grew up in Whitehorse, Yukon, but has spent many summers in Fort St. John with family.