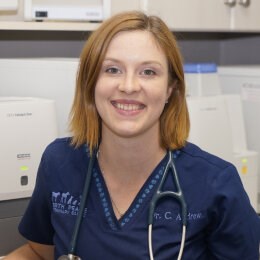 You may or may not have heard that, just like your more standard pet animals like dogs and cats, veterinarians recommend spaying or neutering your pet rabbits too. 
The first benefit to this procedure is reducing the potential for overpopulation and preventing unwanted pregnancies. Particularly if they are in a cozy, protected environment such as our homes, rabbits are very efficient procreators! 
Rabbits reach sexual maturity between 3-6 months of age, with male rabbits usually maturing closer to the beginning of that time range. They usually have between 4-12 kits each litter. Female rabbits can become pregnant within 24 hours after giving birth. With a gestation (pregnancy) length of 31 days, that could mean 12 babies born per month, and 144 bunnies per year. Talk about 'breeding like rabbits'!
Of course, there are other important health considerations for 'fixing' your pet rabbit. 50-80% of un-spayed females (does) contract a very serious cancer of the reproductive tract called uterine adenocarcinoma, as young as 4 years old. Spaying your female pet rabbit before the age of 2, and ideally at approximately 6 months of age, eliminates this risk entirely. Thus, this procedure can prolong your rabbit's life significantly. Often, these tumours are slow-growing and can metastasize (spread) to many other parts of the body before being detected. This means that, once they have cancer, surgical treatment is very difficult and risky for your rabbit. In addition, female rabbits that have not been spayed can be prone to developing a severe infection of their uterus called pyometra. This infection can then spread to their bloodstream and the rest of their body, making them fatally ill or requiring emergency surgery. Spaying your rabbit as a juvenile also prevents this type of infection from happening.
Spaying or neutering your rabbit as a young and otherwise healthy animal also makes them a lower anesthetic risk. Rabbits are generally more difficult to anesthetize than dogs and cats, so ensuring they are in top health prior to surgery is extremely important. For their surgeries, rabbits require: a special cocktail of sedative drugs to make them sleepy and unaware; species-specific tools for maintenance of anesthesia (including a special type of tube to provide them with oxygen throughout the procedure); intensive monitoring under anesthesia; and adequate pain management in order to ensure their safety throughout and after their surgery.
Talk to your veterinarian about booking your rabbit's spay or neuter surgery, giving them a better chance at a long and healthy life. Much of the above also applies to other exotic pet mammals such as guinea pigs and rats; call your veterinarian today to discuss the best options for your exotic pets!
Dr. Cassy Andrew graduated from the Western College of Veterinary Medicine in 2019, following her completion of a Bachelor of Science in Wildlife Biology and Conservation from the University of Guelph. She grew up in Whitehorse, Yukon, but has spent many summers in Fort St. John with family.