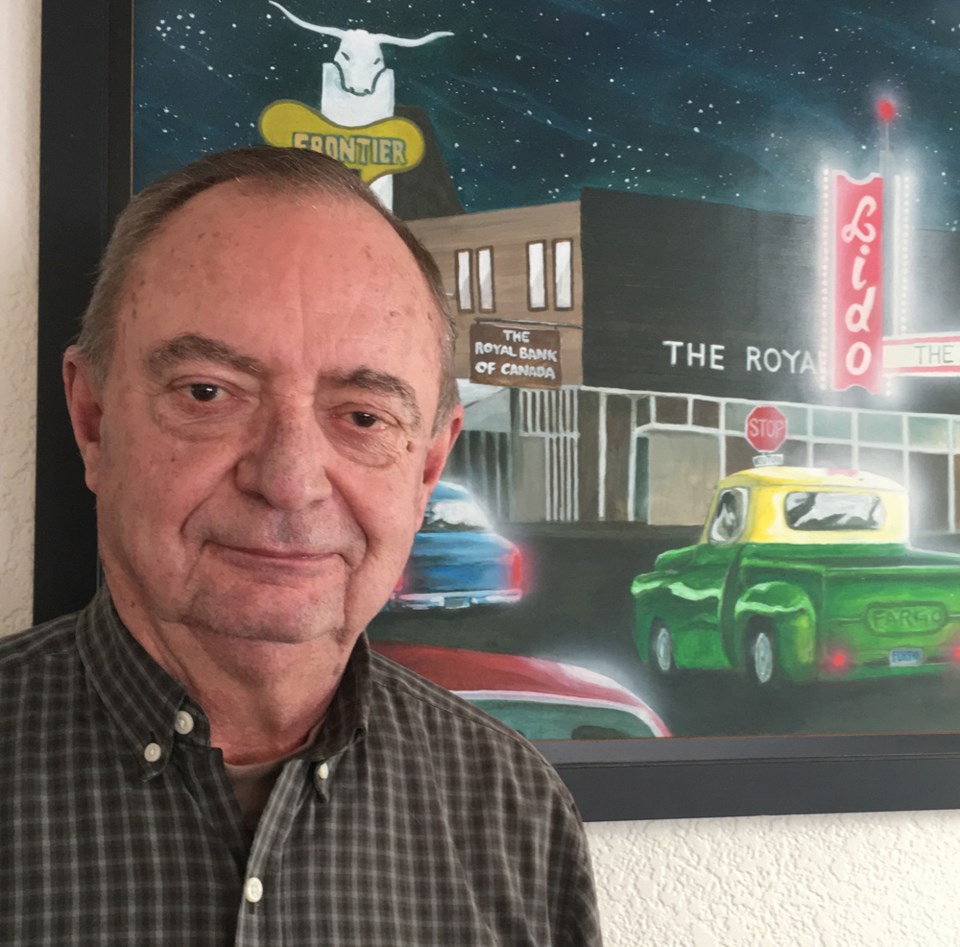 I first became acquainted with the Alaska Highway derelicts the summer of 1965. I had the pleasure of going on a camping trip up the Alaska Highway with Jim Keddell (Ma Murray's son in law). Along for the trip were his son Brooks, his nephew Danny, Kenny, myself and all the necessary equipment, which we loaded up in the car and began our trip.
We made many stops as we were in no hurry and the pavement ended at Mile 83 so it was gravel the rest of the way. It was when we stopped at the Circle T Texaco at Mile 408 that we discovered the abandoned vehicle yard.
While Mr. Keddell was talking to the gas attendant, we wandered off and soon were going from car to car checking licence plates, if they had them. Some cars looked like they'd been there a long time with one having a tree growing up through it, while others looked fairly recent. Mr. Keddell came looking for us and we departed heading further up the highway.
We asked Mr. Keddell about the old cars and he replied those were the ones that didn't make it to Alaska. We arrived at our next stop and decided to set up camp. This was Mile 442 of the Highway and was called the Village Inn.
After setting up camp we went to the Inn and asked if we could look at the old vehicles. Some looked like they'd been in accidents while others looked like they had just been parked there. Again, you could tell which ones were recent and which had been there a long time.
It was at 442 where we started back the next morning heading south. I remember thinking about the old cars and of the people that probably didn't make it to their destination.
In the summer of 1967, I worked at Mile 143 at the Royalite Station, pumping gas for Jim and Vonnie Warren. Most of the buildings for the gas station and campground are still there, across the highway from the Pink Mountain Motor Inn, although the Inn wasn't there in those days. The Post Office is still there as it was in 1967.
One day when I was pumping gas, a car pulled up and I could tell it was on its last leg. The engine was knocking and smoke was pouring from the back. It quit right there at the pumps. Jim came out and told them he'd pull them around back and see what the matter was. Of course, the engine was seized and this car was not going anywhere soon, if ever.
Jim happened to have a running vehicle in his junkyard which he had repaired. He traded their car for it and they continued on their way to Alaska. I know these people made it because while they were doing the trade we exchanged addresses and the next Christmas I received a Christmas card from them.
I asked Jim about his junkyard and he said he'd been collecting cars, trucks and trailers, which he had three of, for about 10 years. There were a dozen or more vehicles in his yard in the back. He explained that he acquired them through accidents and vehicles breaking down.
Many people that were forced to abandon their vehicles caught the Greyhound, which had a route on the Alaska Highway all the way to Alaska. Many were picked up at "flag stops" leaving their vehicle beside the road to be moved later to the nearest gas station like the one at Mile 143, because each lodge or gas station had some sort of tow vehicle. A lot of these people never came back for their vehicle.
In 2004, Joanie and I went to Jimmy Anderson's place at Mile 147 for a visit. While there he showed us his junkyard among other interesting things around his place. I counted about 20 vehicles of every shape and size, all the licence plates were gone by then as collecting had become a hobby for some. There was even an El Camino with weeds growing up through it.
In 2018, we went for a drive up the highway and stopped in again at Mile 147. There's nothing there now, it had been cleaned up and levelled. I don't know who paid for the removal of the vehicles but it couldn't have been cheap, and this is why you still see so many old vehicles in places off the highway. A lot of lodges along the highway have either closed or disappeared completely, sometimes leaving treasures for others to find.
What prompted the above story was the following article from the Alaska Highway News that I ran across dated September 1959. I wonder who and how long this was enforced, and what kind of credit card are they talking about:
Canadians clamp down on Alaska-or-bust adventurers
"Canadian officials are acting to prevent the scenic Alaskan Highway from taking on the appearance of a vast junk heap. Too many Alaska-or-bust adventurers who start out in old jalopies with little ready cash are going bust in Canadian territory. While U.S. authorities were responsible for the highway rescue of their bankrupt countrymen, Canadians sometimes must 'grab stake' the would be pioneers. Derelict autos that break down along the rugged route often are abandoned on the spot. To make sure that Alaska bound U.S. drivers reach their destination 1,527 miles north of here, immigration officials now require a kind of "pioneer insurance."
"Before Americans are allowed to set out for Fairbanks over the cross-Canada highway, they must show that they have enough cash to meet emergencies. The Canadian minimum required is $250 for a car and driver, $100 for each additional passenger and a valid credit card if only the bare minimum of cash is met. Some of the marooned Americans have been U.S. Air Force personnel headed for Alaskan bases. As a result the Alaskan air command has joined forces with Canadians in an attempt to keep traffic moving. U.S. base commanders were instructed to urge transferees to Alaska to take at least the $350 for driver and car."
---
Larry Evans is a former fire chief, city councillor, and lifelong historian living in Fort St. John.