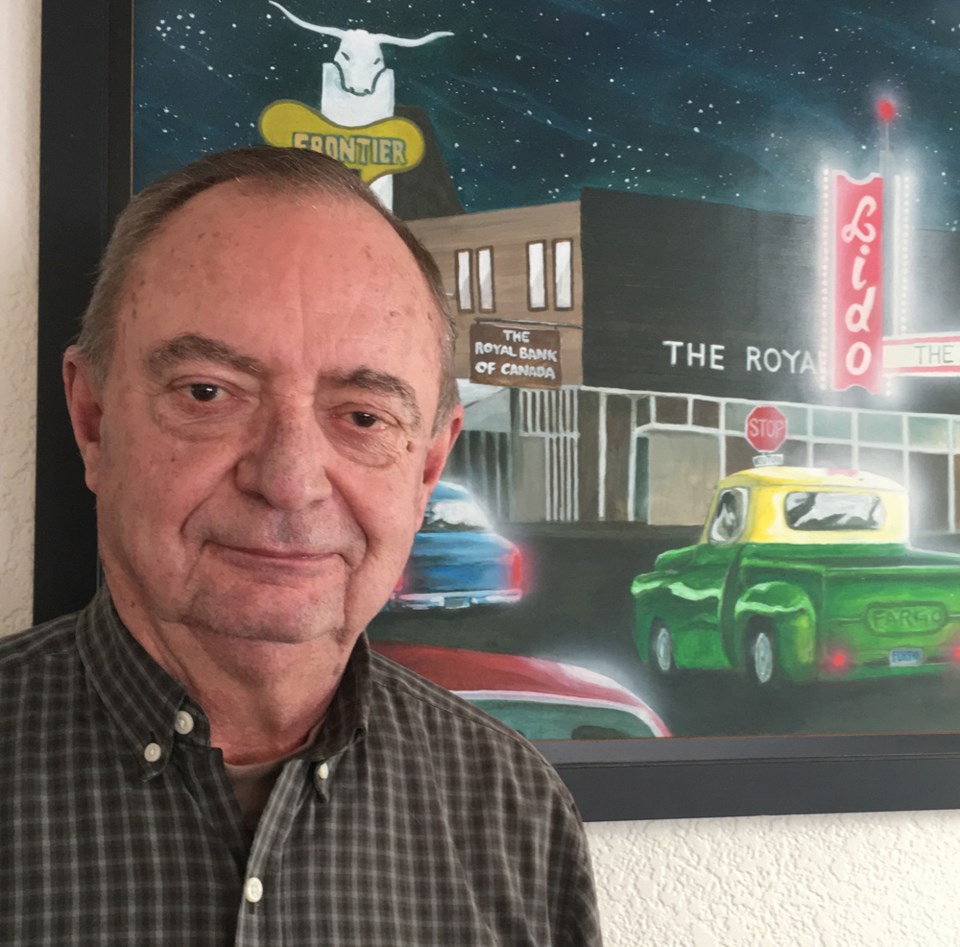 On Easter Monday in 1935, young pilot Grant McConachie landed his small ski-equipped plane in front of the Providence Hospital, the site of the old Fort St. John Hospital on 100th Avenue.
He was intending to pick up a seriously injured man, Roy Taylor, and fly him out to Edmonton for medical attention. However, Roy being such a large man, and the roads in such a mess with the spring break-up proved to be too much for the small plane. The plane could not take off in Fort St. John as the added weight would make the plane sink in the muddy road.
So after some deliberation it was decided to have Braden Herron move the patient, in the back of his truck, out to Red Powell's float plane base at Charlie Lake. Grant was to take off alone from the hospital, land on the lake, pick up the patient and hence on to Edmonton. This was to be the beginning of an air base for McConachie as from that time on it was his intention to make Powells his stopping place for the United Air Transport, which later became Yukon Southern Air.
Over the years this proved to be a busy airbase, with pioneers such as the MacLeans, Powells, and numerous others working.
At the age of 22, McConachie was a bush pilot running his own crazy airline in the Canadian North, flying First Nations people, trappers, gold miners, huskies, and fish all over the wilderness. His first official commercial flight (there were a few previous unofficial ones) began 10 minutes after he got his licence, his first passengers were one eccentric university professor and 200 yellow-tailed crows. His first business partners were a Maltese princess and a completely bald carnival barker who made his living selling Sure-Gro Hair Tonic.
McConachie's career continued to follow this weird and wonderful pattern. Apart from the occasional crash (once into a Montana cemetery) he kept his early bush-planes aloft by sheer seat-of-the-pants flying skill and by luck, which always seemed to be riding with him. He was constantly in desperate financial trouble. But money was never an insuperable problem to a man who could charm a mechanic into working for him at no salary and who could wangle $100,000 of free gas out of the bemused directors of Imperial Oil by persuading them that his slap-happy airline to the Yukon was really the start of an air route to China.
In the book Bush Pilot With a Briefcase, author Ronald Keith tells the incredible story of McConachie's bush pilot days, his rise to the presidency of Canadian Pacific Airlines (CP Air) at the age of 38 and his extension of Canadian Pacific Airlines routes all across the globe. This global travel included making deals with General MacArthur in Japan (which was a good deal) and with Chiang Kai-Shek in China (which was a bad deal).
Although the book was printed in 1972, you might get lucky and find a copy at the Fort St. John museum.
Larry Evans is a former fire chief, city councillor, and lifelong historian living in Fort St. John.