Know what's been grinding my gears recently? Gendered baby clothing. I love our Carters in town; the ladies there are so helpful and they do have cute stuff, but recently I've been noticing some problematic trends in the "girls side" of the store which got me thinking about the larger problem of gendered baby clothing.
Pink and blue is relatively new
The concept of "girls" and "boys" baby clothing is a relatively new concept. For centuries in Western history, children were dressed in white dresses up to six years old. There's a famous photo from 1884 of future American president Franklin D. Roosevelt at age 2.5 wearing a dress with shoulder-length hair and a frilly hat. It was the norm. In the 1940s, when clothing manufacturing figured out they could exploit gender roles from birth, the great "pink" and "blue" divide began. Today, when we look back at Roosevelt's picture, it's easy to see how ingrained our gendered culture is when our automatic thought is: He looks like a girl.
Until puberty, we're all the same shape
Looks like a girl. Unless my daughter is wearing some risqué see-through haute couture piece that shows off her female anatomy below the waist, her body looks the exact same as her male counterparts. In fact, until they hit puberty, most children have similar body builds. So why do we insist on even having different "boys" and "girls" sections?
And on that note, what is with the "girls" sections being so aggressively pink? You don't see adult women walking around in sequin-covered, over-frilled, pink and purple unicorn puke, so why do we tell little girls they need to wear it? In 2021, where the world is changing and gender roles are being challenged and dismantled in all aspects of society, we do our children a disservice by allowing retailers to shape our kids thinking around apparent polarizing gender roles.
---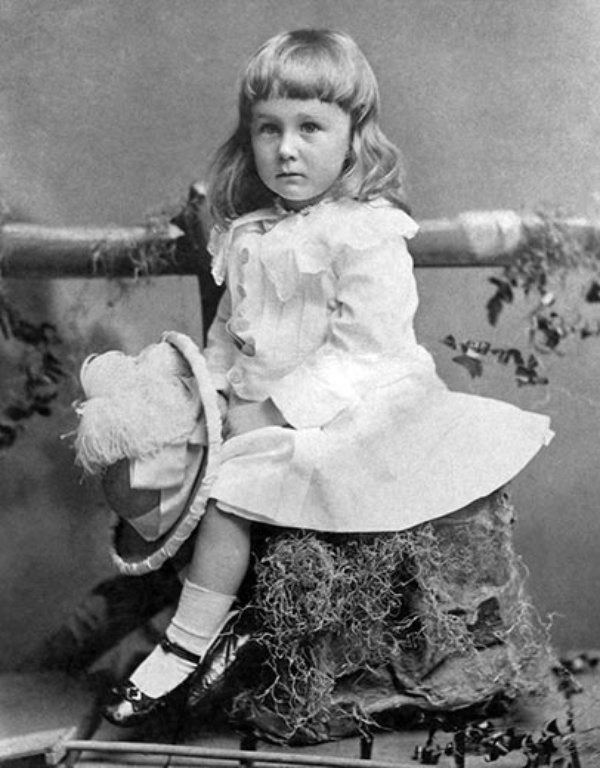 ---
Pink isn't a bad colour
Now I've done a lot of pink bashing, and I want to clarify that it's not "bad" to love pink (if you're a girl or a boy – as my partner would say, tough guys wear pink). Rather, I'm angry at what it represents. You don't find a lot of pink cargo pants at Carters. My frustration spurs from companies designing clothing "for girls" that inherently reinforce the delicateness and meekness of traditional female gender roles – which are often showcased in 50 shades of pink.
For example, in the last few months while shopping, I've found that clothing in the "girls' section" tends to be thinner and less durable. We picked up two zip-up sweatshirts for my daughter this Fall, one from the "girls" side and the other from the "boys" side of the store. Her flowered "girl" sweater wore quite thin after a few washes, while her green one covered in dinosaurs looks like the day we bought it. The zipper is more durable, and the cuffs and collar are thicker. Her "boy" sweater is built for busy, active, rough-and-tumble kids. It assumes that girls are supposed to sit and play quietly.
Speaking of concerning colours...
Who puts their toddler in white? The person who designed my toddler's white corduroy pants clearly hasn't been around a tiny human eating spaghetti recently. Most adults have a hard time keeping white pants clean.
But in all seriousness, "girls' sections" do tend to stock notoriously stain-worthy hues. I prefer to shop on the other side for my daughter purely on the basis that the navies, greens, dark purples, and teals of the "boys" side just seems easier on laundry. Between the pastels, creams, and whites of "girls" clothing," it's like they're subconsciously telling our girls: Don't do anything where you'll get dirty.
It impacts our boys too
Gendering clothing can have negative impact on our sons too. Looking at Carter's graphic t-shirts on their website, the boys' t-shirts hide a concerning theme: emotions are not for boys. Phrases like "I'm indestructible" or "I've got goals" or "monster skills" plastered on their t-shirts, whereas girls' t-shirts sport messages like "be yourself" or "I give the best hugs" or "lead with love." If we want to grow out of our society's toxic masculinity, it starts with teaching our boys that it's good to express their feelings and show love. There are blues on the "girls' side," why are there never any pinks on the boys?
Time to wean off the Baby Boomer biases
Also, don't be afraid to gently remind reluctant relatives. If you're like me, you probably have some well-intended grandparents that love to spoil your little one. Because many of our beloved baby boomers were raised in gender-specific clothing – boys dressed like their father and girls dressed like their mother – it can be hard to break that deep-seated bias of what is the "right" clothing for their grandchildren to wear. Start the conversation, encourage grandma to shop of the 'other side' of the store, and explain the harm of using phrases like "she looks like a boy."
Not a cry for the gender-neutral palette
Lastly, I think it's important to emphasize that this piece is not a cry for gender-neutral potato sacks for our little spuds. We don't need to abandon all pinks and blue and reach for the soviet grays or the indecisive yellows. However, what I do think is important is demanding retailers to abandon the divide in children's clothing stores and for consumers to consider opting for a diverse collection in their own child's wardrobe. Buy that blue t-shirt with a truck on it for your daughter. Buy that pink ruffle shirt for your son. Resist the urge to assign colours to genders.
Your bundle of joy is growing up in a world more tolerant, diverse, and accepting than ever before. They can be anything they want to. Challenge the status quo by offering your child a colourful childhood with choice.
Happy shopping, Mamas!
---
A.M. Cullen lives and writes in Fort St. John. Are you parenting in the Peace? Send in your questions, topics, or suggestions for #MomLife to cover at momlife.ahnfsj@gmail.com.