This is the article no one wants to read. We'd rather keep our heads in the sand, blame it one someone else, or say "It doesn't affect me. I can't make a difference."
The UN just hosted their Climate Change Conference (COP26) conference in Glasgow. And in the same week we saw our world leaders promise pitiful advances in fighting the climate crisis, we also experienced devastating atmospheric rivers that destroyed our roads, towns, and livelihoods of the southern half of our province.
This same year we saw record heat waves where over 50 BC temperature records were broken killing at least 595 people, record wildfires that burnt 8,700 square kilometres of land including engulfing the town of Lytton, which burnt to the ground just days after hitting 49.6°C (the highest temperature ever recorded in Canada).
We are in crisis. It's at our front door. And it's time we started responding appropriately.
In her fantastic book, Our House is On Fire: Scenes of a Family and a Planet in Crisis, Malena Ernman (mother of climate activist rockstar Greta Thunberg) uses a jarring metaphor. If you saw your child wandering too close to a cliff edge, you wouldn't turn back to your SnapChat and pretend that it's not your child in danger. Your super-mama-crisis-mode brain would kick in and you'd do everything in your power to keep them from falling. Our children (and generations after them) are walking toward that 2°C cliff edge now.
It's On Us
Before I spur a debate on whether climate change is human caused, I'd like to refer to a recent metanalysis published in October that looked at 3,000 peer-reviewed studies (randomly selected from the 88,000+ climate change papers published since 2012) and found that 99.9% of studies agree: humans have caused climate change on Earth. It's indisputable. It's our problem, and we need to take responsibility.
You Matter
One person can make a difference. Yes, as an individual, you're only a drop in the sea of CO2 emissions worldwide. But we are in an age of radical social movement – and an overhaul on our sustainability realities needs to be one of them. As Greta Thunberg said recently, "It's never too late to do as much as we can." Yes, only a handful of fossil fuel corporations are responsible for 71% of greenhouse gas emissions worldwide, but it's a global grassroots movement and a push from the people that is going to force them to start making changes. You are one of these people.
No Time Like the Present
Your action today will shape the future your kids will have. The global plan is to reach net zero by 2050 to keep the plant's temperature rising beyond 1.5°C. If we don't meet these goals and the temperature does reach 2°C by 2050, your now 30-year-old baby will be living in a world of extremes. Drought will displace millions and soil desertification will result in global food shortages. Animal species will be wiped away. Stronger faster tropical storms and increased rainfall will rip through communities regularly. And here in the North, they will see the impacts of climate change much more rapidly.
Though I may sound despairingly blunt, hanging onto blind optimism without understanding the consequences of our idleness is dangerous. We are in crisis and it's not going away with prayers and hopeful thoughts. We need to act. We humans don't like change (perhaps even more so in our sometimes-reluctant corner of the province), but if you're willing to take the sustainability plunge, here are a few lifestyle changes to consider adopting.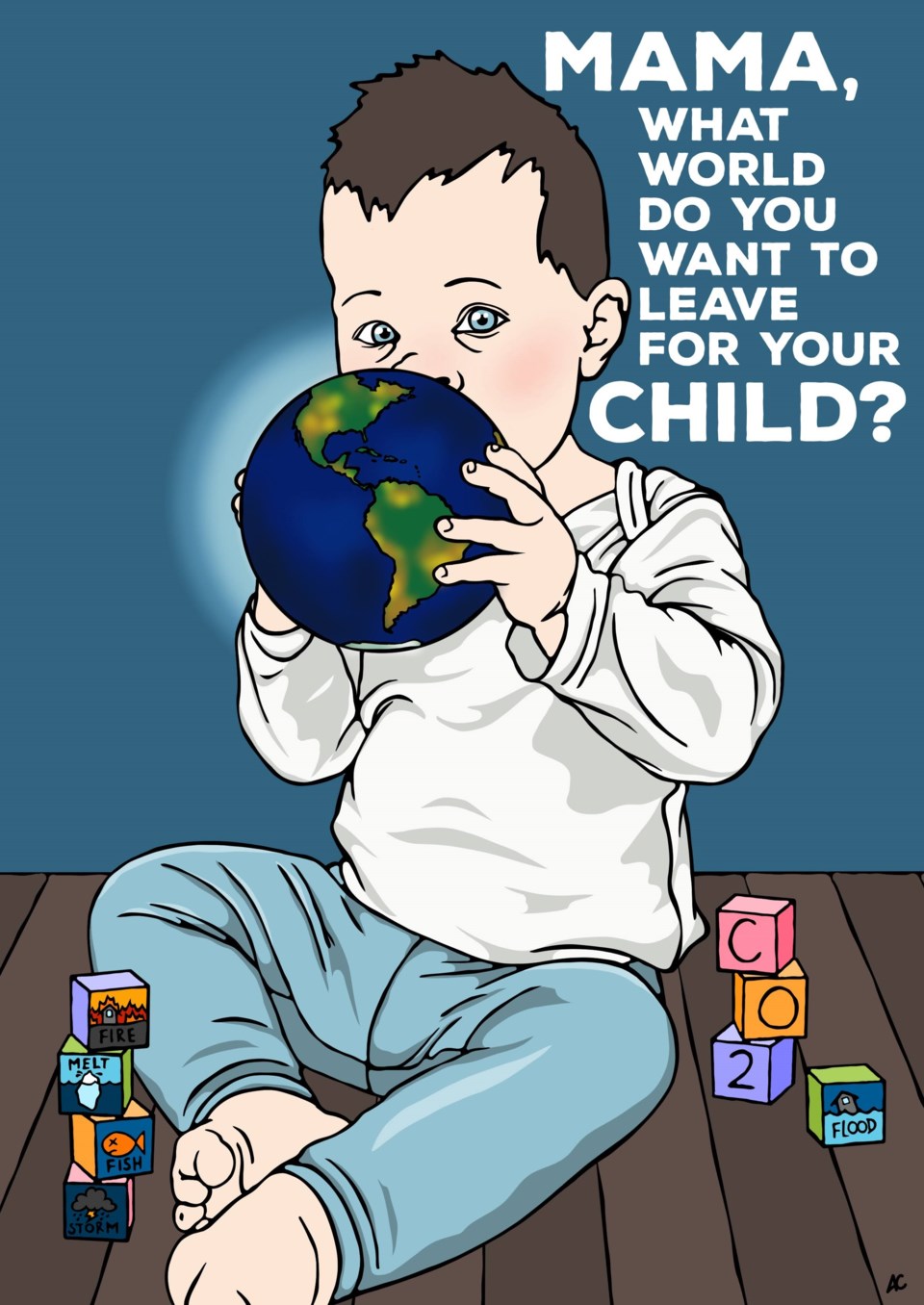 Stop Flying
I know that this one seems unreasonable for most, especially since we live in pretty far from everywhere here in the north. But it is one of the most important and impactful, which is why I've put it at the top of the list. Domestic air travel has increased 115% from 1990 to 2019. There are more of us flying, and as a result airlines are buying more planes.
For example, Air Canada just bought 73 new planes in April using our government's Large Employer Emergency Financing Facility (LEEFF) program. And even though airline emissions only account for 3% of our country's total, but if left unchecked it could account for a quarter of our total emissions by 2050.
As an individual, it's one of the most impactful ways to reduce our carbon footprint. According to David Suzuki's website, "The total carbon impact of a single flight is so high that avoiding just one trip can be equivalent to going (gasoline) car-free for a year."
Reconsider Your Car Choices
We know that fossil fuels are the primary contributor to greenhouse gas emissions and the companies that produce them are responsible – to an extent. The consumer also must share some of the blame. Even though we don't run the billion-dollar oil and gas companies, a number of us in the north work for them and almost everyone uses their products daily with number of new gasoline cars on the road increasing every year.
This year alone, there have been more than 1.3 million new car sales in Canada - majority of them gasoline vehicles. The good news is, by 2035, our government has set the goal that all new car sales will be zero-emissions (though some critics are skeptical on reaching this goal.) What can you do? Consider switching to an electric option next time you're car shopping.
Worried about our cold weather? This Saskatchewan article busted the myth that electric vehicles can't handle cold winters. And if they can handle Saskatchewan, EVs can definitely handle our long winters! Not sold on the electric option? Another way to reduce your family's footprint is downsizing to only one car. Or, if you must shop for a car, look for ones that are manufactured in Canada to reduce the emissions from shipping.
Scrap Single-Use Products
This smaller goal might be more manageable for your family and is great place to start changing your perspective on sustainability. Reduce your household garbage (and your carbon footprint) and reconsider how many single-use products you go through in a week. Diapers? Tampons? Coffee Cups? Ziplock bags? Water bottles? Aluminum foil? Plastic Grocery bags?
Though you may not be able to eliminate all of them (I know I'm wary to jump on the cloth diaper train myself), see if there are some products that you can replace with a less-waste option. Use Tupperware in the kids' lunches. Pick up some beeswax wrap or cloth napkins for the kitchen. Keep a tumbler in the car for coffee on the go. Grab some of those awesome reusable bags at our Safeway for groceries.
Try Backyard Composting
Or better yet, advocate for our city to hand out some green bins and start picking up our organic compost! Until then, composting at home is an easy way to reduce your household garbage. Our local hardware stores like Canadian Tire and Home Hardware offer a selection of composting bins. This one at Canadian Tire is not only made in Canada but also made of 100% recycled materials.
Ask Where Your Products Come From
China is reported as the highest contributor to greenhouse gases with a whopping 27% of the world's CO2 emissions (more than all developed countries combined!). So when China refused to attend the UN's COP26, some took a defeatist perspective thinking, 'What's the point if China's not on board?' What people seem to forget is that products that aren't manufactured domestically aren't counted when calculating a country's total emissions – and we consume a lot of products from China.
And why wouldn't companies manufacture in China? They have an abundance of workers working for a fraction of the cost. Human rights debate aside, by boycotting products manufactured in China we're saying that we're not OK with their country's excessive emissions. And as an added benefit, we also cut out the unnecessary emissions from cargo shipping things like cheap dollar store trinkets across the globe
A recent Forbes article argues that reshoring companies back to North American manufacturers, though may increase the cost of goods, won't shoot up prices as high as people think. Start asking businesses tough questions about where their products are made and encourage them to stock more products made here.
When browsing gifts this Christmas, start reading the labels. If it's made in China, consider opting for a different product. Little Tikes makes a selection of their products in the United States, and if you want to stay local, there's a number of great local toy makers like Woodland Creations and Little Moose Woodworking.
Cut Out the Beef
In the UN's Intergovernmental Panel on Climate Change report, it found that the Western world's high consumption of meat and dairy is a major contributor to our greenhouse gas emissions. They aren't demanding people to stop eating meat, but in the West we are eating too much. Can't commit to veganism? Consider substituting a few meat-based meals with some veggie ones into the weeknight rotation. We've been working through Angela Liddon's Oh She Glows cookbook in our household and so far they have been great!
Support Local Farmers & Grow Your Own
Revaluate how far your produce travels. In B.C., we have some commercial lettuce farms in the lower mainland and on Vancouver Island, but the majority of our lettuce in our grocery stores comes from the United States. In 1992, our local farmers got so fed up competing with low American prices that they even hosted a protest at the B.C. legislature. Support our farmers by shopping local at our Farmer's Market in the summer, but also consider setting up a small kitchen garden for year-round side salads without a side of extra emissions. Leafy greens have shallow roots, so they work well in containers. You can keep them on a windowsill or, if you're feeling handy, build a small cold frame outside.
Learning to Live with Less
All these tips offer ways to reduce your emissions, but at the end of the day, what is really going to get us out of this climate crisis is learning to live with less and passing these values onto our children. People all over the world live, work, play without the luxuries we take for granted in the West and they still find everyday happiness in it.
Researchers have found that long-lasting happiness doesn't reside in materialism and luxury, but rather quality close relationships and basic needs being met. We need to shift our "more and me" lifestyle with one that focuses on "less and otherness." Humanity is wandering dangerously close to that cliff edge. How will you step up to contribute to the fight against the climate crisis and secure a sustainable future for your children?
---
A.M. Cullen lives and writes in Fort St. John. Are you parenting in the Peace? Send in your questions, topics, or suggestions for #MomLife to cover at momlife.ahnfsj@gmail.com.