Remembering Ruth

When I read that Ruth Edwards had passed away, I was sad but happy to have known her.

Ruth played floor curling at the seniors' club. Like me, she played lead but for a different reason. I played lead because I was a beginner; Ruth was an accomplished player who played lead because she was visually impaired.

Ruth was a cheerful lady. Her family did not live in Fort St. John, but Donna Butts filled in acting as a daughter to Ruth. Donna told me that even when Ruth's health was deteriorating badly, she was still able to get a giggle out of her. Ruth set a good example on how to live well – even into your 90s.

We will miss you Ruth.
Electric bicycles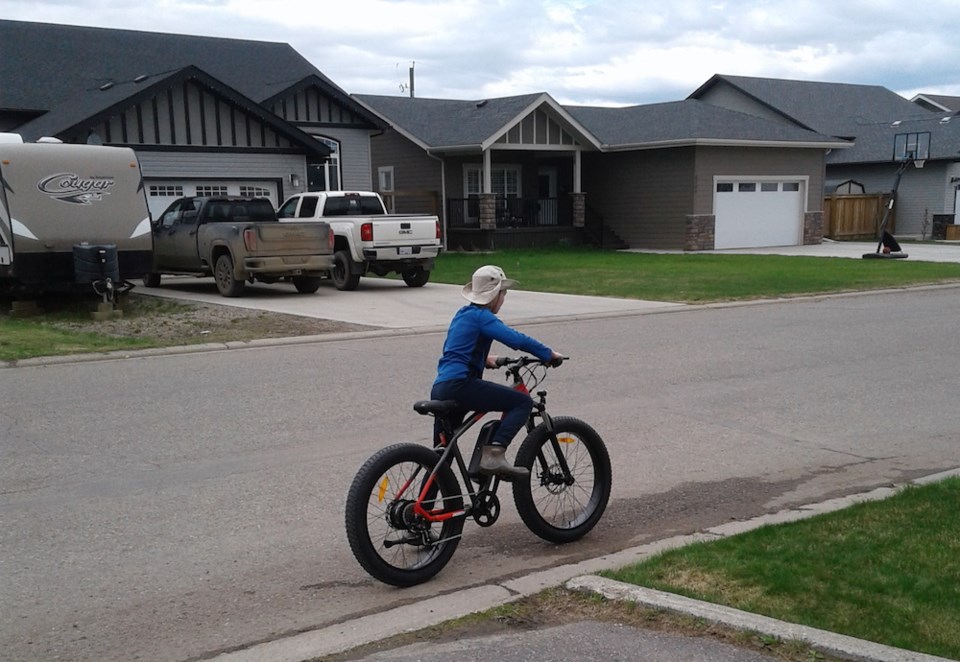 It finally arrived — our electric bicycle. We missed the delivery fellow the first time so we had to stay home all day the next Tuesday to be sure to be there when it arrived.
We got him to put the big box in the garage and the next day our grandsons assembled the bike. Lorne and the kids tried it out and they all said it felt weird to use the electrical assistance. You can turn off the electricity and when you turn it on you have to peddle to make it work.
I guess that is what makes it seem strange. I have to take a ride on it as the plan is to buy a second one for me if I like it. It has very wide tires, a headlamp, and a reflector on the back.
Our grandson Melvin cautioned me not to ride through water. Hmm, I guess not.
Bolder
I have started reading the book Bolder: Making the Most of Our Longer Lives. Chapter 3, called 'Old Dogs, New Tricks', talks about creativity.
The author Carl Honoré says that while creativity after 40 may be a different style it can keep improving with age. This rings true as I know artists and writers whose work has blossomed as they aged.
Honoré suggests that we can help ourselves by looking for challenges. He wants us to test the limits – to not avoid what makes us uncomfortable. Allow yourself to coast and you will lose out.
Quote of the week
"Those who bring sunshine to the lives of others cannot keep it from themselves." — J. M. Barrie
Ruby McBeth is a community columnist living in Fort St. John.