Pembina Pipeline Corporation has approved the development of a new liquids hub in the Montney, as well as its proposed liquefied petroleum gas export terminal in Prince Rupert.
The two new projects are part of a $1.3-billion capital program for 2018 approved by the company's board of directors and announced Nov. 29. Pembina President and CEO Mick Dilger called 2017 a "transitional year" in the company's history.
"Since the beginning of 2015, we have placed approximately $8 billion of predominately contracted assets into service, marking the culmination of an unprecedented growth strategy implemented in 2013," Dilger said in a statement.
"In addition, we also completed the largest corporate acquisition of our company's history during the year. We expect to continue this positive momentum into 2018, as we remain focused on completing the remaining growth portfolio and advancing our strategy of creating new market access for our customers. With increased size and scale, greater diversification and a broader service offering, the future is bright for Pembina."
North Central Liquids Hub
The estimated $320-million hub ($150 million net to Pembina) will support operations for the Cutbank Ridge Partnership in the Montney, providing separation and stabilization of increased condensate volumes from the partnership to support the recently in-service Sunrise and Saturn gas plants in the South Peace.
The project, expected to be in service in late 2018, is being advanced through Pembina's midstream limited partnership with Kohlberg Kravis Roberts & Co. L.P., in which Pembina owns approximately a 46 per cent interest, the company said.
The hub will be connected into Pembina's pipeline systems, and can be further expanded to serve future requirements of the Cutbank Ridge Partnership, as well as other potential third-party producers.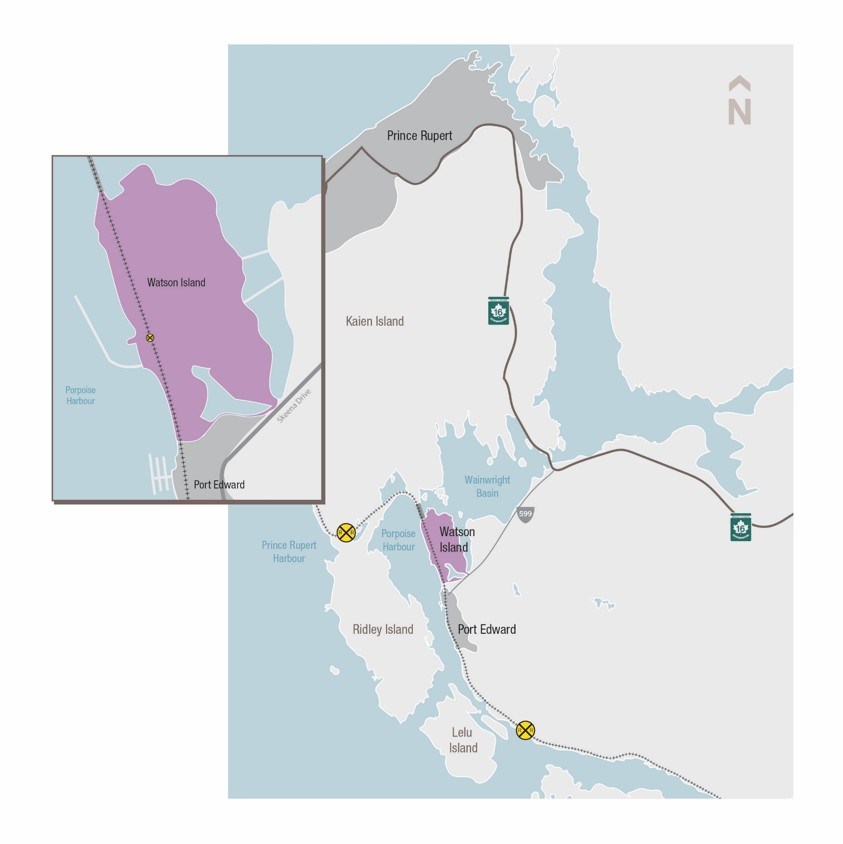 Prince Rupert LPG Terminal
The estimated $250- to $270-million Prince Rupert terminal will be sited on Watson Island, on lands leased from a wholly-owned subsidiary of the city of Prince Rupert, the company said.
The terminal is subject to regulatory and environmental approvals. It is expected to have a capacity of 25,000 barrels per day of liquefied petroleum gas, and to be in service by mid-2020. Pembina says it has executed definitive commercial agreements with the city, and will source its LPG supply from its Redwater fractionation complex in Alberta.
"Since our initial announcement of potentially developing the Prince Rupert Terminal, we've worked diligently with municipal and other stakeholders and are now able to move forward with our final investment decision," Stuart Taylor, Pembina's Senior Vice President, NGL & Natural Gas Facilities, said in a statement.
"We are very excited to progress the Prince Rupert Terminal and continue working with the local communities, stakeholders, First Nations and governments in the area.
"This Project will provide significant economic benefits to thePrince Rupert area including 150 to 200 construction positions and, once operational, it will create between 20 to 30 full-time positions in addition to generating annual property tax revenue and lease payments."