Two controversial pieces of Charlie Lake land up for transfer to the Blueberry River First Nation will be subject to federal environmental laws and regulations, officials said Wednesday, hoping to allay community concerns about their proposed development.
Blueberry River has chosen two lakeshore parcels of Crown land as part of its treaty land entitlement claim with the provincial and federal governments: one 194-hectare parcel on the west side of the lake north of Golf Course Road, and another 77-hectare parcel on the east side near Montney Centennial Regional Park.
Blueberry has long had ancestral connections to the lake, and hopes to develop the land in part for elder residences that are closer to services in Fort St. John. But Charlie Lake residents have concerns about environmental and wildlife conservation; the lands are home to a number of protected animal species from warblers to bats, and have been under a watershed reserve to protect them from development for the last 50 years. 
Doug Konkin, the province's chief negotiator for the claim, said the lands would be administered and managed by the federal government under federal law, including those dealing with species at risk, wastewater, fisheries, and project impact assessments.
"It's not just a free for all. There are significant rules and regulations around how reserves are managed," Konkin told more than 200 people gathered for an open house at the Charlie Lake hall.
"It isn't accurate to say there is no environmental regulation. There are absolutely environmental regulations and considerations that would apply if the land was transferred."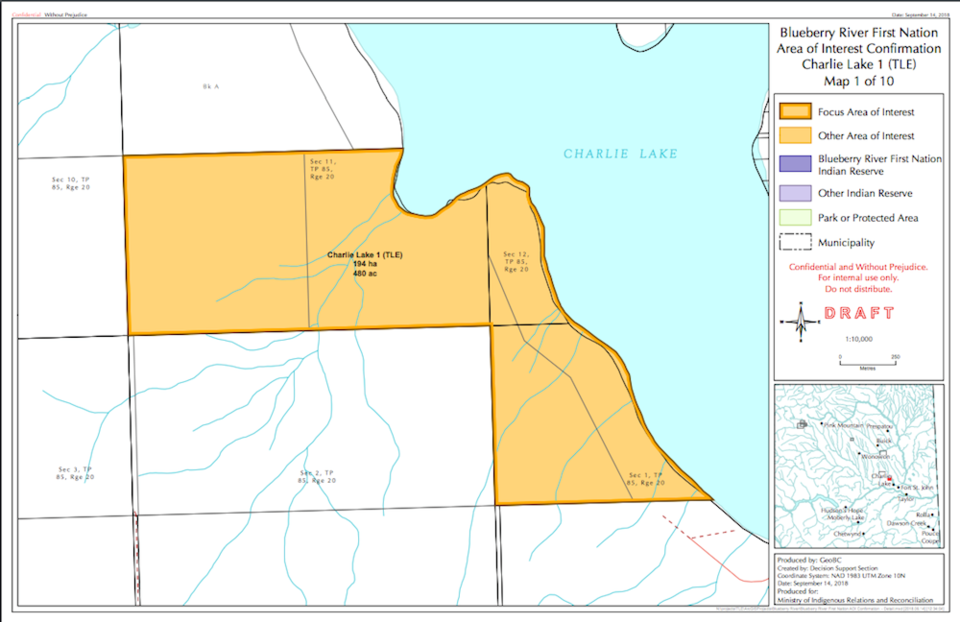 Around 43% of the lakeshore is currently developed, and residents have long worried about the ecological state of the lake.
The lake, formerly Fort St. John's water supply, has been a dump site for sewage, and takes in wastewater from upstream farm and industrial operations. At the same time, lakeshore development has eroded key riparian wetlands that help filter the lake, and compounded its pollution problems.
About 50% of the proposed lands fall within the regional district's lakeshore development guidelines, and would likely be subject to those regulations if transferred. The federal government would need to mitigate the regional district's concerns, including those regarding taxation, Konkin said. Blueberry, meanwhile, would need to develop a servicing agreement before development could happen, similar to what Doig River First Nation has been developing with Fort St. John on its TLE claims inside city limits.
Blueberry negotiators say the band is also developing a memorandum of understanding with the province that commits it to working with the regional district and local groups to protect and restore the lake. Blueberry shares the same interests as Charlie Lake residents, said negotiator James Tate.
"Blueberry has this longstanding, very close, spiritual and cultural connection to the lake, and over the years has watched with some disappointment and dismay the degradation to the lake," said Tate.
"What Blueberry would say about provincial environmental regulation and authorization is that it has not been adequate and hasn't worked to protect … not only the lake, but the wider territory as well."
The lands are part of a treaty land entitlement claim being negotiated to settle an outstanding land debt owed to Blueberry from the signing of Treaty 8 and reserve lands first established in 1914. In short, Blueberry is owed some 22,000 acres of land, some of which it is purchasing as fee simple, because the band's membership was initially undercounted in 1914, and was later forced to surrender and move from its home at the old Montney Reserve in 1945 to accommodate post-war settlement.
The claim process started in 2005, and Blueberry River has also chosen land around its existing reserve, Pink Mountain, and Red Creek. B.C. is obligated to provide land while Ottawa is obligated to provide a cash settlement to reconcile the shortfall.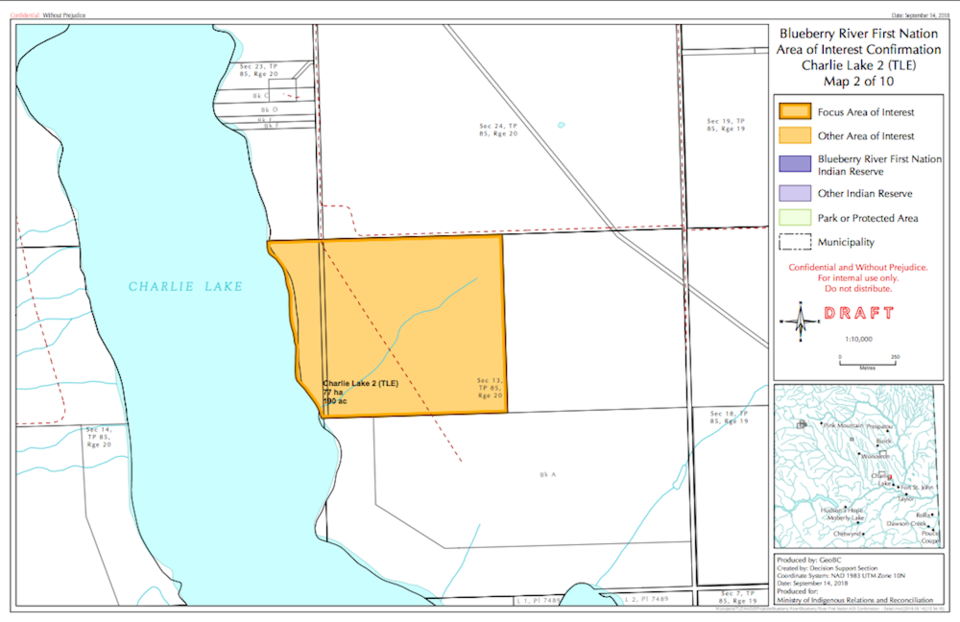 Residents spent two-and-a-half hours grilling Konkin and Tate about other concerns with the Charlie Lake lands, including an apparent disagreement about them in the Blueberry community. Officials said it was unfair to Blueberry to exploit that division.
Key among the concerns, however, remains the fact the lands had been taken off the table from negotiations under the previous BC Liberal government due to the community's concerns. They were retabled when the NDP formed government in 2017.
Ross Bannerman said the Charlie Lake community respects the need for the land transfers, but that he and a committee of residents have been trying to find alternative land options.
"The Blueberry people are members of our community and we want to embrace them as members of our community. We don't want to divide them from the community. It's important that we respect that," Bannerman said.
But, he had no positive words about the renewed negotiations and the government's consultation process, calling it an insult to the Charlie Lake community.
"I haven't found they have listened to what we've presented," he said. "I think they've acted in a manner that these are predetermined decisions, and we're just going down and we're checkmarks on a page."
Charlie Lake is fragile and its watershed reserve status must be maintained, Bannerman said. "We all know it's suffering and it's getting worse every year," he said.
Jim Little, the retired land surveyor who established the watershed reserve in 1968, said he did so because the lake was at the time Fort St. John's water supply.
Even back then the lake was under stress from a surge of development and Crown land applications, and not establishing the reserve would have led to a more polluted lake today, he said.
"There's got to be something wrong when reserves for the general public aren't being respected and looked after," he said. "Those reserves are for everyone, including First Nations, and we should respect those."
Any land transfer appears to be a long way out; any finalized proposal needs to first be approved by the senior governments and ratified by Blueberry members.
Even then, officials said Wednesday there is no fixed timeline for that to happen, and that it could take 10 to 15 years before lands were transferred and developed if the deals are approved.
Email Managing Editor Matt Preprost at editor@ahnfsj.ca.