An indigenous heritage group hopes to turn the Charlie Lake cave site into a cultural museum showcasing 10,000 years of First Nations history in the North Peace. 
Two dozen people attended a public hearing on Monday, March 18, as the Tse'K'wa Heritage Society seeks to rezone the five-acre property, at 19629 Butte Lane, from residential to institutional. It's the first step toward establishing a formal museum, expected to be a multi-million dollar development. 
"Our number one priority is to protect that place. It is a historical site," said society president Garry Oker. 
Tse'K'wa means "rock house," and though well-known to local First Nations, the cave was only discovered by archaeologists in 1974, and was excavated in the early 1980s.
Among the hundreds of artifacts found were a 10,500-year-old stone bead — the oldest example of human adornment in North America — spear and arrow points, harpoon heads, as well as bones from humans and various animals including bison and raven.
The artifacts tell stories of travel patterns and ceremonial practices, and make the cave one of the most significant sites on the continent, Oker said. Local First Nations, including Doig River, Prophet River, and West Moberly bought the land with the cave in 2012.
Preliminary plans for the museum include a cafe and gift shop, an amphitheatre and interpretative trail, and space for hundreds of repatriated indigenous artifacts from the region in need of a home to store and display.
Along with preserving the cave site and protecting it from ongoing vandalism, the museum would be part of a broader effort underway to bring more visibility to local indigenous history through culture and public art.
"We know the Peace Country is well developed in all kinds of industrial development. Where is there a place where we can go to look at the local culture and have visibility to that?" Oker said.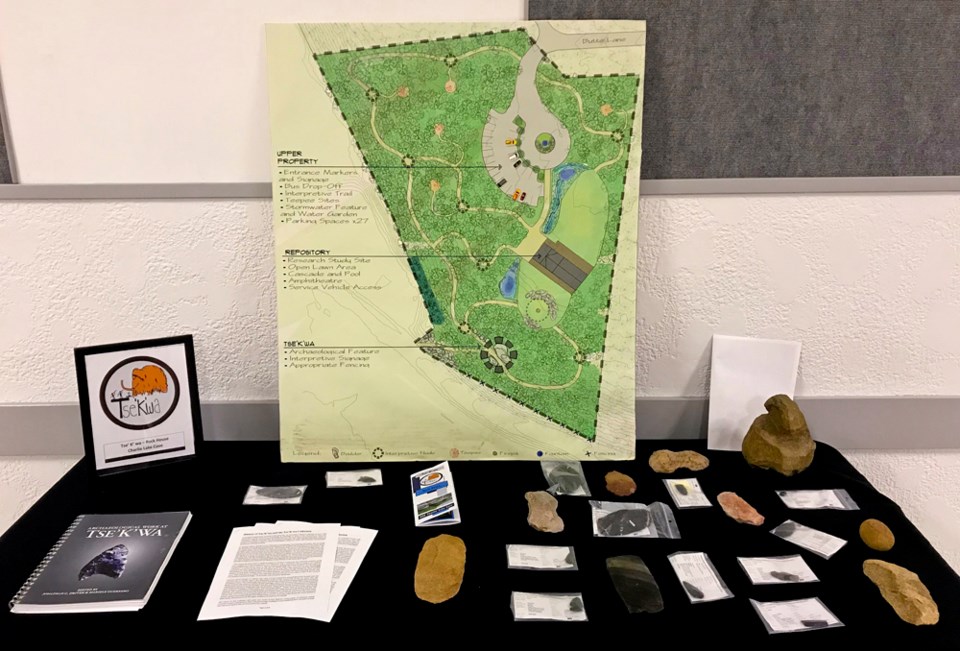 The proposed development, however, has prompted concerns from some neighbours, who worry about their property values and privacy with an influx of visitors into the area.
"Our concern is it will be busy," said Lisa Kantz. 
"We're not against the beautiful idea of it being a museum. Our concern is what's going to happen to the value of our property in the future. Who's going to buy our property if there's a bus going there every half an hour?"
"I think it is going to be more popular than you think."
The museum plan calls for parking for 27 vehicles. While the museum will attract some of the estimated 350,000 tourists who travel the Alaska Highway each year, it will see more visits from local school groups, Oker said. He disagreed the museum would impact property values, and said there's plenty of time to work with neighbours to address any concerns. 
The museum is planned to be developed in phases over five to 10 years, a timeline that will depend on funding, Oker said. 
"It's a long-term project, no doubt about it," he said.
"I believe that a lot of people can and will benefit locally around there," Oker continued. 
"If they got something to offer, come and join us, come and help us create a nice place for people. We're open for any kind of suggestions to make that happen, we don't want to impose on people or put our agenda first. 
"We're quite open to be a good neighbour.  We want to share with everyone. It's a beautiful history and we need to let people know that we have something here."
Brad Sperling, electoral director for Charlie Lake, declined to comment, citing the public hearing process. The museum and its proposed rezoning has support from the cities of Fort St. John and Dawson Creek.
A bylaw for the property's rezoning and redesignation will come before the regional district board for a third reading in April.
Email Managing Editor Matt Preprost at editor@ahnfsj.ca.