Charlie Lake residents got a better understanding of the dynamics and health of their lake at a public meeting last week, as well as some possible solutions to help tackle its ongoing problems with algae.
Residents jammed into the community hall Nov. 16 to hear from government agencies, Northern Health, the Charlie Lake Conservation Society, and entrepreneurs for a three-hour meeting that was part educational and part sales pitch.
Because the lake is naturally eutrophic—rich in nutrients that support dense plant life—and considerably shallow at just seven metres, the lake is home to several types of algae throughout the year depending on weather and water conditions, and varying chemical shifts.
Algae plays an important role in the food chain of the lake, Nick Baccante of the Charlie Lake Conservation Society said.
"Charlie Lake… has been a very productive lake," he said. "There's a natural process in the lake where these things have a role."
Algae toxins can't be easily killed
But it wasn't until earlier this year, in August, that the discovery of potentially toxic blue-green algae blooms prompted a public health advisory to residents and lake users. Even then, blue-green algae is not new to the lake, and blooms can produce neurotoxins and hepatoxins that attack the nervous and respiratory systems, as well as the liver.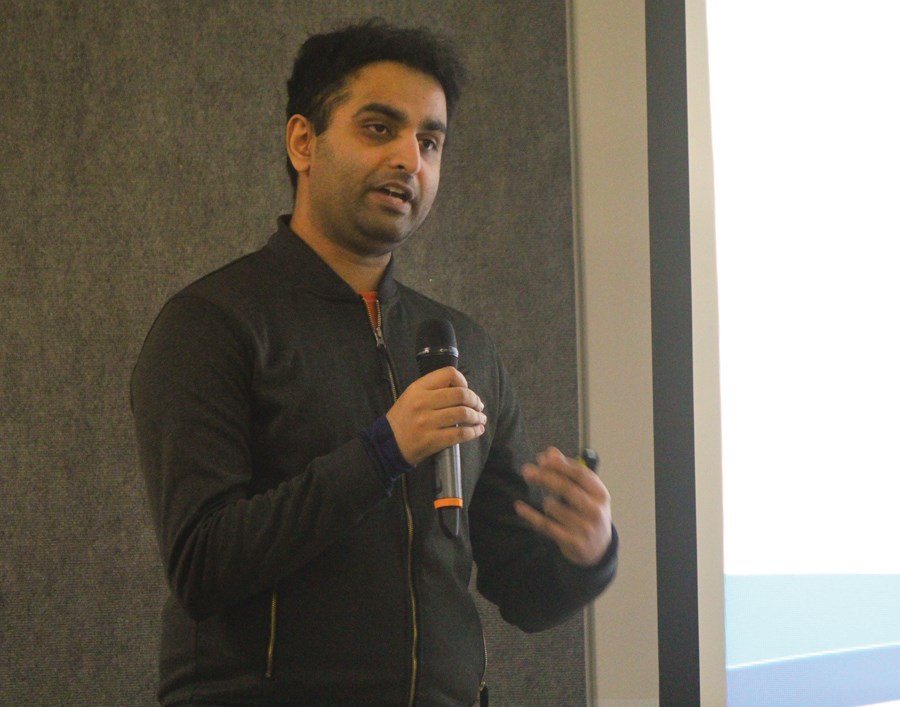 Those toxins, though not fully understood in how they behave and are released from the blooms, can't be killed by boiling water as they are heat resistant, according to Dilavar Rana, an environmental health protection officer with Northern Health.
"What we definitely recommend for controlling blue-green algae is a preventative maintenance plan to prevent nutrients from entering the water from the outside to the lake itself," Rana said, noting nutrients like nitrogen and phosphorous enter the lake from septic systems or agricultural runoff.
"Blue-green algae takes that up and they multiply and grow at a rate that's higher than what should be natural," he said.
Development around the lake, and upstream runoff from oil and gas operations have exacerbated the problem, the meeting heard.
What hasn't helped the lake is excessive land clearing, as well the formation of beaches, breakwaters, and other encroachments that have accompanied the lake's shoreline development.
This has destroyed critical riparian zones that act as a buffer to trap and suck up excess nutrients before they enter the lake, said Kirsten Heslop, a water quality technician with the Ministry of Environment.
Heslop encouraged residents and lakeshore property owners to keep an open mind with stewardship practices, from replanting riparian "gardens" to using less harmful household products that end up in septic systems and into the lake.
"We don't want to tell you that you can't do things on your property. We would just like to work with you to make sure that what you want and what's best for the lake can find a cohesion," Heslop said.
An organic solution?
Charles Robinson, a sales manager with WorldWare Enterprises, was invited to speak at the meeting to talk about a "super pond clarifier" product that can be introduced into the lake to eliminate excessive nutrients. The product, he said, is a form of bioaugmentation that uses microbes that already exist in the lake to remove excess organics and improve water quality.
"You're going to change some of the characteristics of your lake, but at such a microscopic level that won't affect what you see or how your lake looks, how the wildlife perform in the lake," Robinson said.
"But you're going to be removing some of the excess organics that are in your lake that are causing some of the problems that you're experiencing."
"We are using nature to help nature," he added.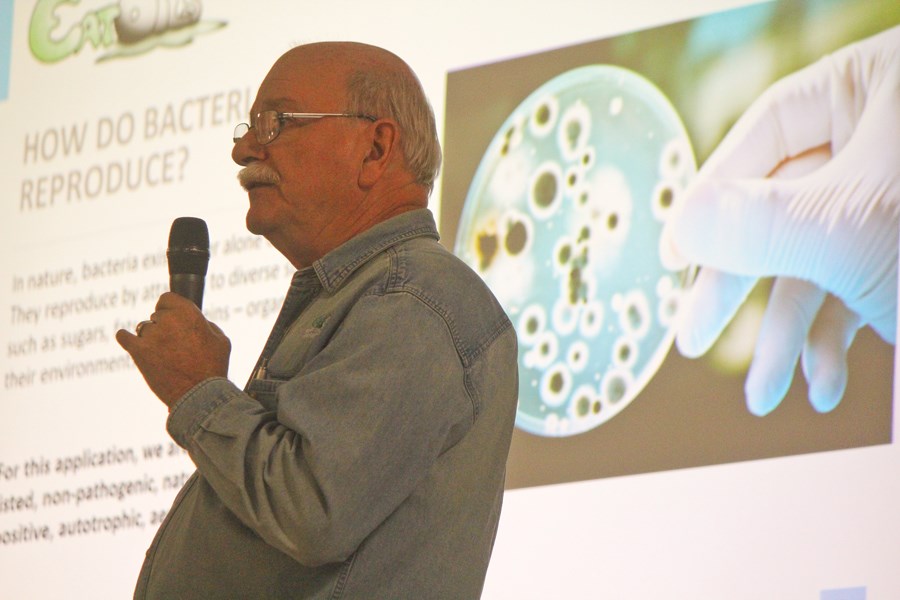 The bioagumentation would starve the blooms of nitrates and phosphates and reduce their numbers, he said. The lake would need successive treatments, and would cost between $500,000 to $700,000, the meeting was told.
However, because the lake is Crown land, any decision to proceed with the treatment would likely require several levels of government authorization, according to Ministry of Environment staff.
Deb Epps, water quality section head with the ministry, said the problems facing Charlie Lake are not unique. Various groups are working with the province to address similar issues at lakes across B.C., she said.
The use of a particular product, such as the pond clarifier, would require detailed assessments of the the product and its impact on the health of the ecosystem, and fish and human populations before use.
"There are a lot of questions out there that would have to be answered before there was any consideration of granting approval for this to happen," Epps said.
"What we're talking about right now is a band-aid, not the solution," she added.
"The solution really is to find out where those nutrients are coming from. Do that nutrient balance in your lake, finding out if it's the development, if it's the other activities, and try to stop those from getting into your lake."