Hudson's Hope residents are petitioning council and BC Hydro to cut noise pollution as Site C activity ramps up through town.
Up to six trucks an hour are expected to travel through town starting this week, hauling riprap from the Portage Mountain quarry to construction sites along Highway 29. The trucks will run from 7 a.m. to 7 p.m., seven days a week — or about 500 trips a week.
In an online petition started last weekend, residents are demanding noise reduction barrier be installed along Canyon Drive above the community, and stretching to the Jamieson subdivision.
The petition, signed by 12 people so far, also raises concerns for safety caused by the degradation of roads.
"The sound in this valley will be deafening. I believe it is a right of every member of the Hudson's Hope community to 'quiet' enjoyment of their property," reads the petition, started by a group called Stop Site C.
"If it is to take four years to complete the highway realignment how many of you want to remain living in this valley with that level of noise?"
The work, in conjunction with the transportation ministry, is being "done to prepare for filling the Site C reservoir, which will widen the Peace River and cover parts of the existing highway," BC Hydro says.
BC Hydro says the truck traffic will increase dust and noise, and cause minor traffic delays. The transportation ministry will continue to maintain the road, also used for logging and oil and gas traffic, said BC Hydro said.
"To improve safety and prepare for the hauling from Portage Mountain Quarry, the ministry recently expanded the brake check at the top of the hill on this road," said spokesperson Dave Conway.
"At the moment, we do not plan to install a sound barrier. However, we will work with the ministry to monitor traffic and noise levels, and take further steps as necessary.
Hudson's Hope has installed a pedestrian light-controlled crosswalk at the intersection of Canyon Drive and Beattie Drive, which which sees a high amount of pedestrians in the summer months.
It's a first for the town, and was installed in anticipation of the increased Site C traffic.
"It's up and running, it's going to be an asset for our folks going across that intersection," said Mayor Dave Heiberg. "We want to make sure that it's visible, especially when they start hauling more riprap for highway and berm alignment, it's nice to have that visual there."
"It's going to get more hectic as they continue work in the fall," he said.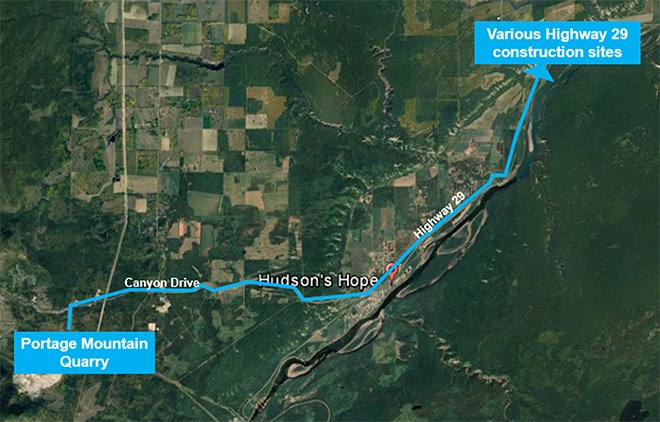 Email Managing Editor Matt Preprost at editor@ahnfsj.ca.