FORT ST. JOHN — Arthur Hadland, the former regional district director and a vocal opponent of the Site C dam, was arrested for mischief during a protest Wednesday morning at the 269 Road entrance to the dam's construction site.
Hadland was the first to stand in front of construction vehicles attempting to enter and leave the site. He was soon joined by a handful of others who banded together to blockade traffic at the site, while a second protest formed at the Old Fort Road site entrance. 
Hadland is the second activist to be arrested for protesting the dam. In early December, fellow protester Mark Meiers was arrested for breaching the peace.
Meiers organized both protests and told the Alaska Highway News he is willing to be arrested again.
"You bet," he said. 
"We have one Peace River valley and we don't want to see it destroyed for corporate greed."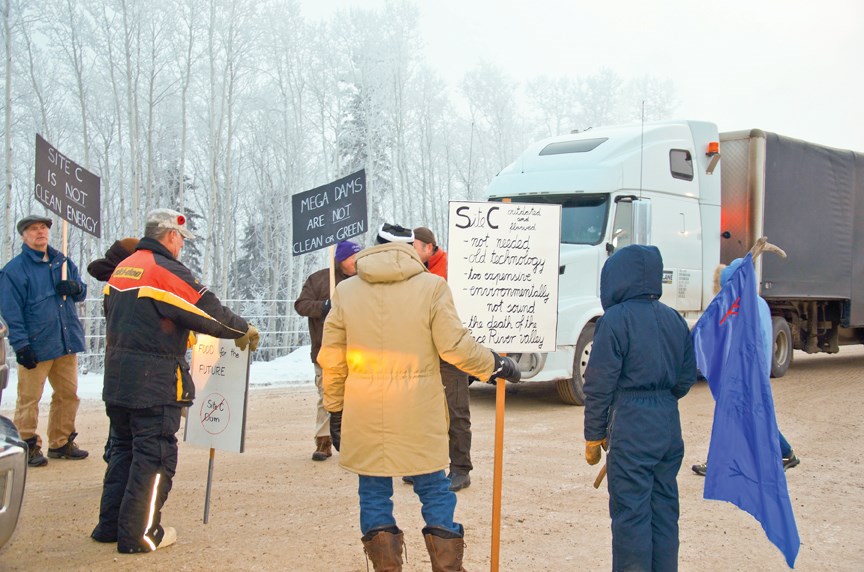 Hadland could not be reached for comment Wednesday afternoon. North District RCMP Cpl. Dave Tyreman had no details of the protest from the Fort St. John detachment by press time. It's unclear if and when Hadland was released. There were reports of two additional arrests, however, those could not be confirmed.
Meiers and Hadland are not alone in their commitment to protesting the dam.
Mike Kroecher, 79, has lived in the Peace since 1965.
"I'm an oldtimer, and I've been opposed from day one to this idiotic scheme. And if I can stop it, I will," he said.
"Sometimes, as human beings, we can't just always sit on the sidelines, we have to make a stand, and this is it. And if they want to arrest me, so be it."
BC Hydro security was on site, and made the call to police once the blockade started at 9:45 a.m. Traffic was blocked for an hour before RCMP arrived.
"If we had to get an ambulance in or out right now, we'd be kind of hard pressed to get that done, and so I'd like that to be given attention to as soon as possible," one security official said in an interview. He would not give his name, explaining that he's not a Site C spokesperson.
Dave Conway, a Site C spokesperson, could not be immediately reached for comment. 
A medic was also on hand in light of the frigid -21 C temperatures.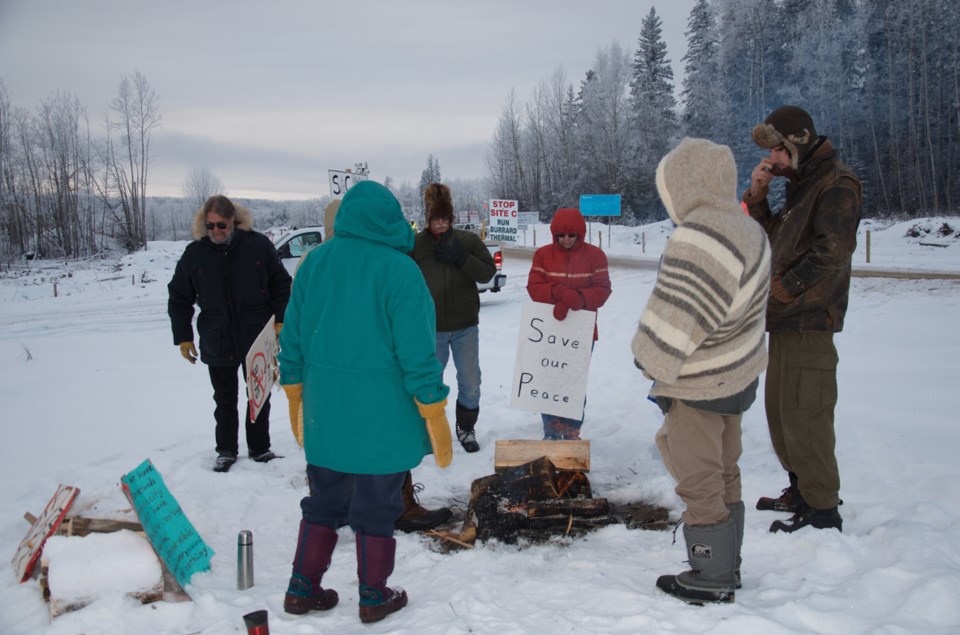 The protest, however, continued after Hadland was taken away, with some of the activists at the 269 Road site leaving for the lesser attended protest on Old Fort Road.
Nobody at the Old Fort site was blockading traffic by the time the Alaska Highway News arrived at 11:30 a.m. 
"First it was just the three of us, three or four of us," said Rita Neighbor, who was born and raised in the area and opposes the dam.
"There wasn't very much traffic here until later, until now. There was one truck and one piece of equipment came out," she said. 
The protests against Site C are ramping up. Roughly a dozen people have occupied the historic Rocky Mountain Fort since mid-December, despite an eviction notice from Hydro. 
Esther Pedersen, who was protesting Wednesday, said she'd likely be joining that group next week.
She told the Alaska Highway News she's also ready to be
arrested. 
"Yep. At some point, probably down at the camp," she said.
peacereporter@ahnfsj.ca