Construction at Site C will continue until the doctor orders otherwise, Premier John Horgan said Wednesday.
BC Hydro has scaled back much of its construction on the Peace River in response to the COVID-19 pandemic, but work continues to complete the river diversion systems to meet this fall's deadline.
Still, the province is facing increasing pressure to suspend work entirely until the pandemic ends, with the Blueberry River First Nation this week calling its continued construction "inconsistent" with the province's approach to the crisis to date. The band has pulled its members from the worksite and has restricted travel and entry to the community.
"Site C is not like residential and commercial construction projects occurring elsewhere; it is a mega project in a small community, with a disproportionate risk to and draw upon our community's population and resources at a highly vulnerable time," Chief Marvin Yahey wrote in a letter to Horgan.
BC Hydro says there are no confirmed cases of COVID-19 at Site C, and 935 workers were reported at camp as of Wednesday. Of those, seven were self-isolating in quarantine, which continues to raise suspicion and concern about an outbreak that could overwhelm local health care resources.
There have been 16 cases publicly reported in northern B.C., and 1,066 cases and 25 deaths province-wide.
That's prompted Horgan to extend extend the provincial state of emergency to April 14. And provincial health officer Dr. Bonnie Henry says the pandemic will impact daily life until summer, followed by a potential second wave of the virus in the fall.
The exact point at which the $10.7-billion project becomes too much of a health care risk to continue remains unclear.
But Horgan said Wednesday he was confident in the rules put in place by both Dr. Henry and WorkSafeBC to manage the spread of the virus on major construction projects.
"I've heard the concerns of people in the north, I've also listened to the advice and direction of public health officials, particularly Dr. Henry," Horgan said.
"We're confident the measures that have been put in place by BC Hydro to protect workers, to protect the community, are appropriate at this time. And until Dr. Henry tells us otherwise, we're going to carry on."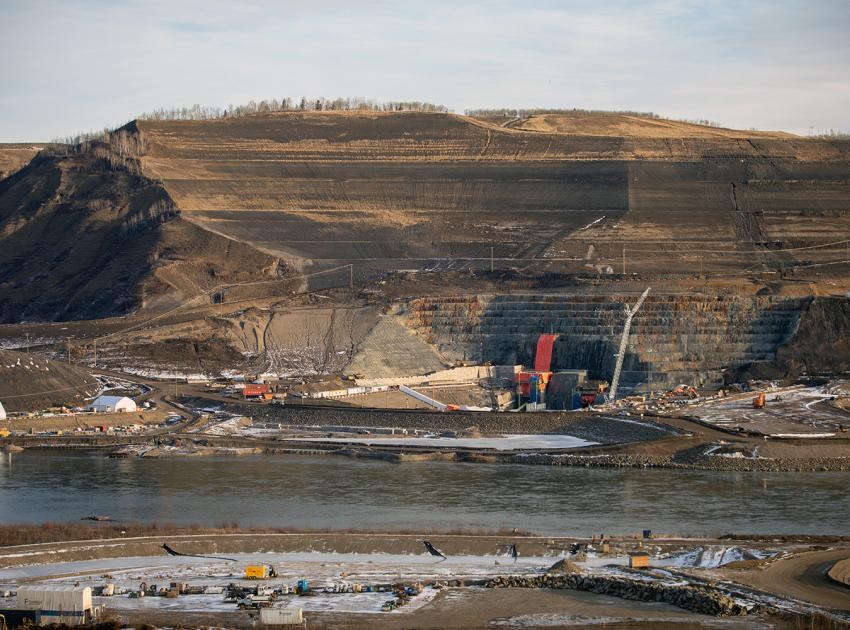 Horgan also dismissed concerns raised by David Bowering, the former chief medical health officer for Northern Health. Bowering called work camps "landlocked cruise ships" and "COVID-19 incubators" and has called on Dr. Henry to close down work camps across B.C.
"We're confident that taking direction from public health officials that are on the ground working on these issues on a regular basis, looking at the data hourly, not from a historic perspective as someone who is now retired might, but on an hourly basis," Horgan said.
Horgan said he hadn't yet read Yahey's letter, and remains in contact with Fort St. John Mayor Lori Ackerman. The two spoke this week.
"The Premier wanted to assure us that the orders that were put in place, were done so in a thoughtful manner that would ensure that the industries would be able to operate using the safety protocols required by the provincial health officer," Ackerman said.
Ackerman has rejected the call for a suspension, though some on city council have said otherwise.
Any shut down of Site C would be onerous and require several weeks to safely demobilize from the site and send workers home.
Dr. Henry said Monday that most work camps have reduced staff levels, and extended the length of stay for workers to limit the risks of contracting and spreading the virus.
"We don't want as many people coming in and out of the community," Dr. Henry said. "It's important to recognize you can't just abandon a large mine or industrial site, that's not safe. It's not safe for the community or for the environment as well."
Under public health guidelines issued this week, industrial work camps must notify local health authorities on the slightest suspicion of an outbreak.
And those guidelines have a precise definition:   "An outbreak is when two or more cases of fever and/or respiratory symptoms (cough, sore throat, runny nose, shortness of breath etc.) are detected in residents and/or staff within a 12-day period, with at least one case identified as a resident, or if any staff or resident is diagnosed with COVID-19."  
BC Hydro says any worker with symptoms of sneezing, sore throat, muscle aches, headaches, cough, fever, or difficulty breathing is required to self-isolate for 10 days.
It's not known how many workers have been tested for the virus, but BC Hydro says COVID-19 swab kits are available in the camp's medical clinic.  
Both BC Hydro and the CLAC union say hygiene and social distancing measures have been put in place at the site. Disinfectant spray and hand sanitizer are in very high demand.
Workers are also now subject to mandatory temperature checks before being allowed on site.
BC Hydro says work continues to realign Highway 29, build the Site C transmission line to Peace Canyon dam, and clear the valley and future reservoir as most of those workers do not stay in the work camp.
This is a developing story.
Email Managing Editor Matt Preprost at editor@ahnfsj.ca.