Opponents of the Site C dam gathered at 100 and 100 in Fort St. John on Saturday, June 18, to protest BC Hydro plans to have some Peace Valley landowners out of their homes by the end of the year.
Landowners in the Bear Flat and Cache Creek areas have been given until the end of the year to sell their land to BC Hydro or face expropriation, making way for the realignment of Highway 29.
Bear Flat, where third-generation farmers Ken and Arlene Boon live, is the first of four portions of the highway that will need to be rebuilt outside of the dam's flood zone.
"As a landowner and a ratepayer, you don't have any rights if they decide they want your land for anything," Arlene Boon said at the protest.
"We could sit on our property and say 'you can't come,' but we'd just get hauled away."
The Boons say they received notice that they have until the end of the year to sell and move out. Their family has owned the land in question since the 1940s, after it was purchased from the original homesteaders.
"We're not focused on where we're going to go. We're focused on stopping this project," Boon said.
She wonders if BC Hydro wants her and her husband out of the valley sooner than necessary because they've been outspoken critics of the dam.
The Boons are named in a BC Hydro civil suit against six campers who blocked construction on the dam for 62 days at the historic Rocky Mountain Fort site earlier this year. That lawsuit remains open.
"If the landowners are thinking about packing, they wouldn't be protesting and these people wouldn't be out here," Boon said, looking at the other protesters who came out on Saturday, most of whom aren't directly affected by the dam.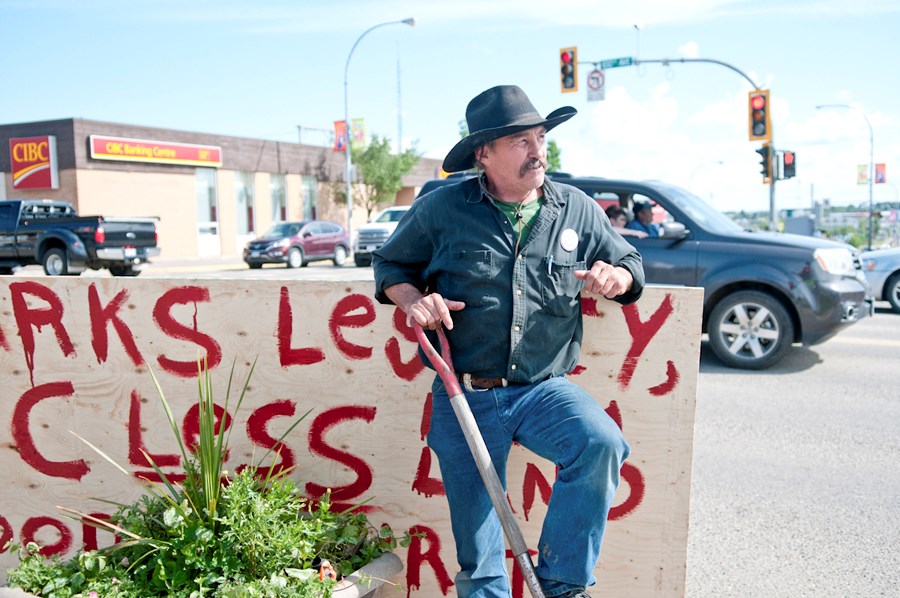 "There are all walks of life here. You've got farmers holding plywood signs, teachers, and workers. Because they understand this (dam) is not a good idea.
"If it was good for the province, we'd understand. We'd move on," Boon said.
She's not the only one who feels this way. Esther Pedersen lives just above the dam site. She wants the BC Utilities Commission (BCUC) to review Site C, something the provincial government has prevented.
"That's all we've ever asked for. Sure, we want it to stop, but really we just want to make sure it's a good thing for B.C.," Pedersen said.
The BCUC previously rejected Site C in 1983, saying BC Hydro failed to prove there was a need for increased energy, and had not adequately evaluated alternatives that were more economically beneficial, and would be less damaging to the land and wildlife. The dam was exempt from BCUC scrutiny under the Clean Energy Act in 2010.
"We're paying for the BCUC that's not being used. Then we paid for this very expensive joint review panel (to evaluate the dam) that we thought would be a fair process for us," Pedersen said. 
BC Hydro has publicly said it is "moving up the valley" to deal with landowners affected by the dam's reservoir and highway realignment. Spokesperson Dave Conway told online newsmagazine Desmog Canadathat the utility has legal authority to expropriate land if landowners refuse to sell.
"But that's not the way we like to work. We like to come to a negotiated settlement with people," Conway told the outlet. 
Erik Field lives in Fort St. John with his wife Celina Dupere-Field and their four-year old daughter Alexis. The three of them came to the protest to show support for landowners.
Field said he used to support the dam, but changed his mind when he learned the energy isn't for B.C.
"I was behind it for the jobs, but then I heard they want to send the power over to Alberta's oil fields. There's no call for that," he said.
"All we're getting is a few short-term jobs. No one should have to lose their home for that."
reporter@ahnfsj.ca