References to the Temporary Foreign Worker program have been removed from a job posting for a human resources assistant on the Site C dam. 
The job post, made to the Employment Connections Fort St. John website on Tuesday, has led to new questions over who's getting work on the $8.8-billion hydroelectric project.
The position's responsibilities initially included "assisting in the Temporary Foreign Worker (TFW) Processes," as well as creating a monthly temporary foreign worker report. The employee will work for Peace River Hydro Partners, which last year won a $1.5-billion contract to build the dam's main civil works.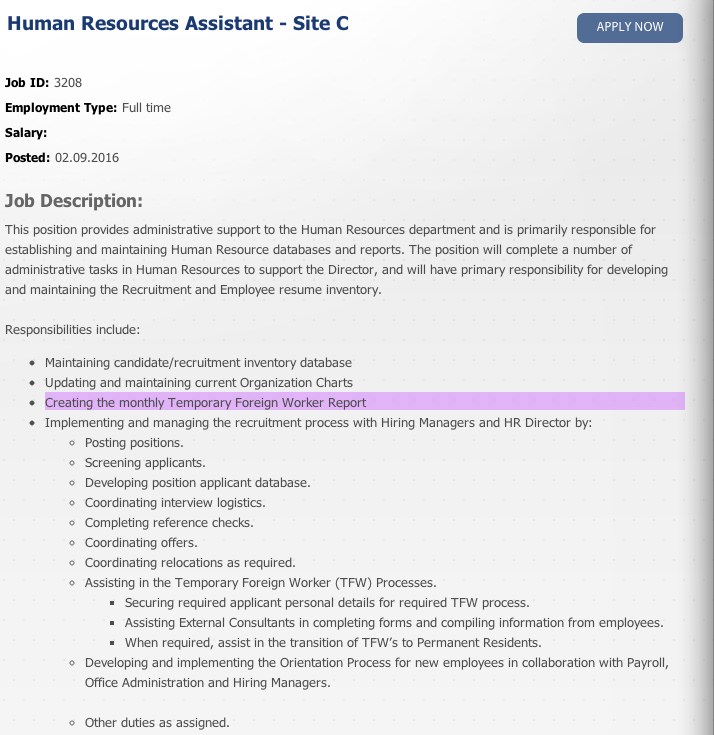 On Thursday morning, after Alaska Highway News questioned BC Hydro about the post, the same job ad contained no reference to temporary foreign workers. 
In an email, BC Hydro Manager of Communications and Issues Management Craig Fitzsimmons said the Crown corporation "(has) spoken with Peace River Hydro Partners about their ad and they confirmed their commitment to local hiring."
"The ad they placed has been revised to reflect this," he wrote. "We have been very clear with all of our contractors that local hiring is the top priority for BC Hydro on the Site C project."
BC NDP Hydro critic Adrian Dix said the post raises questions about hiring practices on Site C.  
"It's pretty plain that BC Hydro is highly sensitive, from a communications point of view, to the issue of temporary foreign workers," Dix said. "Just as they're concerned about the issue of Alberta licence plates (on site) and who will get the jobs on Site C. 
"They clearly are going to be using the Temporary Foreign Worker program extensively, they're hiring someone here, a human resources assistant, to manage the reports and the processes related to that."
"The new job posting doesn't change anything," Dix added. 
"This person will still presumably have to create the monthly temporary foreign worker report and still have to assist in the temporary foreign worker processes."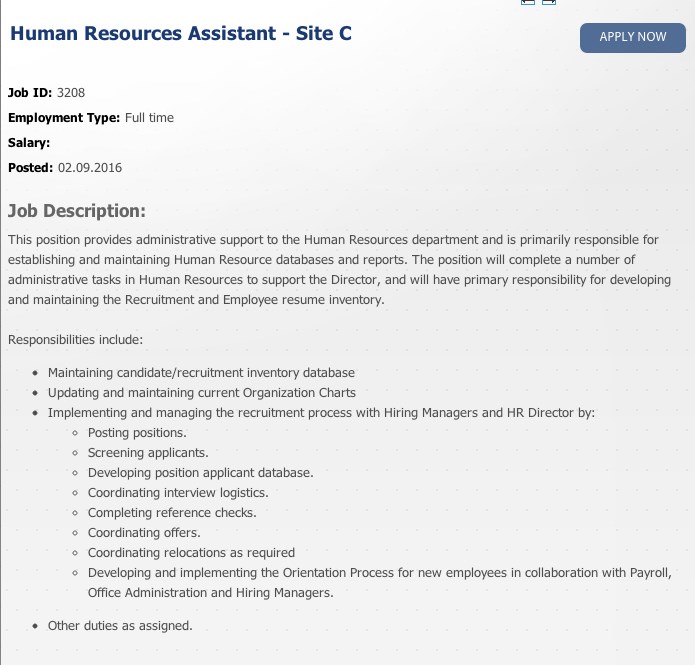 Other duties listed and later removed include collecting details from applicants for the TFW process, assisting external consultants in "completing forms and compiling information from employees" and "when required, (assisting) in the transition of TFWs to permanent residents." 
The assistant will also be in charge of updating organization charts, posting positions, screening applicants, completing reference checks, and developing a database of applicants. 
Peace River Hydro Partners is a conglomerate that includes ACCIONA Infrastructure Canada Inc., Petrowest Corporation and Samsung C&T Canada. Fitzsimmons said ACCIONA and Petrowest, which were contracted to upgrade the Fort St. John Hospital in recent years, "have a proven track record of hiring local workers." 
Dix said that while the province has promised to hire local and B.C. workers first, Site C does not have a local hire provision. 
In an interview last month, BC Hydro CEO Jessica McDonald told the Alaska Highway News that as of December, 75 per cent of the 600 workers on site were from B.C.
Fitzsimmons added that Hydro is holding Site C hiring fairs around the province this month.
The TFW program allows employers to hire workers from abroad if they are unable to find Canadian citizens or permanent residents to fill a job.
reporter@dcdn.ca