Taylor firefighters celebrated the arrival of the new Engine 11 fire truck Friday evening with cheers and a centuries-old tradition: by pushing the final feet of its 3,000 mile journey into the fire hall.
The ceremony honours the days when firefighters had to push their equipment and horse-drawn carriages back into the station, Chief Steven Byford said. "It's a great addition to the district, one that will be here for the next 20 years," Byford said.
It's the district's first new engine in a generation, and replaces the old No. 11 bought and put into service in 1997.
The new truck is built to modern standards by Pierce Manufacturing of Appleton, Wisconsin, at a cost just under $850,000, Byford said. 
After the push-in, he and his crew showed residents the truck's features, which include a 2,000-gallon tank, a hydraulic Jaws of Life, better safety lighting, and a state-of-the art water flow and control system. The truck also has more horsepower under the hood to get it up the Taylor hills faster, which is critical to response times, Byford said.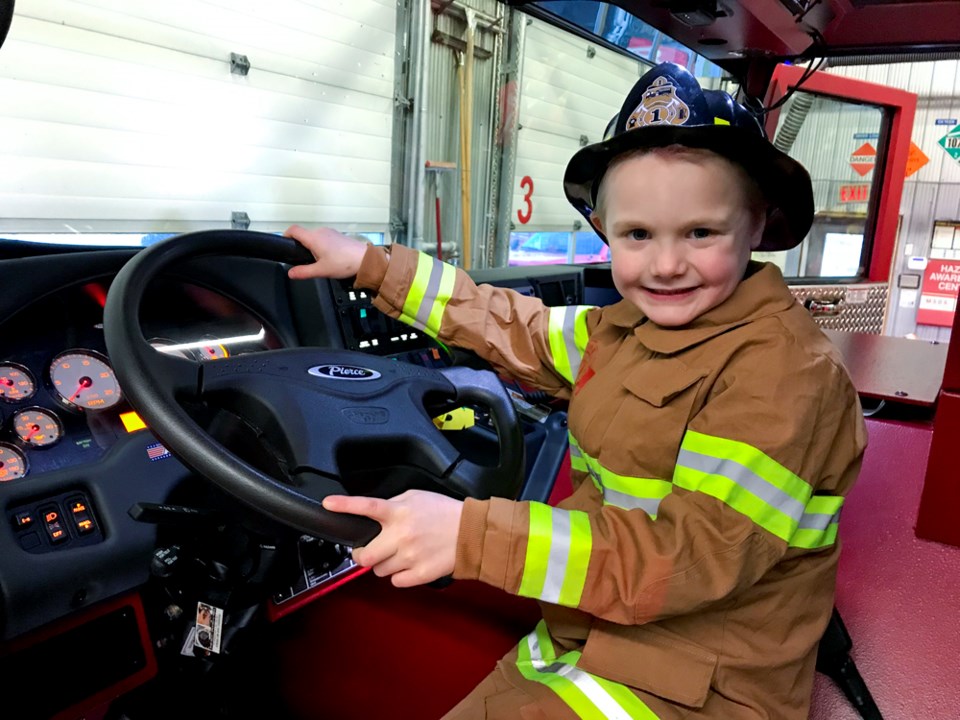 The truck was first delivered to Vancouver for inspection and certification before making the journey north through the Pine Pass and on to its destination in Taylor. 
The volunteer fire department will spend the next six to eight weeks training. The truck will be put into service with a community celebration during Emergency Preparedness Week in May 2020.
"I'm proud and excited to accept this into our community. It's been awhile coming," Mayor Rob Fraser said. "The truck committee put a lot of work into designing it and making sure that it's going to be fit for Taylor and right for Taylor … it's tailored for Taylor."
Fraser hopes the old No. 11 can be put to good use elsewhere in the region, and not sold at auction. That plan will be left up to the fire chief and his team, he said.
The district, meanwhile, is studying its options on upgrading the rest of the fire hall fleet.
The new Engine 11 will take about 2,000 pounds of equipment off Engine 10, lightening its load and extending its service life. Engine 12, meanwhile, was put into service in 2002 and needs to be replaced soon. The brush truck was replaced in 2018.
"All of our trucks are coming due right together. If we replace Engine 12 here in two years, that means Engine 11, Engine 12, our brush truck are all going come due with within five years of each other 20 years from now," Fraser said.
"So we've charged the department to figure out a way that we can extend the life of 12 so that they're at least seven or eight years apart, and gives future councils the ability to save up and be able to pay for them." 
Email Managing Editor Matt Preprost at editor@ahnfsj.ca.