Blair Lekstrom is throwing cold water on a report that HD Mining is passing on its proposed underground coal mine in Tumbler Ridge.
Lekstrom, a consultant with the Chinese-based company, said a March 14 report in the Globe and Mail doesn't accurately reflect HD's plan for the Murray River Coal mine.
"The Globe and Mail said it's been put on hold. No," said Lekstrom, a former mayor, MLA and cabinet minister who began consulting for the company in 2013. "We're still moving ahead with this." 
He said the confusion arose from the fact the mine is being placed in a "care and maintenance" phase. While mines sometimes go into care and maintenance after a shutdown, Lekstrom said the step is "standard practice" during the regulatory process.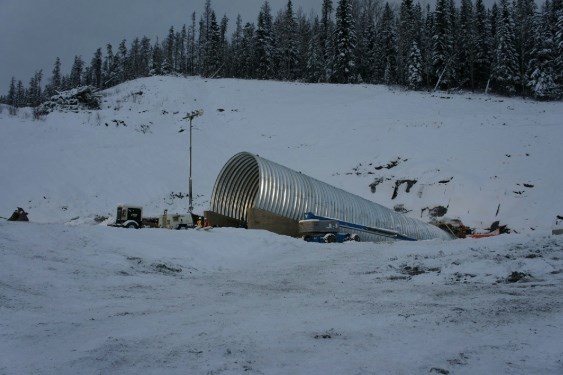 Coal from the mine is currently being tested for quality in China, while the province continues to review a permit application under the Mines Act.
"That's what you do for a mine like this while you wait for your permits. We're going to make sure everything is maintained, but no work will go on there," he said. 
"All things being equal, we plan to move this project ahead," he added.
The mine would produce around six million tonnes of coal per year, nearly all of which would be exported to China for use in steel manufacturing.
In 2012, the mine was at the centre of a controversy over its use of temporary foreign workers. The company claimed there were no Canadians skilled in long-walll mining–the technique used to extract coal from tunnels 1,300 metres beneath the earth.
Since then, the remaining open pit mining operations in Tumbler Ridge have been idled amid collapsing coal prices, leading to skyrocketing unemployment in Tumbler Ridge. 
Mayor Don McPherson said he hopes the project moves forward. He said underground mining is cheaper than open pit, meaning Murray River Coal could better weather price downturns. 
"We still have a lot of faith in it," he said.
Lekstrom acknowledged that coal faces economic headwinds.
"Obviously, the market has to be there—you can't start producing coal if there's no market for it," he said.
HD Mining plans to make a final investment decision in 2017.
reporter@dcdn.ca