Striking out on horseback on a fall afternoon in the heart of Peace Country, Steve Van Diest knew right away that he was leaving behind any connection to civilization.
"You're out there in the wilderness, you're literally out in the middle of nowhere, a couple farmlands here and there but mostly just bush," he recalls.
For the video he was shooting, he had ridden out into the deep bush with his hosts Harvey and Laureen Koshieff, owners of Horse Trekking Adventures, who offer day trips and overnight horse-packing trips in the northwestern part of Alberta near Grande Prairie, until Oct. 28. Fall is a golden time to soak up changing fall light and colours of the vast landscape. It was an experience that really brought Van Diest closer to this gorgeous part of the province.
"We're close to the green zone up here, meaning there's almost no inhabitants from here to the Northwest Territories. You could ride for a month without seeing another person," explains Harvey Koshieff.
Earlier that morning, Van Diest had gotten his first glimpse of the wide-open space of the region at the historic Dunvegan Bridge, the longest vehicle suspension bridge in Alberta.
"When you're driving you come over a rise and see these long, deep, forested valleys just spreading out in the distance along the river… it's a really cool landscape."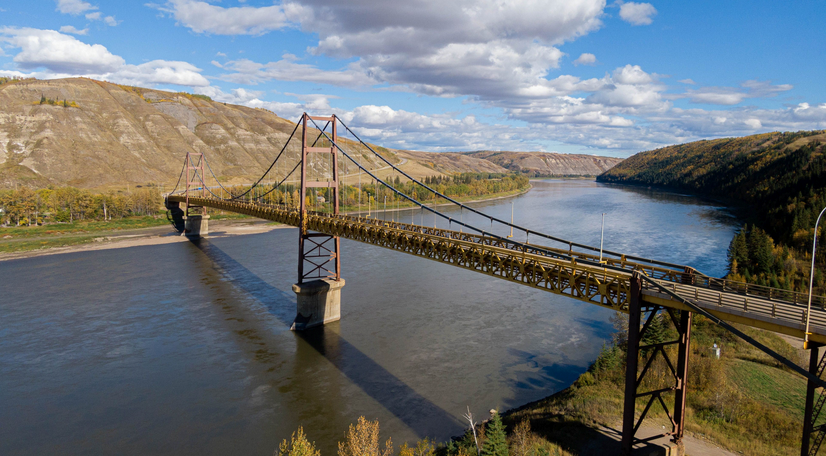 Towns are few and far between up here, and there's a lot of space to enjoy just being out in nature, on your own. There's no internet, no phone, no TV - just the earth, the sky and you, the way old trailhands like it best.
Harvey Koshieff was born and raised in the region, on a cattle ranch, and has been riding horses his whole life. As he puts it, taking guests on rides was just something they had always done, and so in 2008 he and his wife Laureen decided to turn their passion into a business.
"We try to open people's eyes to new possibilities, to give them an outdoor experience they can be comfortable in, but also to get them a little out of that comfort zone," he describes. The route out to the cabins meanders through stands of aspen, willow and spruce, with the occasional sighting of moose, elk, deer or even bear.
Arriving in camp near dinner time, Van Diest was treated to a classic cowboy dinner of steak, veggies and potatoes over an open fire - all part of the Horse Trekking Adventures experience.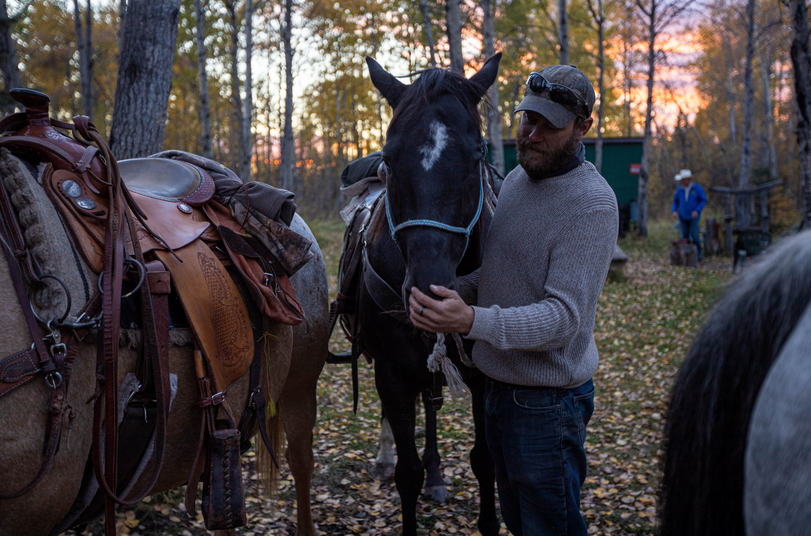 Then came the moment every camera man lives for.
"The sunset was crazy!" Van Diest gushes. "I got some great photos as the sun was dropping, all the leaves were nice and orange. I caught it at the exact right time, everything just lit up."
When the camera is set aside though, it's the impressions and memories that remain, the sense of disconnecting from the everyday.
"You're really separated from the noise and stress of the world," Van Diest says. "You're just focused on the basics - eating, warmth, conversation, camaraderie."
Few experiences are as grounding as enjoying sunset by the campfire, with a hot meal and a cozy bed waiting after a good day's ride.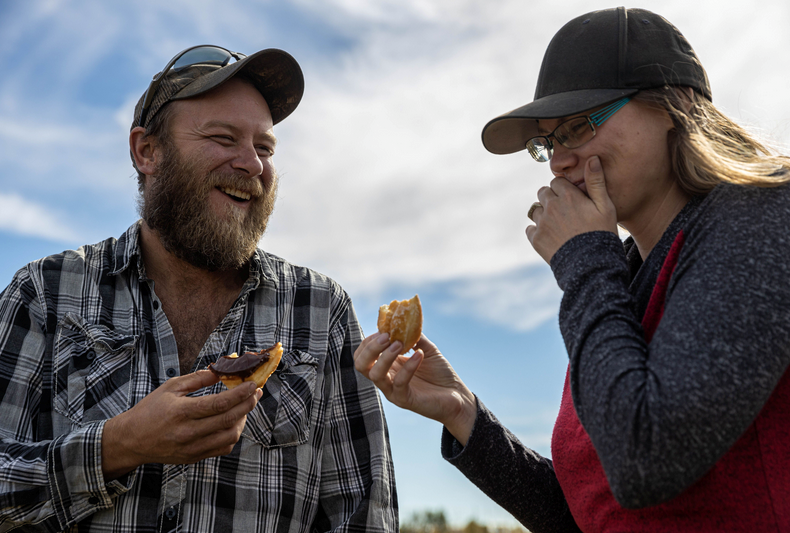 WHEN YOU GO
Make Grand Prairie your basecamp for backcountry adventures but also urban pleasures. To prepare yourself for your Hang On To Your Hat experience, be sure to stock up at the following business you'll find in town. At approximately 4.5 hours' drive from Edmonton, Grande Prairie is the closest city to the Horse Trekking Adventures ranch.
Horse Trekking Adventures will get you and your crew smiling and sitting high in the saddle for day trips and overnight horse-packing trips until Oct. 28.
Shopping - Go full cowboy with some duds from Keddie's Tack & Western Wear - they've got 25,000 square feet of boots, shirts, feed, saddles & more.
Western fun - Grande Prairie's BuckWild will get you in western mode. Celebrate all things western at this sanctioned bull riding event happening Nov 5, 6 & 7. https://www.buckwildgp.com
Food - Grab a bite at the Old Trapper Restaurant, or some sweet roadtripping snacks at Crooked Creek Donuts, Grande Prairie's latest food truck.
More to explore
Philip J. Currie Dinosaur Museum - established near some of the richest bonebeds in the world, the museum offers hands-on exploration and world-class exhibits to expand your paleontological prowess. Read more in Chris Istace's story here!
Town of Sexsmith - a classic western Alberta town once known as the "Grain Capital of the British Empire.
*paid advertisment