Calling all Dawson Creek beginner and emerging creators! TELUS STORYHIVE is now accepting applications for its Voices 2.0 program, which is open to creators from all experience levels and from a diverse range of backgrounds. Previous Voices applicants are encouraged to re-engage and apply before July 28. Beginner content creators are especially encouraged to apply.
Now is the time to step out of your comfort zone for an opportunity to jumpstart your content creation journey and to tell a story that you're passionate about, share your experience and your culture and use your unique voice to build up your community. STORYHIVE is funding up to 100 selected creators with a $10,000 production grant, peer-mentorship, training and distribution on TELUS Optik TV, with an audience reach of more than one million TELUS Optik TV subscribers.
The second TELUS STORYHIVE Voices program will provide content creators in B.C. and Alberta with a series of training workshops and a community of support to help them grow their skills and broaden the audience for their project.
"We're excited to see unique and inspiring stories from across B.C. and Alberta, including Dawson Creek," says Erin Shaw, STORYHIVE Northern BC and Vancouver Island Territory Manager. "It's amazing how we can continue to connect with and support people from all sizes of communities, not just those in metropolitan areas. Despite the ever-changing mediums, storytelling and community impact is at the heart of what STORYHIVE Voices 2.0 offers emerging creators. We really want to hear your stories and lived experiences in an exciting way. If you have an idea to pitch, we encourage you to apply and share your story."
Eligible story content is wide-ranging, with nearly any type of non-fiction content from a local perspective being accepted, including: episodic, docuseries, visual podcasts, digital shorts, cooking shows, trivia and gaming shows, talk shows, variety shows, craft/DIY, cityscapes, city-specific exploration and local travel, vlogs and lifestyle shows. The program format must be a minimum of 150 minutes, divided anywhere between six to ten episodes.
Suzanne Jolly, born and raised on Vancouver Island, was selected as a recipient of the first Voices program in January. A Campbell River resident and a new creator-turned-director-and-producer, she'll soon wrap her six-episode docuseries, Where the Wind Meets the Tide.
Filmed largely in the Campbell River region, on the northern section of the Salish Sea, it is an exploration of locals who work on the water—an inspiring way of living life, she believes, and one she believes is disappearing. Her project reveals an important part of marine history, accompanied by salty tales about mariners and community.
Jolly comes by her passion for the ocean honestly. She worked coordinating marine safety training at Courtenay's North Island College, and has always been connected to the water; her stepfather—who was a tugboat captain—inspired her to tell the stories.
"I've highlighted different types of people who work on the water," says Jolly. "For example, the first female captain for BC Ferries or Chief Ronnie Chickite from the We Wai Kai Nation, captain of the Intangible A$$et, who's been a commercial fisherman all his life. These are really incredible humans whose stories sometimes get missed because they don't have the right connections."
The project showcases more than 10 local artists, their works interwoven throughout, including Nick Hornbuckle's The South Road, from his album 13 or So, tracks from which open each episode. From the first bright, almost metallic, twangy banjo plucks, you'll be hooked.
"Artists have this creativity to see nature and marine environments through a different lens that we could highlight in our stories," Jolly explains. "We wanted to include as many different local voices as possible and honour their work."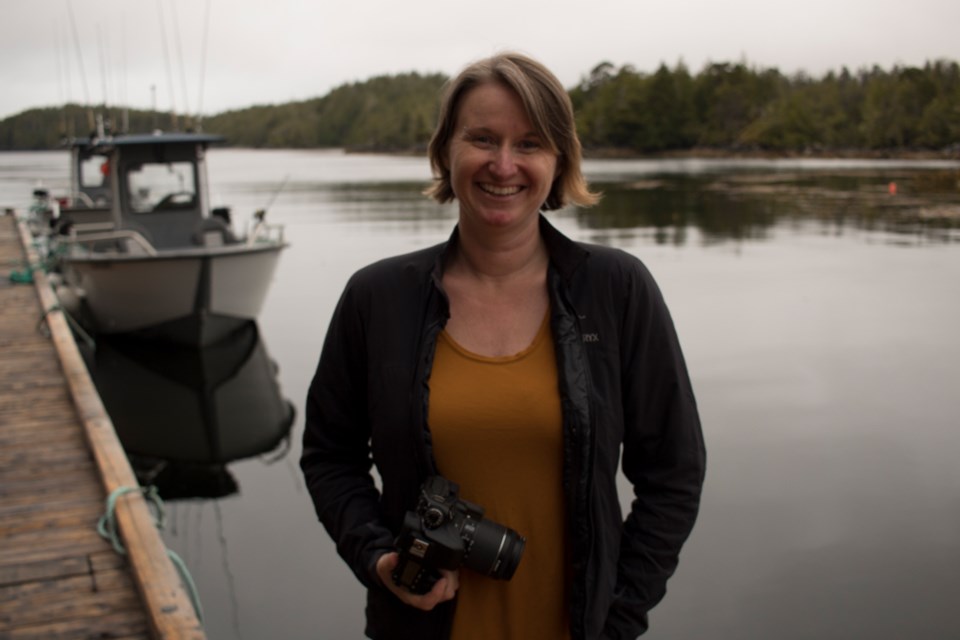 The TELUS STORYHIVE experience
Jolly's experience has been richly rewarding and educational.
"Right from the beginning, I was given immediate online training that was easy to access and learn from, including editing and copyright issues, to lighting and filming, things I had no idea about," reveals Jolly.
"They took me from not knowing a whole lot, to being able to edit my series with confidence and colour grade."
She adds, "It's been such an incredible opportunity and I want people to take the big leap and put themselves out there. I want creators to realize that they don't need to have everything to start. They should take that leap and apply."
Jolly really isn't exaggerating - she didn't have any photography equipment to start.
"I wouldn't have been able to do this without the TELUS STORYHIVE funding," she says. "I didn't even own a camera before they gave me funding. I had no resources to start this up by myself."
Jolly has applied for Voices 2.0, and is hoping once again for the opportunity to work with STORYHIVE.
"My crew and I are excited to pitch stories we started in the first STORYHIVE Voices program that we'd love to continue."
If you're an emerging Dawson Creek artist with an important and unique story to tell, send your application before July 28, 2022 at 12 a.m. (midnight) Pacific Time to storyhive.com/voices.