Are you an Indigenous storyteller from Dawson Creek aspiring to share a story close to your heart and community?
Intake is now open for TELUS STORYHIVE's second Indigenous Storyteller Edition to help empower the next generation of Indigenous storytellers. No experience is required to apply.
If you are an Indigenous artist or community member, you could be one of 30 creatives to receive production funding and resources to share a story that reflects your community and culture.
In partnership with the Indigenous Screen Office, Creative BC, and an Indigenous advisory committee, STORYHIVE wants to amplify Indigenous voices by providing support to 30 Indigenous-led film projects. Funding is available for both nonfiction and fiction short film projects, including documentaries, web series pilots, comedies, and dramas.
Selected storytellers will receive a $20,000 production grant, mentorship, training, and distribution through TELUS Optik TV. The Indigenous Screen Office and Creative BC will also supply $3,000 of top up funding for each selected project.
"We're looking to spotlight emerging Indigenous storytellers with our second Indigenous Storyteller Edition and hope to see applications from Dawson Creek," says Erin Shaw, TELUS STORYHIVE's Northern B.C. Territory Manager.
"This program continues TELUS STORYHIVE's commitment to empower and support capacity building for those historically excluded in Western Canada. We look forward to highlighting and amplifying the voices, stories and lived experiences of Indigenous storytellers and their communities through this Edition."
Shaw adds, "You don't have to move to a large city to get funding, training, and mentorship for your film project. We want to help support you to share stories from your community while continuing to live there."
The story of Canada has been primarily told through a white settler lens and has either excluded or misrepresented Indigenous perspectives and identities. Consequently, screens need Indigenous representation.
In 2018, B.C. Indigenous screenwriter, director and producer, Joy Haskell, was selected for TELUS STORYHIVE's first Indigenous Storyteller Edition, and created her first short film, Hey Cuzzin.
In the opening to Hey Cuzzin, a montage of photos—snapshots of a family of Indigenous cousins depicted in life experiences—flash across the screen, the upbeat score of the same name, written and sung by Canadian, singer-songwriter Cheryl Bear, from the Bear Clan in Nadleh Whut'en First Nation, sets the tone for the comedy short.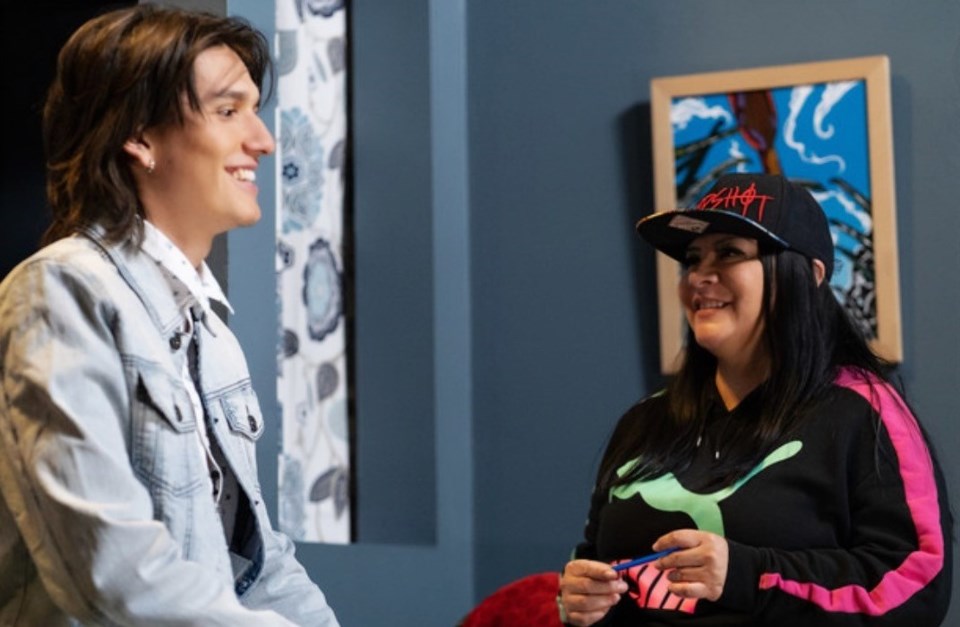 "Hey Cuzzin is a look at the lives of First Nations' cousins on the reservation and in the city, and the cultural connection and closeness they share with one another," Haskell explains. "It's a window into the comedic interactions and antics among them."
Haskell's story exemplifies the types of projects STORYHIVE aims to support – an Indigenous storyteller sharing unique narratives about their community for their community.
"It was really important to be given a platform for my voice," says Haskell. "TELUS STORYHIVE gave me more than I could have expected in supporting and championing my project. As an Indigenous person and a woman, it's really hard to break into film and TV. So, I wouldn't have been able to do that if TELUS STORYHIVE didn't give me the opportunity."
The TELUS STORYHIVE experience
Haskell was paired with Nick Humphries, filmmaker and instructor at Vancouver Film School, who served as director mentor.
"Having such a great mentor was key," describes Haskell. "He gave me freedom to create and let me run my set how I wanted but was also there to answer questions and give advice."
STORYHIVE'S support was invaluable to Haskell and propelled her not only to make her short film, but to follow the trajectory of her creative passions.
"Financially, if they didn't give me the money, I don't know how my career would have turned out; maybe I wouldn't have made Hey Cuzzin for a year or more," admits Haskell. "Everything costs money—crews, actors, camera people and we can't make anything without the financial support."
Haskell's advice to those contemplating submitting their pitch: "If you don't have all of your team, don't worry, and don't be scared, just apply, and honestly—it'll change your life."
"TELUS STORYHIVE gave me the freedom and the respect to be an Indigenous creator."
Submit your application before 12:00 a.m. (midnight) PT on June 28, 2022 to storyhive.com/apply. Please ensure you review the submission rules and FAQ at storyhive.com. To further fuel your inspiration, check out what other storytellers have to say in this video.
Interested to learn more? The STORYHIVE team will be online on Wednesday, June 8 at 11 a.m. PT / 12 p.m. MT to take your questions. Register for the Ask Us Anything online event here.